Basic Distribution Training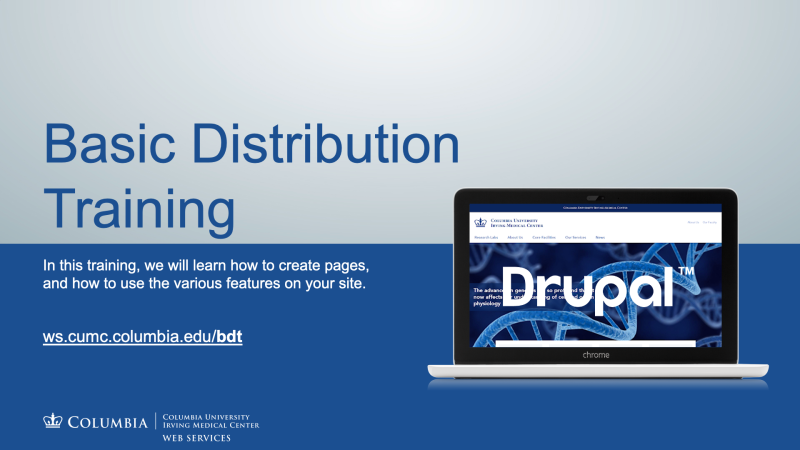 Description
In the Basic Distribution Training, we teach users how to manage content on basic pages so that it can be applied to the other content types. We describe in detail how to format text, add images, create galleries, write hyperlinks, add redirects, and arrange menu items. Additionally, a JIRA Training will also be included at the end for any users who will be web liaisons and will need to create support requests through JIRA.
Notes
This is only for users needing access to a Distribution site
This training is mandatory for all new users before receiving access privileges. For more information on required training, please visit the training section on our FAQ page. 
If you are looking for training on news, which is not covered, please check out our Advanced Distribution Training: News & Events.
This training is conducted currently online only. Zoom information will be sent only to registrants on the day of the event.
Please join the training promptly on time as a courtesy to the presenter and others that did join on time. 5 minutes after the training starts, it will be locked so others can't join. This is to avoid disruptions and allow the presenter to focus on the presentation rather than attendance.
Costs
This is included in your project or annual costs. 
Agenda
Below you find the key subject areas that we'll be going over, along with links to any associated user guides.
What is the Distribution

Overview
Sandbox vs. Production

Integrations

Using the Distribution

Publishing and Unpublishing

Reverting to an earlier revision

Adding a page to a menu

Structured Content

Creating an Our Team page
Creating a Contact Us page

Advanced Site Builder Features Overview

Featured Layouts
Gateways
CTAs
Featured Content
Group Events

Resources and Support

Editing Access
Summary