Advanced Distribution Training: News & Events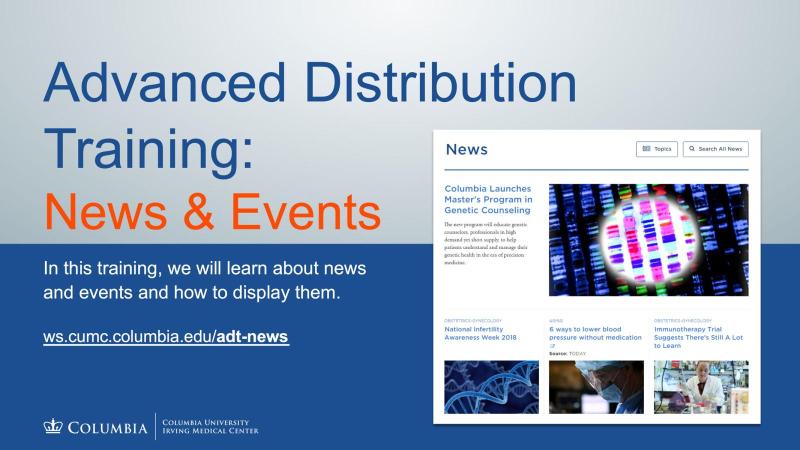 Description
Advanced trainings build on the knowledge from the Basic Distribution Training and focus on specific areas or subjects. In this Advanced Distribution Training, we will focus News and Event features. We will walk users through the process of adding, editing and implementing news and event items on your site.
Notes
Runtime: Approximately 1-2 hours
Required for site editing access? No
This training is optional, but should only be taken after you've completed the Web Content Strategy Training and the Basic Distribution Training. 
This training is conducted currently online only. Zoom information will be sent only to registrants on the day of the event.
Please join the training promptly on time as a courtesy to the presenter and others that did join on time. 5 minutes after the training starts, it will be locked so others can't join. This is to avoid disruptions and allow the presenter to focus on the presentation rather than attendance.
Costs
New Distribution Users: This is included in your project costs. 
Existing Distribution users: This is included in your annual costs.
Agenda
News Management 

News Types: News, Announcements, and Blog
Creating a School/Standalone News item

Creating a Subsite/group News item
Create an In-the-Media item
Displaying news

Sitewide News vs. Group News
Entity Queues
Promoted News: Homepage
Top Stories: News Page
Top Stories by Topic: Topic Landing pages

Topics

News taxonomy items
Topics management and structure
Creating a topic
Assigning a news item to a topic
Managing the Top Stories Entity Queue for a specific topic

Event Management

Displaying events

Summary