Before 2019 kicks into gear, look back at the research and education stories from CUIMC that captured the attention of Newsroom readers and the nation's journalists in 2018.
One day, ultraviolet lights may hang from every hospital room, airplane cabin, and sports stadium to fight the spread of influenza and other airborne microbes, if technology under development in Columbia's Center for Radiological Research proves effective.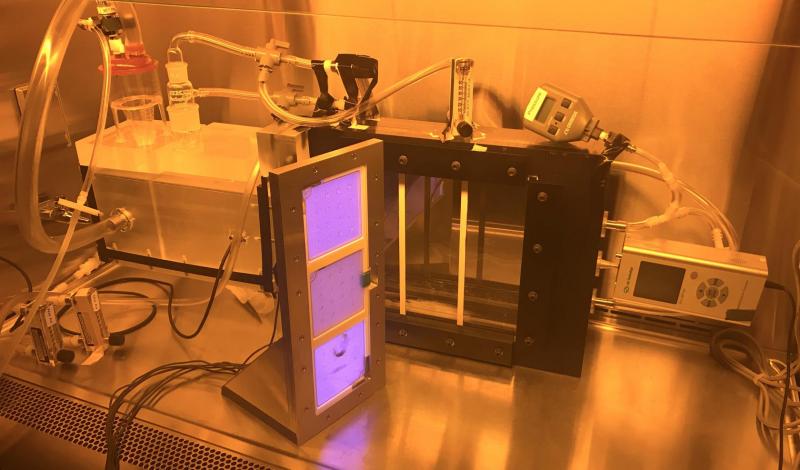 Ultraviolet light kills microbes, and UV lights are widely used in hospitals to decontaminate surgical equipment. But it also causes skin cancer, so cleaning can't occur with people present. Center scientists have identified a narrow range of ultraviolet light that is safe for human exposure but still kills microbes.
See also: New Ideas to Fight the Flu, Wall Street Journal
In April, the Vagelos College of Physicians and Surgeons became the first medical school in the nation to replace student loans with scholarships for all students who qualify for financial aid.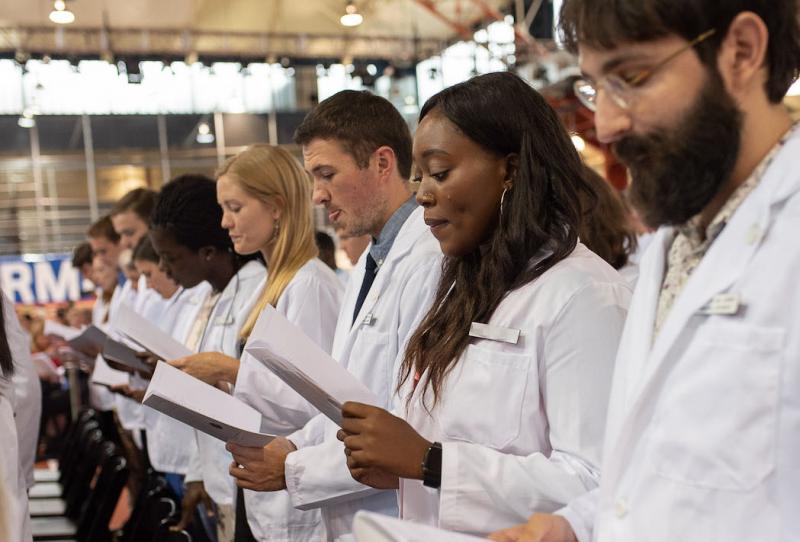 Under the scholarship program, which began in July, all student loans included in students' financial aid packages will be replaced with scholarships.  About 20 percent of VP&S students–those with the greatest financial need–will receive full-tuition scholarships.
See also: What Medical Schools Are Doing to Reduce Student Debt, U.S. News
Does your heart beat faster when you walk down a poorly lit street at night? That's the feeling you get after newly discovered "anxiety" cells deep inside your brain fire, according to research from VP&S neuroscientists.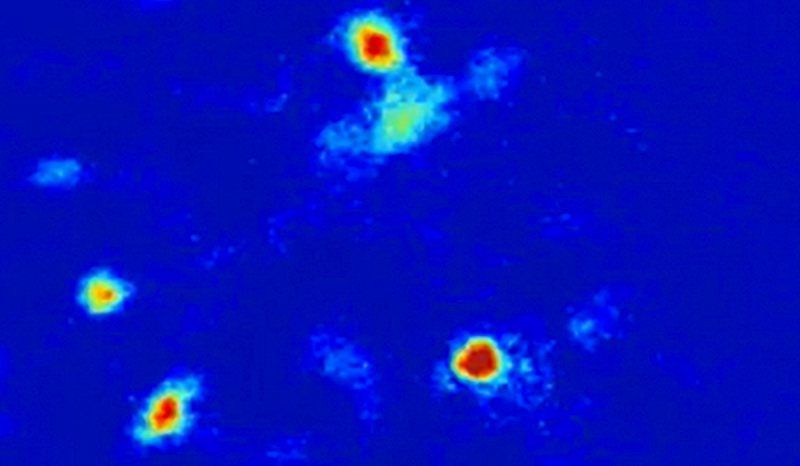 Though many other cells in the brain play a role in anxiety, the cells identified by the researchers are the first known to represent the state of anxiety, regardless of the type of environment that provokes the emotion.
See also: Researchers Discover 'Anxiety Cells' in the Brain, NPR
Lorraine Frazier, PhD, RN, FAAN, became the new dean of the Columbia University School of Nursing in September, succeeding Bobbie Berkowitz, PhD, RN, FAAN.
Frazier joined Columbia from the University of Texas Health Science Center at Houston, where she was professor and dean. She is a national expert in biobanking, the emerging science of collecting, storing, and sharing blood and tissue samples for the purpose of advancing medical research and providing access to genetic information. 
Survival is greater after open hysterectomy than after minimally invasive surgery among women with early-stage cervical cancer, according to an analysis published in the New England Journal of Medicine.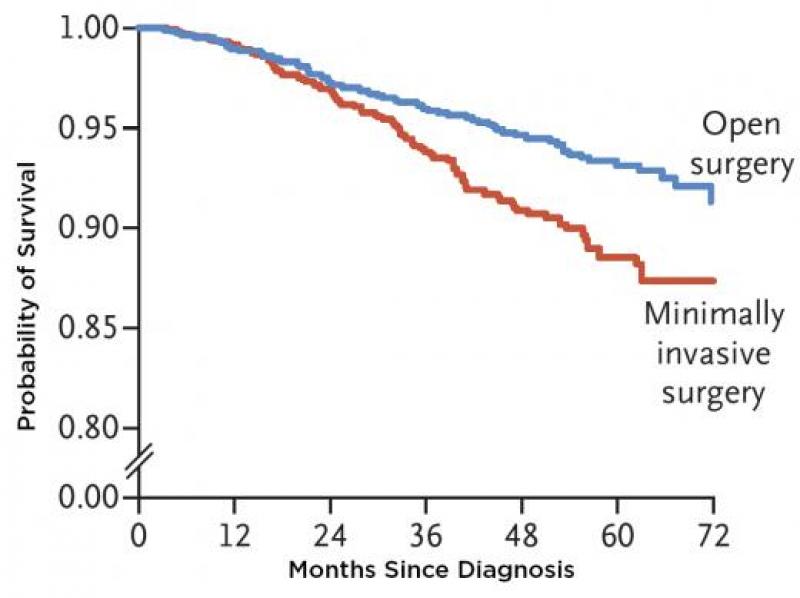 "We suspected that there might be a difference in survival between the two approaches, but the extent of the difference was surprising," says co-author Jason Wright, MD.
See also: Studies Warn Against Minimally Invasive Surgery for Cervical Cancer, New York Times
Concerns about health and rising death rates may have helped tilt the 2016 presidential election in favor of Donald J. Trump, according to an analysis of voting patterns and mortality rates in counties across the United States conducted by CUIMC researchers.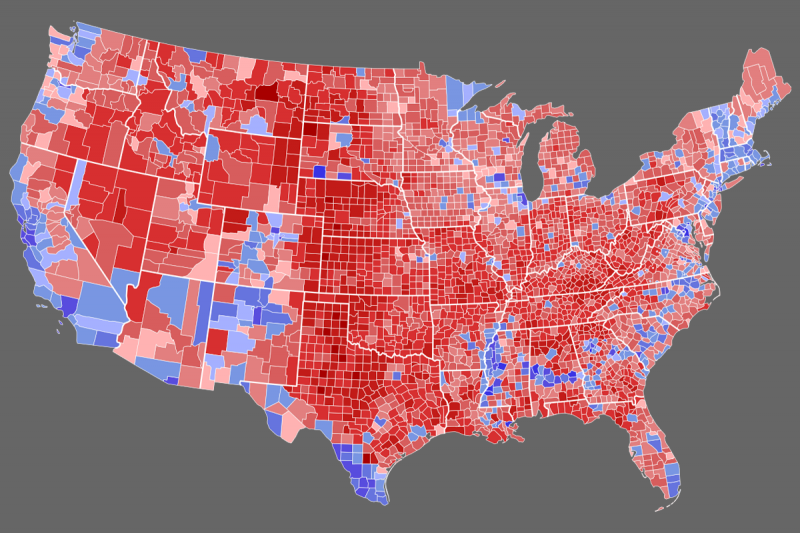 "We shouldn't underestimate the degree to which some portions of the country have been left behind in terms of their health. And it's not surprising that health disparities correspond with voting behavior," says study leader Lee Goldman, MD.
See also: Where "Despair Deaths" Were Higher, Voters Chose Trump, NBC News
The human brain makes new neurons throughout life, according to a new study from VP&S scientists.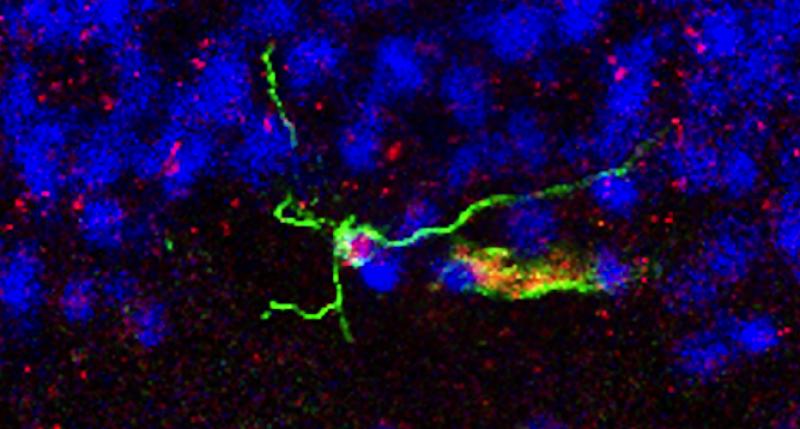 However, the analysis also found that new neurons in older brains may be less able to form new neural connections.
"It is possible that the changes we see in the older brains are related to some cognitive-emotional changes that occur with aging," says Maura Boldrini, MD, PhD, "and exercise, diet, and medications may help, but future studies are needed to investigate these ideas."
See also: Do Our Brains Keep Growing As We Age? Science Friday
Induction of labor at 39 weeks, in women with healthy pregnancies, led to significantly fewer C-sections and lower rates of preeclampsia, found a large clinical trial co-authored by VP&S researchers.
"These findings will give women and their providers options that once were considered taboo," says study co-author Annette Perez-Delboy, MD. "They show that elective induction at 39 weeks is now a valid option. This is particularly important for women known to be at risk for preeclampsia, which is one of the leading causes of maternal morbidity."
See more: Helping nature: Inducing labor avoids cesarean for some moms, Associated Press
Formally teaching students about how to say no to sex and offering other sexuality education before they start college will help lower their risk of experiencing sexual assault during college, says a study by Mailman School of Public Health researchers.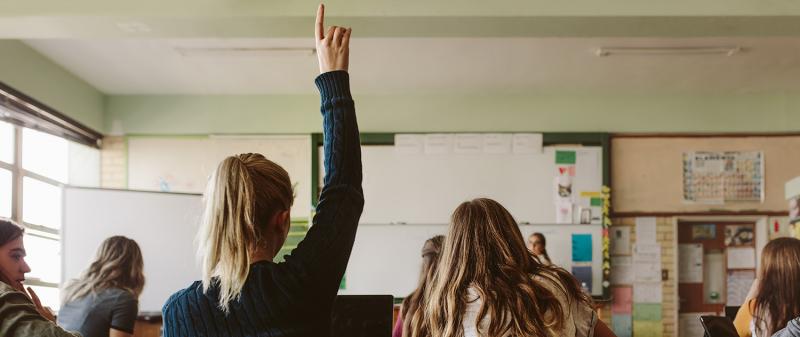 The study came out of Columbia University's Sexual Health Initiative to Foster Transformation—SHIFT—project.
A new blood test could improve diagnosis of tick-borne diseases. The Tick-Borne Disease Serochip (TBD Serochip) offers a single test to identify and distinguish between Borrelia burgdorferi, the pathogen responsible for Lyme disease, and seven other tick-borne pathogens.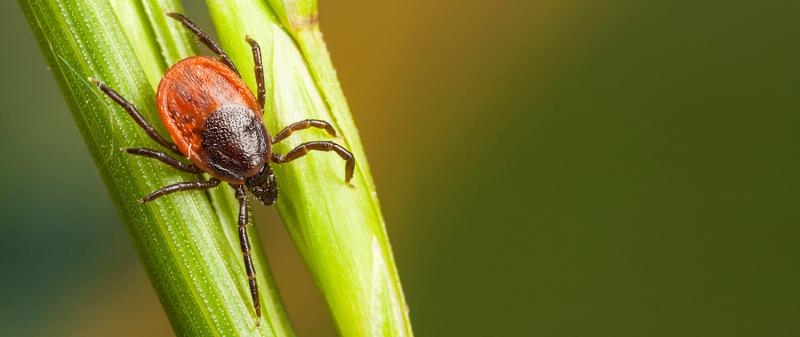 The study was led by scientists at the Center for Infection and Immunity at Columbia University's Mailman School of Public Health.
An international research team led by investigators at Columbia University's Mailman School of Public Health and the Vagelos College of Physicians and Surgeons' Department of Psychiatry studied more than 1 million pregnancies in Finland and found that elevated levels of a metabolite of the banned insecticide DDT in the blood of the pregnant women are linked to increased risk for autism in the offspring.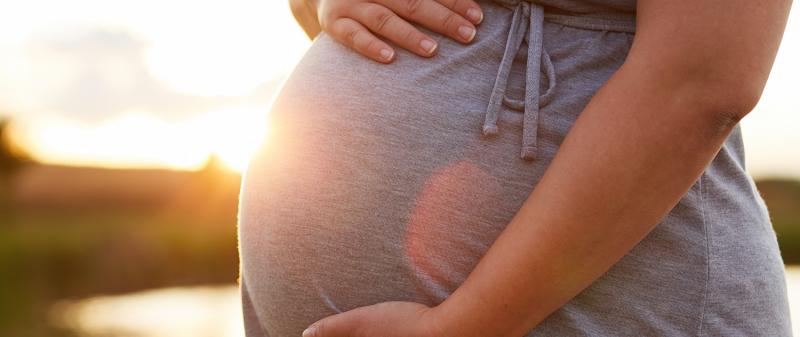 The results, published in the American Journal of Psychiatry, are the first to connect an insecticide with risk for autism using maternal biomarkers of exposure.
Mailman School of Public Health and other researchers studied noise from changing flight patterns over populated urban landscapes to compare the more efficient flight routes with suffering on the ground.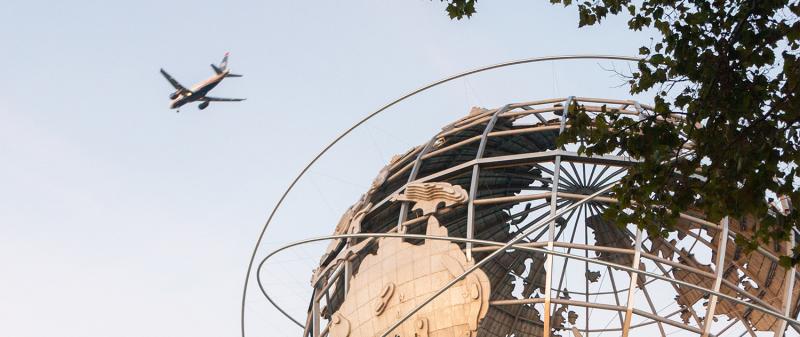 The case studies showed that increased noise can affect health of communities under the flight path. The findings were published in the International Journal of Environmental Research and Public Health.
Marijuana is increasingly the first drug used by an adolescent, according to Mailman School of Public Health research, replacing the traditional experimentation with cigarettes and alcohol.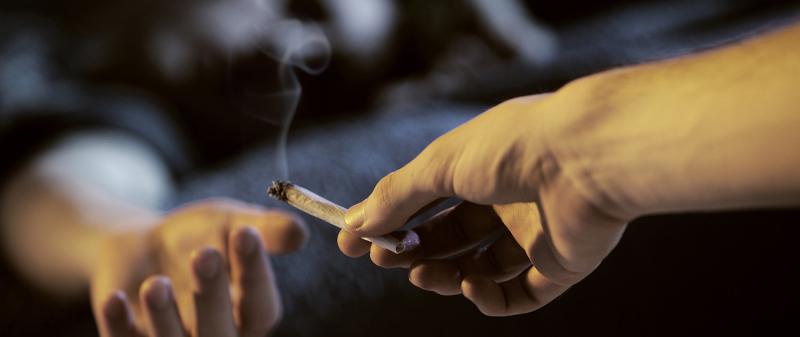 Since 2006, less than 50 percent of adolescents try cigarettes and alcohol before they try cannabis for the first time. The findings were published in the journal Drug and Alcohol Dependence.
Dysfunction of the temporomandibular joint, commonly known as TMJ or lockjaw, is a degenerative disorder that affects some 10 million Americans. Chang Lee in the Columbia University College of Dental Medicine is developing a new approach to treatment.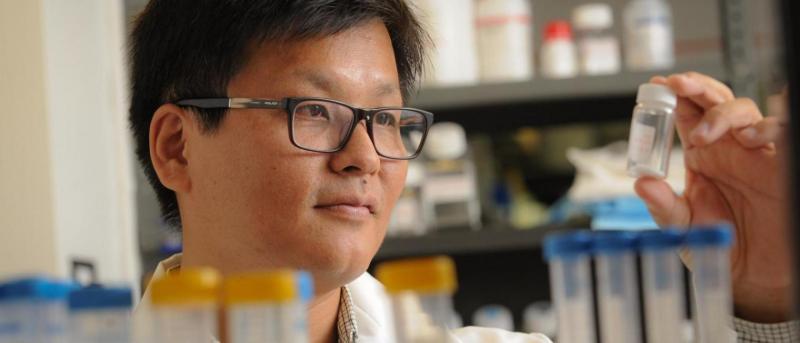 The research team led by Lee has devised a new method that harnesses the body's own healthy stem cells to regenerate the TMJ disc.
The College of Dental Medicine is working to revolutionize the teaching and practice of dentistry and transforming the experience for the patient.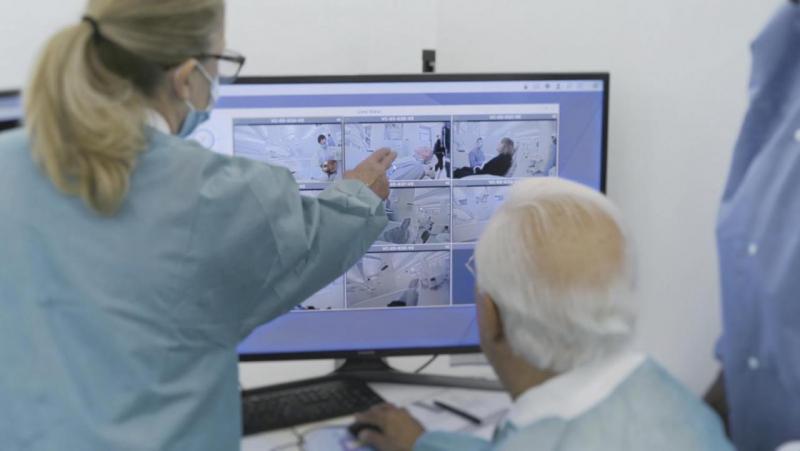 Cutting edge technology and the layout of the Center for Precision Dental Medicine not only increase efficiency for the dental students and faculty, but also enhance the patient experience.
The College of Dental Medicine received a grant from the Delta Dental Community Care Foundation to purchase a new mobile dental clinic to serve children in Harlem, Washington Heights, Inwood, and the Bronx.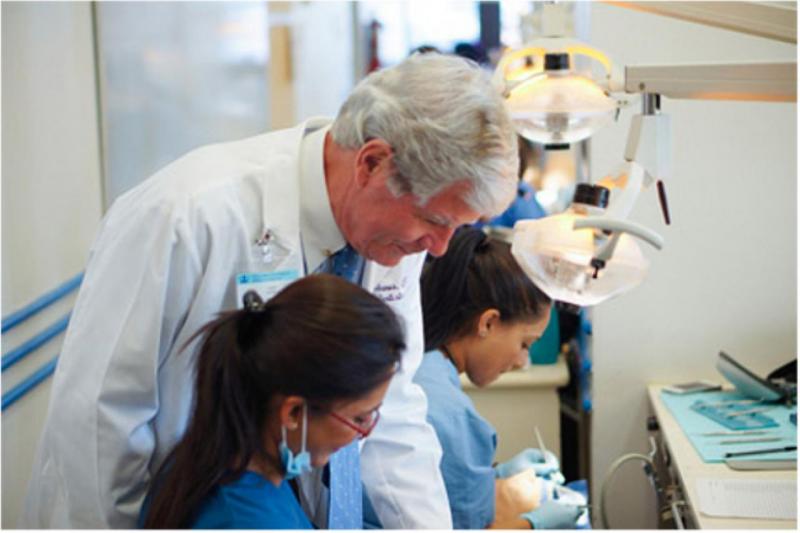 The school's Community DentCare program will use the new van, which replaces a van almost 10 years old, to expand dental care for underserved children.