Columbia Launches Scholarship Program to Eliminate Medical School Loans for Students With Financial Need
New program will begin in July, years ahead of schedule, putting medical school in reach for students without regard to ability to pay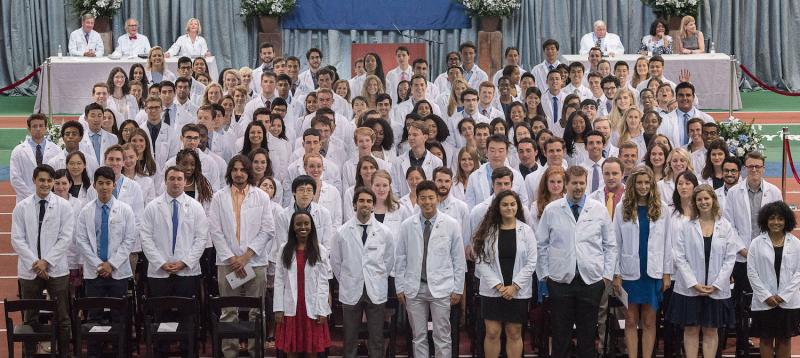 Columbia University Vagelos College of Physicians and Surgeons announced today that it will launch a sweeping scholarship program in the coming academic year – several years ahead of schedule – that will make it the first medical school in the nation to replace student loans with scholarships for all students who qualify for financial aid.
Currently, about half of the student body in the medical school receives financial aid, including need-based scholarships and student loans, to pay tuition and living expenses.  Under the new program, all student loans included in their financial aid packages will be replaced with scholarships.  About 20 percent of the school's students – those with the greatest financial need – will receive full-tuition scholarships.
The scholarship fund will be supported by an endowment that was established by Dr. P. Roy and Diana Vagelos, for whom the 250-year-old medical school was renamed last December. The couple has committed more than $300 million to Columbia, $150 million of which was directed toward the scholarship fund endowment. When the commitment was announced in December, university officials anticipated that it would be several years before the funds grew large enough to support the full scholarship program.  However, funding from the Vageloses as well as from other generous alumni, faculty, and friends over the past several months increased available funds more rapidly than anticipated and enabled the medical school to launch the scholarship program this year.
"Having a scholarship fund of this magnitude puts our medical school within reach of the most talented students, regardless of their ability to pay," said Lee Goldman, MD, the dean of the Faculties of Health Sciences and Medicine and chief executive of Columbia University Irving Medical Center. "In addition, this scholarship program will allow our students to choose a medical specialty based on their true passion and highest calling, rather than on income potential. The extraordinary generosity of Roy and Diana Vagelos in establishing this endowment will change the future for generations of students in our medical school."
According to the Association of American Medical Colleges, the median cost of tuition and fees at private U.S. medical schools is nearly $60,000 per year. In 2016, nearly 73 percent of students at private medical schools graduated with debt, with the median level of debt at $190,000. At Columbia, like most medical schools, students who qualify for financial aid are typically required to borrow about $30,000 or more per year to help pay for their tuition. Under the new scholarship program, students will be able to forgo that borrowing.
Letters announcing the scholarships were sent to all of the medical school's students today and are being given to prospective students who have been accepted for the class that will begin in August.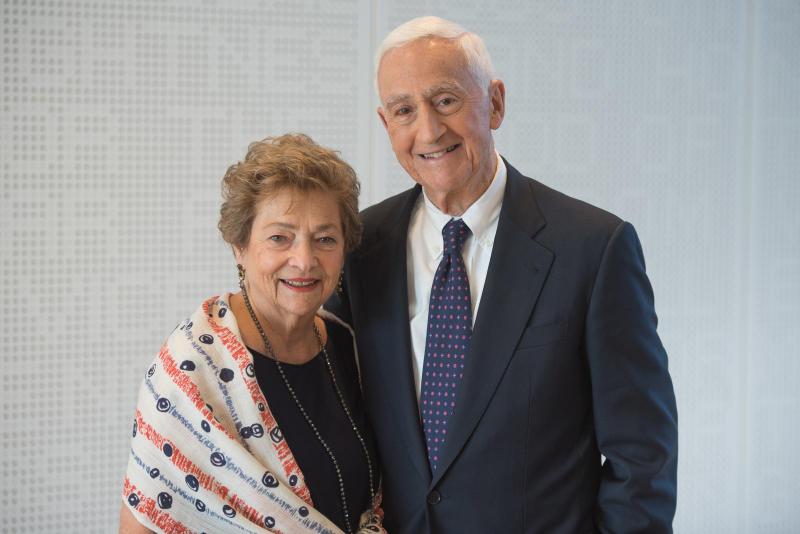 After completing his medical degree at Columbia in 1954, Dr. Vagelos conducted research at the National Institutes of Health and Washington University in St. Louis, where he served as chair of the Department of Biological Chemistry. He joined the pharmaceutical company Merck & Co. in 1975 and was named CEO ten years later.
The Vageloses met on campus in 1951, while Roy Vagelos was in medical school and Diana Touliatou (BC '55) was a student at Barnard College. They had much in common, including the fact that their parents had immigrated from Greece. They married in 1955. Diana currently serves as vice chair of the Barnard Board of Trustees.
"In the 250-year history of our College of Physicians and Surgeons, few have had the kind of profound and enduring impact of Roy and Diana Vagelos," said University President Lee C. Bollinger. "They understand that ensuring a Columbia education is affordable and accessible to the widest diversity of students, regardless of their family's income, is essential to our mission. We've all been inspired not only by their great generosity, but also by their vision and drive to improve the lives of the students who will follow in their footsteps and go on to make a difference in our society."
"This idea of giving young people the kind of support that allowed us to pursue our own educations at Penn, Barnard and Columbia has been a driving force in our lives for some time," said Dr. Vagelos. "The amount of loans that students are taking on in order to attend medical school is tremendous, and we're seeing too many students lean away from less lucrative medical specialties, such as primary care, pediatrics, or medical research, simply because they are facing a mountain of student loans they have to repay.  If we can change that for our students, I think we will have accomplished something important for them as individuals, and ultimately for the field of medicine."