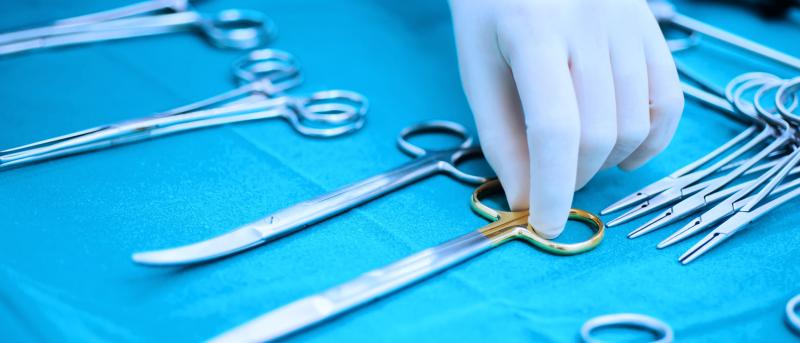 For Early Cervical Cancer, Open Hysterectomy is Safer than Minimally Invasive Surgery
A new study shows that women with early-stage cervical cancer who underwent minimally invasive hysterectomy had a 65 percent higher risk of death compared with those who had open surgery. The study, which belies the general assumption that minimally invasive surgery is safer than conventional "open" surgery, was published online today in the New England Journal of Medicine. 
"We suspected that there might be a difference in survival between the two approaches, but the extent of the difference was surprising," says co-principal investigator Jason D. Wright, MD, associate professor of obstetrics & gynecology at Columbia University Vagelos College of Physicians and Surgeons and chief of gynecologic oncology at NewYork-Presbyterian/Columbia University Irving Medical Center. "Our findings suggest that minimally invasive surgery may not be appropriate for many patients with early-stage cervical cancer."
Each year, about 13,000 women in the United States are diagnosed with cervical cancer. Most women with early-stage disease are treated with radical hysterectomy, which involves removing the uterus, cervix, and surrounding tissues. (Women with advanced cervical cancer are typically treated with radiation in conjunction with chemotherapy.) 
Radical hysterectomy was largely performed through a large incision in the abdomen until 2006, when some surgeons began adopting minimally invasive laparoscopic and robotic surgery. "There was a good rationale for this trend," says Wright. "Studies had shown that for most cancers, outcomes with less invasive surgery are comparable to open surgery, with the added benefit of fewer short-term postoperative complications." 
But Wright and his colleagues began to suspect that minimally invasive radical hysterectomies might not be as safe as open surgery. In an analysis of data from throughout the United States, they noted that survival for women undergoing radical hysterectomy for cervical cancer remained relatively constant until about 2006. 
"Survival began to decrease after then—exactly the same time that some surgeons began performing minimally invasive hysterectomies," he says.
The researchers then analyzed data from the National Cancer Database of 2,461 women with early cervical cancer who underwent radical hysterectomy between 2010 and 2013. Half of the women had minimally invasive surgery. Within four years after surgery, 9.1 percent of the minimally invasive surgery group had died versus 5.3 percent in the open-surgery group, translating into a statistically significant 65 percent higher risk of death for the former when the difference over four years was considered. 
The study did not investigate why minimally invasive hysterectomy might result in a higher mortality rate. One possible explanation is that uterine manipulators, which are used to retract and visualize the pelvic area during minimally invasive hysterectomy, may inadvertently spread microscopic tumor cells. Another possibility is that minimally invasive surgery is not inherently inferior to open surgery, but the surgeons who performed minimally invasive surgery on patients in this study may have been more experienced with open surgery.
"We recommend that patients talk to their doctor about the available surgical options," Wright says. "Although minimally invasive surgery was associated with higher mortality, some patients may be willing to accept that risk, especially if they have very early cancers."
For patients with early cervical cancer who already had minimally invasive hysterectomy, Wright says they don't necessarily need more checkups or more screening. "The overall prognosis for women with early cervical cancer after minimally invasive or open hysterectomy is excellent," he adds. "In either case, they should get periodic checkups, and if they experience any symptoms, such as pain or changes in vaginal bleeding, they should consult their gynecologic oncologist."
References
More Information
Jason Wright, MD, also is the Sol Goldman Associate Professor of Gynecologic Oncology at Vagelos College of Physicians and Surgeons.
The study is titled "Minimally Invasive Radical Hysterectomy for Early-Stage Cervical Cancer." The other contributors are Alexander Melamed (Massachusetts General Hospital and Harvard Medical School, Boston, MA), Daniel J. Margul (Prentice Women's Hospital, Chicago), Ling Chen (CUIMC and NYP), Nancy L. Keating (Massachusetts General Hospital, Harvard Medical School, and Brigham and Women's Hospital), Marcela G. del Carmen (Massachusetts General Hospital and Harvard Medical School), Junhua Yang (Prentice Women's Hospital), Brandon-Luke L. Seagle (Prentice Women's Hospital), Amy Alexander (Prentice Women's Hospital), Emma L. Barber (Prentice Women's Hospital), Laurel W. Rice (University of Wisconsin School of Medicine and Public Health, Madison, WI), Masha Kocherginsky (Prentice Women's Hospital and Northwestern University, Feinberg School of Medicine, Chicago, IL), Shohreh Shahabi (Prentice Women's Hospital), and J. Alejandro Rauh-Hain (University of Texas M.D. Anderson Cancer Center, Houston, TX).
The study was supported by grants from the National Institutes of Health (P30CA016672, 4P30CA060553-22, R25CA092203, and K12HD050121-12), the American Association of Obstetricians and Gynecologists Foundation, the Foundation for Women's Cancer, the Jean Donovan Estate, and the Phebe Novakovic Fund.
Dr. Wright receives consulting fees from Clovis Oncology and Tesaro. Additional disclosures are included in the paper.