CUIMC Update - November 2, 2022
CUIMC Update is a weekly e-newsletter featuring medical center news and the accomplishments of our faculty, staff, and trainees. Please send your news, honors, and awards to cuimc_update@cumc.columbia.edu. Grants are provided by the Sponsored Projects Administration office.
NEWS
Columbia Cardiac Surgery Now in White Plains
Cardiac surgeons from Columbia University and NewYork-Presbyterian are now seeing patients at ColumbiaDoctors' multispecialty location in White Plains, New York. The location offers a new site for Westchester adults and children needing advanced heart treatment. Read more.  
Fitness Program Aims to Improve Health of Local Seniors
Over 100 seniors from Washington Heights, Inwood, Harlem, and the South Bronx gather every week for an hour of exercise, fitness lessons, and conversations about health with CUIMC faculty and students at the Seniors AIM High program, a collaboration between the Armory and the CUIMC Office of Community Service Programs. Read more. 
Columbia Study Points Toward New Ways to Prevent Liver Cancer
A study from Robert F. Schwabe, MD, professor of medicine and director of the Digestive and Liver Disease Research Center at VP&S, and colleagues shows that a shift from quiescent to activated liver cells sets the stage for liver cancer and suggests ways to reduce the risk of liver cancer in people with liver disease. Read more.
How to Boost Your Immunity
From diet to sleep to physical activity, Joshua Milner, MD, professor of pediatrics at VP&S and director of the Division of Pediatric Allergy, Immunology and Rheumatology, discusses the research on how to keep your immune system strong. Read more.
"Silent Fire": The Dangers of Hidden Inflammation
A book by Columbia gastroenterologist Shilpa Ravella, MD, focuses on inflammation, disease, and diet and explains how inflammation is not only a consequence of disease, but also a potential root cause of it. Read more. 
EVENTS
Aftershock: Film Screening and Discussion 
Nov. 2, 5:30 p.m., Alumni Auditorium, Black Building 
Reserve seat here.
Women, Life, Freedom: Iran's Movement for Women's Rights
Nov. 3, 12 p.m., online 
Read more.
Pancreatic Cancer Awareness Day 
Nov. 5, 1 p.m., Vivian and Seymour Milstein Family Heart Center 
Register here.
COMMUNITY Center Investigator Development Core Request for Application   
Nov. 7 at 5 p.m. is the submission deadline.  
Read more.
Distrust and Disparities in Healthcare: Unraveling the Complexity
Nov. 9, 4 p.m., CUIMC Faculty Club and online
Register here.
Free On-Site Health Screenings for Faculty and Staff 
Nov. 10, 8 a.m. - 2 p.m., 50 Haven Ave., First Floor Lounge  
Register here.
CUIMC Fall Festival on Haven 
Nov. 15, 11 a.m., Haven Plaza  
Read more.
Grand Rounds: Contributing to the Public's Good - Foundational, Core, and Local Public Health Services  
Nov. 30, 4 p.m., Allan Rosenfield Building, 722 W. 168th St., 8th Floor Auditorium and online  
Register here.
Archives & Special Collections Exhibit: "New Old Things: Recent Accessions, Archives & Special Collections, 2012-2022" 
Through Dec. 16, 2022 
Hammer Health Sciences Center, Lower Level 2 
For more events, visit the CUIMC Events listing.
GRANTS
MAILMAN SCHOOL OF PUBLIC HEALTH
Kai Ruggeri, PhD, Health Policy & Management: $445,432 over four years from the National Science Foundation for "DEVIATE: Using positive deviance to reduce economic and health inequality." 
VAGELOS COLLEGE OF PHYSICIANS AND SURGEONS
R. Graham Barr, MD, DrPH, and Elizabeth Oelsner, MD, Medicine: $400,000 over one year from the American Lung Association for "Collaborative Cohort of Cohorts for COVID-19 Research (C4R) CT Study." 
Scott Barbuto, MD, Rehabilitation & Regenerative Medicine: $774,144 over four years from the National Institute of Neurological Disorders and Stroke for "The Neural Effects of Balance Versus Aerobic Training in Individuals with Degenerative Cerebellar Diseases." 
Katherine Crew, MD, Medicine: $276,234 over one year from the National Cancer Institute for a subaward of "Longitudinal investigation of sociocultural and behavioral influences on symptom management, biological response, and functioning between Chinese and White breast cancer survivors." 
William Fifer, PhD, Psychiatry: $2,226,072 over three years from Wellcome Leap  for a subaward of "A Multi-Scale Approach to Characterizing Developing Executive Functions." 
David Ho, MD, Medicine: $509,752 over four years from the Government of Hong Kong for a subaward of "Engineering and identification of broad and potent bispecific antibodies against COVID-19." 
Tal Nuriel, PhD, Taub Institute: $445,500 over two years from the National Institute on Aging for "Investigating the Effects of APOE Genotype on AD Pathology in a Novel AD Mouse Model." 
Marie Pierre St. Onge, PhD, and Blandine Laferrere, MD, Medicine: $972,000 over three years from the National Institute of Diabetes and Digestive and Kidney Diseases for "Sleep stability, weight, and glycemic control." 
Sarah Tom, PhD, Neurology: $554,119 over five years from the National Institute on Aging for a subaward of "Adult Changes in Thought (ACT) Research Program - Life Course Core (C)." 
HONORS
VAGELOS COLLEGE OF PHYSICIANS AND SURGEONS
George Hripcsak, MD, Biomedical Informatics, received the 2022 Morris F. Collen Award of Excellence from the American College of Medical Informatics. Read more.
Brian Marr, MD, Ophthalmology, received the Vision of Hope Award from the Melanoma Research Foundation. Read more. 
SOCIAL MEDIA SNAPSHOT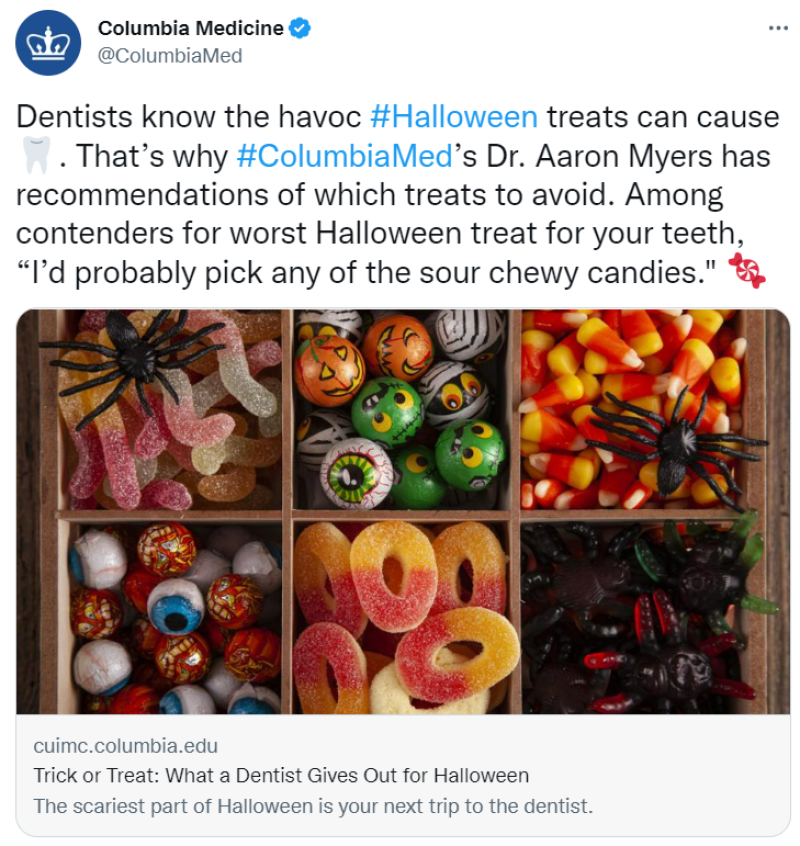 IN THE NEWS
CBS News (video) 
New Study Finds 10% of American Seniors Suffer From Dementia
Oct 26, 2022 - A new study shows that 1 in 10 Americans age 65 and over suffer from dementia, while 22% deal with mild cognitive impairment. The study's lead author, Dr. Jennifer Manly, a professor of neuropsychology at Columbia University, joins CBS News to discuss the racial and economic discrepancies in dementia diagnoses and research. 
The Washington Post (Requires a subscription) 
What You Need to Know About Covid Boosters and the Latest Research
Oct 27, 2022 - "I think everyone had hoped that a BA.5-based boost would enhance that [immune] response. But that's not what we saw," said David D. Ho, a professor of microbiology and immunology at Columbia University, who led one of the studies.  
Spectrum News: NY1 Online 
What to Know About the 'Triple Threat' of RSV, COVID, and Flu
Oct 27, 2022 - Dr. Edith Bracho-Sanchez, a pediatrician at NewYork-Presbyterian/Columbia University Irving Medical Center, said in a hospital Q&A video that the facility is "definitely seeing an uptick in respiratory illnesses, including but not limited to RSV." 
In an interview with NY1, Dr. Jessica Justman, an infectious disease specialist and epidemiologist who serves as associate professor of medicine in epidemiology at Columbia University's Mailman School of Public Health, said she wasn't surprised by the increase. "We've now had a couple of winters of people being more careful than usual, masking and staying in, and so people have had less exposure to flu and respiratory syncytial virus for a couple of years," Justman said.