CUIMC Update - January 25, 2023
CUIMC Update is a weekly e-newsletter featuring medical center news and the accomplishments of our faculty, staff, and trainees. Please send your news, honors, and awards to cuimc_update@cumc.columbia.edu. Grants are provided by the Sponsored Projects Administration office.
NEWS
Dean Armstrong Introduces Incoming Columbia University President Minouche Shafik to CUIMC
Columbia University incoming president Nemat "Minouche" Shafik, PhD, visited Columbia University Irving Medical Center Jan. 19 and met with CUIMC leadership, faculty, and students to learn about our mission, each of the schools, and community initiatives underway across the campus. Read more.
Columbia Patient Safety Leader Jason Adelman Recognized with National Award
Jason Adelman, MD, chief patient safety officer and associate chief quality officer at CUIMC, has received the John M. Eisenberg Patient Safety and Quality Award. Adelman has developed several novel methods embedded in health information technology systems to measure and prevent medical errors. Read more.
VP&S Brain Expert Uses Personal Experience to Advance New Treatments for Spinal Cord Injuries
Jason Carmel, MD, PhD, the Weinberg Family Associate Professor of Neurology (in Orthopedic Surgery), was a medical student at Columbia when his twin brother suffered a spinal cord injury, paralyzing him from the chest down. His brother's injury led Carmel to become a neurologist and neuroscientist, and he has developed a nerve simulation therapy that may eventually allow people with spinal cord injuries to regain function of their arms. Read more.
What to Know about HPV and Throat Cancer, According to a Columbia Expert
While many people who contract HPV clear the infection without any medical intervention, some more severe types of the virus can lead to different types of cancer. Fatemeh Momen-Heravi, DDS, PhD, shares why some cases of HPV lead to throat cancer, as well as warning signs to know about. Read more.
Music and Movement: Dr. Christine Kim Helps Patients Find Harmony
Musician's dystonia is characterized by excessive muscle contractions that disrupt the fine motor control that musicians rely on to perform. Treating patients with this disorder is one part of the Music and Movement Disorders Initiative created by Christine Kim, MD, assistant professor of neurology at VP&S. Read more.
EVENTS
2023 Lunar New Year Celebration
Jan. 26, 11:30 a.m., Columbia School of Nursing, 560 W. 168 St., 7th Floor
Register here.
Bioethics in Film: From Screen to Seminar – "Seizing Hope"
Jan. 26, 6 p.m., online
Register here.
Film Screening and Discussion: "Peaceful"
Jan. 26, 7 p.m., Horace Mann Hall, Cowin Auditorium, Teachers College, Broadway and 120th Street
Register here.
How Physicians Partnered with the Nazi Regime: Possible Lessons for Today
Jan. 27, 1 p.m., Vagelos Education Center, 104 Haven Avenue, Room 405
Register here.
CUIMC Grand Rounds: In Science We Trust
Jan. 30, 4 p.m., Black Building, 650 W. 168 St., Alumni Auditorium and Schaefer Awards Gallery
Register here.
Tips and Tricks for Making Effective Scientific Figures for NIH Grants
Jan. 31, 2 p.m., Allan Rosenfield Building, 722 W. 168 St., Room 1102
Register here.
Getting to the Heart of Mentorship: Lessons Learned from an Exemplar Nurse Scientist, Clinician, Mentor, and Friend
Feb. 9, 4 p.m., Columbia School of Nursing, 560 W. 168 St., 7th Floor
Register here.
A Celebration of Life honoring John M. Driscoll, Jr., MD
Feb. 13, 4:30 p.m., Black Building, 650 W. 168 St., Alumni Auditorium and Schaefer Awards Gallery
Register here.
GRANTS
MAILMAN SCHOOL OF PUBLIC HEALTH
Wafaa Mahmoud El-Sadr, ICAP: $1,247,760 over six months for a subaward from ViiV Healthcare for "HPTN 084: A Phase 3 Double Blind Safety and Efficacy Study of Long-Acting Injectable Cabotegravir Compared to Daily Oral TDF/FTC for Pre-Exposure Prophylaxis in HIV-Uninfected Women."
Adina Zeki Al Hazzouri, PhD, Epidemiology: $3,614,999 over five years from the National Institute on Aging for "Late Life Learning, Dementia, and Overall Health: An Investigation of The University for Seniors in Beirut."
SCHOOL OF NURSING
Lusine Poghosyan, PhD: $476,847 over two years from the National Institute on Aging for "Home Based Primary Care for Persons Living With Dementia."
VAGELOS COLLEGE OF PHYSICIANS AND SURGEONS
Julian Abrams, MD, Medicine: $4,191,000 over five years from the National Cancer Institute for "The Role of Secondary Bile Acids in Gastro-Esophageal Neoplasia."
Robert Carter, MD, Emergency Medicine: $401,625 over three years for a subaward from the National Institute on Alcohol Abuse and Alcoholism for "A Randomized, Double-Blind, Placebo-controlled Clinical Trial of Choline Supplementation during Pregnancy to Mitigate Adverse Effects of Prenatal Alcohol Exposure on Growth and Cognitive Development."
Nadeen Chahine, PhD, Orthopedic Surgery: $413,118 over two years from the National Institute of Arthritis and Musculoskeletal and Skin Diseases for "Sustained Delivery of RhoA activator for Treatment of Intervertebral Disc Degeneration."
Eunhee Choi, PhD, Pathology & Cell Biology: $1,233,750 over three years from the National Institute of Diabetes and Digestive and Kidney Diseases for "Spatiotemporal control of insulin signaling by mitotic regulators."
Syed Husain, MD, Medicine: $661,824 over four years from the National Institute of Diabetes and Digestive and Kidney Diseases for "Using Decision Making Science to Optimize Deceased Donor Kidney Allocation."
Stavroula Kousteni, PhD, Physiology & Cellular Biophysics: $600,000 over three years from the Evans (Edward P.) Foundation for "Assessing the Role of SAA Inflammatory Signaling in Age associated MDS Initiation and treatment."
Jose Luchsinger, MD, Medicine: $81,273,131 over five years from the National Institute on Aging for "Alzheimer's Disease and Alzheimer's Disease Related Dementias in Prediabetes and Type 2 Diabetes: The Diabetes Prevention Program Outcomes Study AD/ADRD Project."
Michael Yin, MD, Medicine: $433,018 over two years from Fogarty International Center for "Impact of HIV and antiretroviral initiation on skeletal biology."
HONORS
VAGELOS COLLEGE OF PHYSICIANS & SURGEONS
Rebecca Hahn, MD, Medicine, was awarded the 2023 Physician Lifetime Achievement Award from the American Society of Echocardiography.
Papers by Tarjinder Singh, PhD, and Wesley B. Asher, PhD, Psychiatry, were selected as Leading Research Achievements by the Brain & Behavior Research Foundation.
SOCIAL MEDIA SNAPSHOT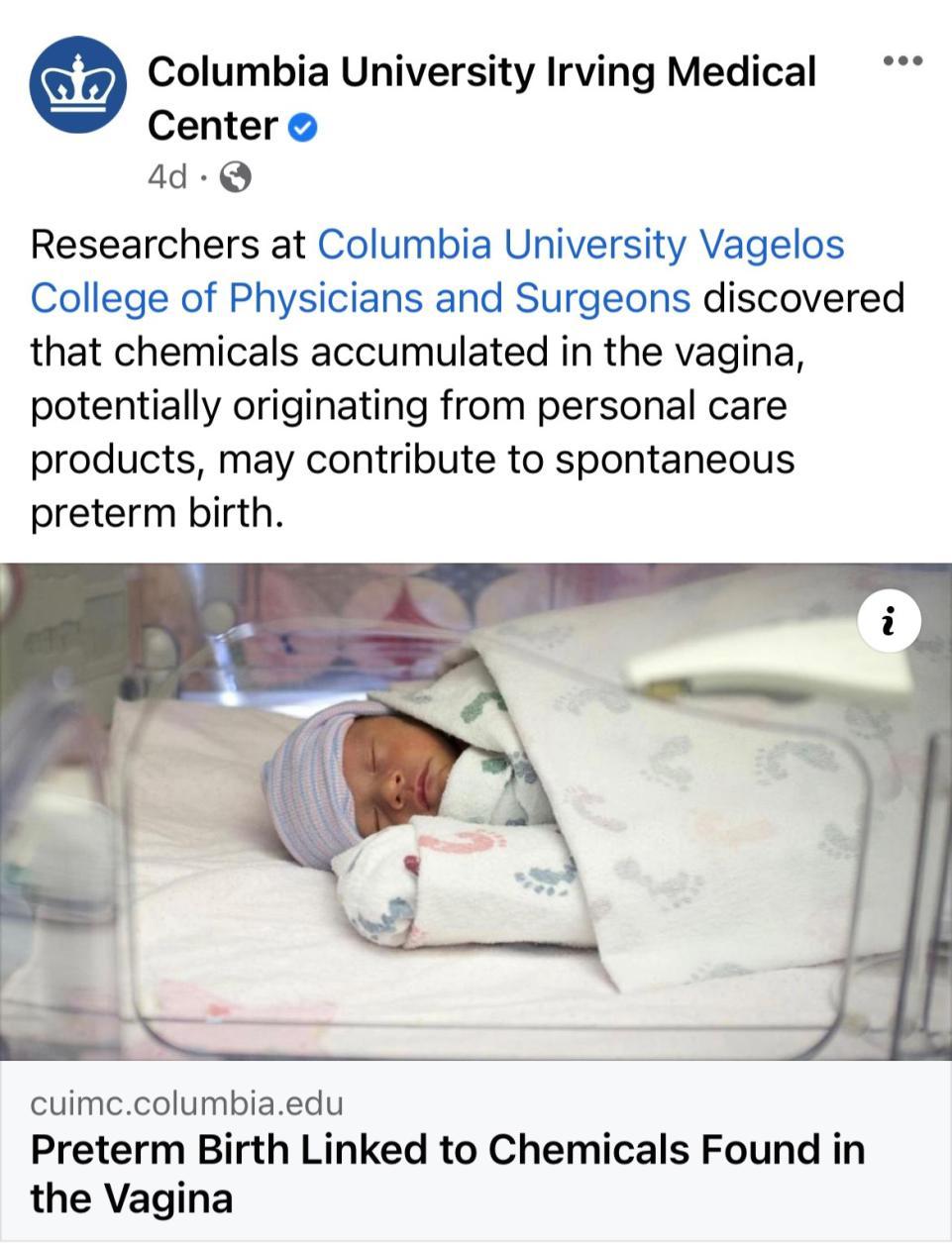 IN THE NEWS
PBS Newshour Online
Flavored Cannabis Marketing Criticized for Targeting Children
Jan 19, 2023 - "We should learn from the nicotine space, and I certainly would advocate that we should place similar concern on cannabis products in terms of their appealability to youth," said Katherine Keyes, a professor of epidemiology at Columbia University who has written extensively about the rise in marijuana use among young people.
Crain's New York Business (Requires a subscription)
Columbia University's School of Nursing Gets $19M in Grants From NIH
Jan 20, 2023 - The grants support a wide range of research by Columbia's 33 full-time faculty members, such as how to prevent infections at nursing homes or how patients respond after coronary bypass surgery. "Our mission is reducing health disparities and promoting equity," said Elizabeth Corwin, vice dean of strategic and innovative research. "This is a huge amount of money for nursing."
Fox News Online
Care About Your Heart? Try Getting Better Sleep, New Study Suggests
Jan 17, 2023 - "Our results show that sleep health is integral to heart health, and that an expanded definition of cardiovascular health that includes sleep is more predictive of future heart disease risk," lead study author Nour Makarem, PhD, an assistant professor of epidemiology at the Mailman School of Public Health at Columbia University in New York City, told Fox News Digital.