Incoming Columbia University President Minouche Shafik Visits CUIMC
Columbia University incoming president Nemat "Minouche" Shafik, PhD, visited Columbia University Irving Medical Center on Thursday, Jan. 19. Shafik will join Columbia as its 20th president July 1.  
In remarks shared on Wednesday, Jan. 19, Shafik highlighted the role that all members of the Columbia community play in advancing the institution's mission.
"I'm honored to be the next president of Columbia University," Shafik said. "Whether it's tackling challenges like climate change or a global public health crisis, Columbia thrives as a center for ideas and advancement because it is a rich, diverse community where everyone has something to contribute."
Shafik's guided tour of the medical center, led by Katrina Armstrong, MD, chief executive officer of CUIMC, introduced the incoming university president to the medical center, each of the schools, and community initiatives underway across the campus. At a lunchtime reception that kicked off the tour, Armstrong and Shafik met with medical center deans and vice deans and VP&S department chairs and center directors.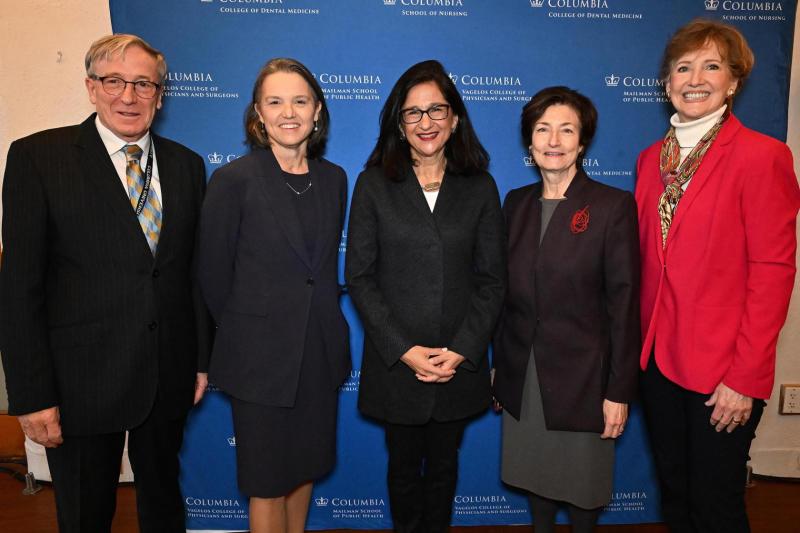 Following the reception, Shafik visited the School of Nursing, where Kellie Bryant, DNP, assistant dean of clinical affairs and simulation, provided a tour of the state-of-the-art Helene Fuld Health Trust Simulation Center.
While visiting the Comprehensive HIV Program clinic with Magda Sobieszczyk, MD, chief of infectious diseases, Shafik met with leaders across the medical center who are building community partnerships in Washington Heights, Upper Manhattan, and the Bronx. Olajide Williams, MD, professor of neurology; Amy Herbert, DDS, assistant professor of dental medicine; Gary Miller, PhD, professor of environmental health sciences at Mailman; and Alwyn Cohall, MD, professor of sociomedical sciences, population and family health, and pediatrics, all spoke about the importance of building trust with the local community to improve health outcomes and conduct research to better serve the community through clinical care. In a visit to the lab of David Ho, MD, director of the Aaron Diamond AIDS Research Center, Shafik learned about CUIMC's groundbreaking scientific contributions to COVID-19 vaccination efforts.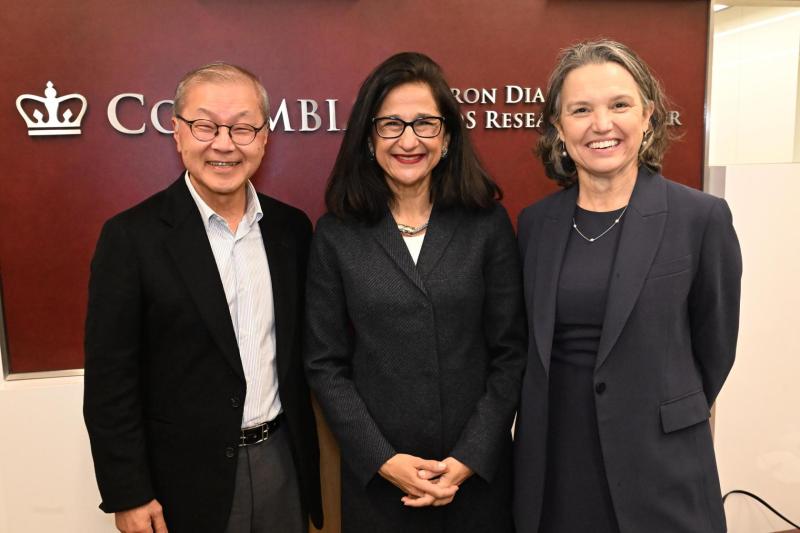 Armstrong expressed enthusiasm and optimism for the university under Shafik's leadership.
"Everybody here at Columbia comes to work every day to give their time and talent to make a difference for the people they care for, to make new discoveries, to change our community, and support each other," Armstrong said. "They come because they believe in their colleagues and they believe in this university and this medical center. With the right leadership, there is nothing we can't do."
Shafik will succeed Lee C. Bollinger, who has led the university since 2002. Shafik has led the London School of Economics and Political Science since 2017. Learn more about Columbia's next president.