Columbia Patient Safety Leader Jason Adelman Recognized with National Award
Each year, medical errors are responsible for tens of thousands of patient deaths. Although the exact number is difficult to quantify, at least one in five people in the United States say they have experienced a medical error while receiving health care.
At Columbia University Irving Medical Center, longtime efforts to reduce medical errors and increase patient safety have received national recognition. Jason S. Adelman, MD, chief patient safety officer and associate chief quality officer at Columbia University Irving Medical Center and NewYork-Presbyterian, was awarded the John M. Eisenberg Patient Safety and Quality Individual Achievement Award from the Joint Commission and National Quality Forum.
In 2022, he was awarded the John M. Eisenberg Excellence in Mentorship Award from the Agency for Healthcare Research and Quality for establishing the first federally funded patient safety research fellowship for hospitalists. He also was named one of the 26 patient safety experts to know in 2022 by Becker's Hospital Review.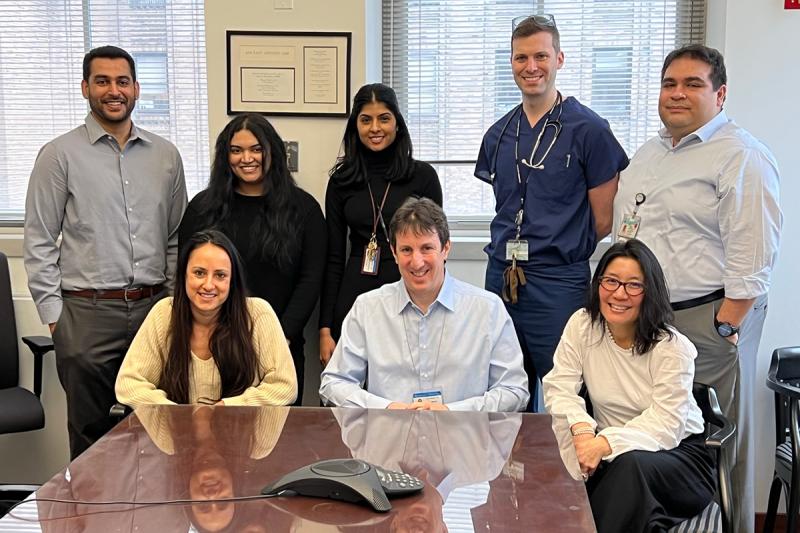 Adelman, the founder and executive director of Columbia and NewYork-Presbyterian's Center for Patient Safety Research, has developed several novel methods embedded in health information technology systems to measure and prevent errors. Among Adelman's major accomplishments are the development of the Wrong-Patient Retract-and-Reorder measure, which detects wrong-patient orders in electronic health record data, and studies showing that a distinct naming convention for newborns reduced wrong-patient errors in the neonatal intensive care unit. Based on Adelman's research, the Joint Commission now requires all hospitals to use a distinct method of newborn identification as part of the commission's national patient safety goals.
We talked with Adelman about his work in reducing medical errors and what the future of patient safety might look like.
---
How often do medical errors happen?
Health care is so complicated that almost anything we do can go wrong. The retract-and-reorder measure we developed is designed to give us better insight into how and why medical errors happen. We've found through our research that what we call retract-and-reorder errors, when a physician places an order for a patient, cancels it, and then immediately places the order for another patient, are actually orders placed on the wrong patient. With our new automated measure, we're able to call physicians within a few hours of making an error to ask them why they made the error and conduct studies aimed at preventing wrong-patient errors that reach patients and cause harm. The wrong-patient RAR measure we implemented is the first and only health IT safety measure endorsed by the National Quality Forum.
---
What's the key to reducing medical errors?
The best chance we have to significantly reduce errors is through technology, from decision support to artificial intelligence to robotics. As humans, each day is not the same as the day before: We get bad news, we're tired, we're sick, and that affects performance when we're interacting with a very complicated system like health care. Humans in complicated systems are bound to make errors, whereas computers and robotics can more reliably do the same thing in the same way over and over again.
At Columbia and NewYork-Presbyterian, we use a learning health systems approach. If there's an error, we want to make sure it doesn't happen to another patient. I don't wait to apply for a five-year grant. I work with students, fellows, faculty, and staff to put in place a correction and evaluate it rigorously to make sure it works.
Long-term, it's crucial to develop future patient safety researchers and clinicians. We have a grant funded by the Agency for Healthcare Research and Quality and the NIH to train patient safety researchers. Our fellows are working on common problems like sepsis, hospital-acquired infections, and diagnostic safety. We're trying to develop as many patient safety researchers as we can, and hopefully some will make it a career, each taking on a different domain in the patient safety field.
---
What does a hospital culture that's supportive of patient safety look like?
We can't be punitive. The quick and easy thing to do is blame "bad" doctors or "bad" nurses for medical errors. The more productive path is to accept that humans make errors and to make preventing errors a mission and a priority and devote time, energy, and resources to that goal.
Culture and leadership are some of the most important factors in increasing patient safety. At Columbia, Dean Katrina Armstrong really values quality and safety and leads with that as a value, which defines the culture and the priorities of the institution. Dr. Steven J. Corwin, president and chief executive officer of NewYork-Presbyterian, and Dr. Deepa Kumaraiah, senior vice president and chief medical officer of NewYork-Presbyterian, have also been extremely supportive of our efforts to improve patient safety and foster a culture of safety.
References
Jason Adelman, MD, also is associate professor of medicine and of biomedical informatics at Columbia University Vagelos College of Physicians and Surgeons.