CUIMC Update - August 17, 2022
​
CUIMC Update is a weekly e-newsletter featuring medical center news and the accomplishments of our faculty, staff, and trainees. Please send your news, honors, and awards to cuimc_update@cumc.columbia.edu. Grants are provided by the Sponsored Projects Administration office.
NEWS
ICYMI: CUIMC Community Forum on Monkeypox
Vice Dean for Education Monica L. Lypson, MD, MHPE, hosted a webinar with faculty from the Division of Infectious Diseases about the monkeypox virus and its effects on the CUIMC community. Watch the recording here. Slides from the presentation are available on Inside VP&S.
Hearing Loss and Over-the-Counter Hearing Aids
The FDA just issued a rule to improve access to hearing aids by making a new category of over-the-counter aids. If you're considering purchasing a hearing aid, this interview with Columbia otolaryngologist Lawrence Lustig, MD, provides guidance. Read more. 
New Frontiers in Cancer Research and Care: The Next 50 Years 
Join the Herbert Irving Comprehensive Cancer Center (HICCC) this fall for a special symposium in recognition of its 50th anniversary of NCI designation. The symposium will feature keynote addresses from Margaret Foti, PhD, MD, chief executive officer of the American Association for Cancer Research, and Ned Sharpless, MD, former director of the National Cancer Institute. The event also will include remarks from Columbia leaders and presentations from leading HICCC members about the future of cancer research and care at Columbia. Register here.
Eight Columbia Nursing Faculty Named Fellows of American Academy of Nursing
New fellows will be inducted at the American Academy of Nursing's annual Health Policy Conference in Washington, D.C., in October. Read more.
Columbia Primary Care Now Open in Tarrytown 
Columbia Primary Care opened a new practice in Tarrytown this summer, providing patients in Westchester County access to high-quality care. Read more. 
EVENTS
StudioLab DrawingBoard
Wednesdays, 6 p.m., online
Sign up here.
Situational Awareness Training
Aug. 19, 10 a.m., online
Register here.
The Biology of Aging Special Seminar with Dr. Jan Hoeijmakers 
Aug. 22, 3 p.m., Herbert Irving Comprehensive Cancer Center
Register here. 
MDE Virtual Information Session
Sept. 7, 3 p.m., online
Read more.
New Frontiers in Cancer Research and Care: The Next 50 Years
Sept. 15, 1:30 p.m., Vagelos Education Center
Read more.
For more events, visit the CUIMC Events listing.
GRANTS
VAGELOS COLLEGE OF PHYSICIANS AND SURGEONS
Antonia Iavarone, MD, Institute for Cancer Genetics: $6,495,188 over seven years from the National Cancer Institute for "Oncogenic mechanisms, molecular stratification and therapeutic targets of brain tumors." 
Sheng-Han Kuo, MD, and Phyllis Faust, MD, PhD, Neurology: $3,003,010 over five years from the National Institute of Neurological Disorders and Stroke for "Targeting Cerebellar Endoplasmic Reticulum Calcium Handling in Essential Tremor." 
Rodney Joel Rothstein, PhD, Genetics & Development: $3,924,540 over five years from the National Institute of General Medical Sciences for "Molecular mechanisms underlying recombination at DNA double-strand breaks and stalled replication forks." 
Peter Sims, PhD, and Donna Farber, PhD, Systems Biology: $2,275,349 over three years from the Wellcome Sanger Institute for a subaward of "Single cell analysis of aging in lymphoid compartments." 
Michael Yin, MD, David Albert, DDS, and Peter Gordon, MD, Medicine: $661,681 over two years from the National Institute of Dental and Craniofacial Research for "Effectiveness of comprehensive ETE interventions in the dental setting."
MAILMAN SCHOOL OF PUBLIC HEALTH
Ying Kuen Cheung, PhD, Biostatistics: $349,418 over five years from the National Heart, Lung, and Blood Institute for a subaward of "Influencing Basic Behavioral Mechanisms of Action while targeting Daily Walking in Those at Risk for Cardiovascular Disease: Science of Behavior Change Factorial Experiment of Behavioral Change." 
Ian Lipkin, MD, Center for Infection and Immunity: $648,000 over four years from the National Institute of Allergy and Infectious Diseases for a subaward of "American and Asian Centers for Arboviral Research and Enhanced Surveillance (A2CARES)." 
Muhammad Parvez, DrPH, Environmental Health Sciences: $924,980 over five years from the National Institute of Environmental Health Sciences for a subaward of "Building Capacity to study mixed metal-induced neurotoxicity in Bangladeshi children-A1." 
Morgan Philbin, PhD, Sociomedical Sciences: $305,677 over five years from the National Institute on Alcohol Abuse and Alcoholism for a subaward of "Intersectional Approaches to Population-Level Health Research: Role of HIV Risk and Mental Health in Alcohol Use Disparities among Diverse Sexual Minority Youth." 
Kara Rudolph, PhD, Epidemiology: $3,135,544 over five years from the National Institute on Drug Abuse for "Role of disability and pain in opioid overdose: mechanism and risk mitigation." 
HONORS
VAGELOS COLLEGE OF PHYSICIANS AND SURGEONS AND MAILMAN SCHOOL OF PUBLIC HEALTH
Elaine Abrams, MD, Pediatrics and Epidemiology, and Yoanna Pumpalova, MD, Medicine, received 2022 President's Global Innovation Fund grants for their work to advance understanding in climate and sustainability, health and medicine, and social justice and equity at the Columbia Global Centers. Read more.
SCHOOL OF NURSING
Susan Doyle-Lindrud, DNP, and Judy Honig, EdD, DNP, were named honorary senior fellows in nursing by the University of Melbourne. 
SOCIAL MEDIA SNAPSHOT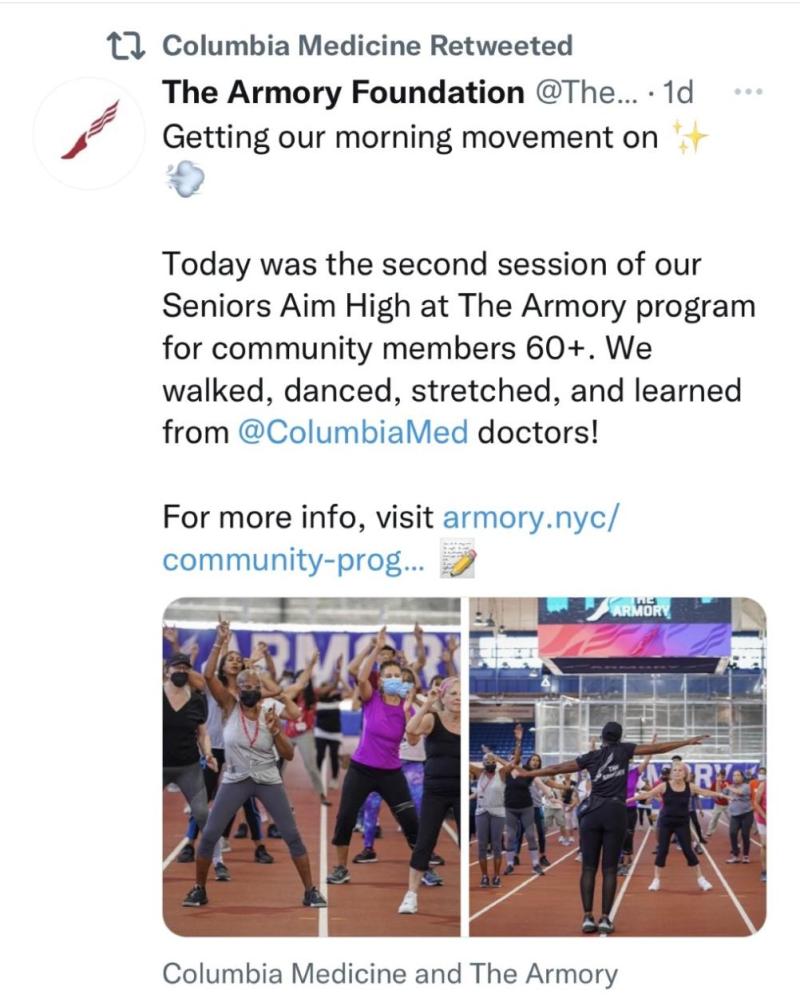 IN THE NEWS HIGHLIGHTS
CNN Online
What is monkeypox? Symptoms, risk factors, treatment and how the virus is spread
Aug 5, 2022 - "Classically, it presents like many other viral illnesses with what's called a viral prodrome, and symptoms like fevers, chills, swollen lymph nodes, fatigue and muscle aches are common. Within five days of the prodrome starting, patients develop a rash that can look like pimples or blisters," said Dr. Jason Zucker, an infectious diseases specialist at NewYork-Presbyterian/Columbia University Irving Medical Center. 
New York Times
Some Women 'Self-Manage' Abortions as Access Recedes
Aug 7, 2022 - While no treatment is 100 percent safe, taking the pills "on your own at home does not affect your risk of complications," said Dr. Carolyn Westhoff, an obstetrician gynecologist and professor at Columbia University and the editor in chief of the journal Contraception. 
NY12 Westchester
Columbia Primary Care celebrates opening of new practice in Tarrytown
Aug 12, 2022 - Columbia Primary Care celebrated the opening of its newest location on White Plains Road in Tarrytown Thursday. The more than 6,000-square-foot health facility offers preventive care, basic surgical procedures, pediatric care and women's health care. Services for depression and anxiety disorders are also available.