Afternoon of Science Series: Department of Physiology & Cellular Biophysics
The Afternoon of Science series continued on Oct. 30 with a focus on the Department of Physiology & Cellular Biophysics.
What sets physiology apart from other fields is that we study biological phenomena in the context of whole cells and whole organisms, said the department's chair, Andrew R. Marks, MD, in opening the afternoon's presentations. Marks is the Clyde'56 and Helen Wu Professor of Molecular Cardiology (in Medicine) and professor of biomedical engineering. "It's super exciting to be a physiologist these days, because there's so much that we can do, and today we'll give you a flavor for what we are doing now and where we are headed in the future. Ours is a small department but it spans a remarkable breadth of disciplines, all of them touching on physiology."
Katrina Armstrong, MD, dean of VP&S, opened the event by reminding the in-person and virtual audience of the importance of the Afternoon of Science series in setting the course for science at VP&S—"not just in individual departments but in our scientific enterprise at the Vagelos College over the next decade."
Presentations were given by the following faculty members:
---
Filippo Mancia, PhD, Professor of Physiology & Cellular Biophysics
Presentation:"Structural biology to investigate mechanisms of membrane transport"
Mancia, who is also co-director of graduate studies for the department, studies the structural biology of integral membrane proteins. He has experience in X-ray crystallography and, more recently, in single particle cryo-electron microscopy and in production and characterization of eukaryotic and prokaryotic membrane proteins for structural studies.
---
Henry Colecraft, PhD, the John C. Dalton Professor of Physiology & Cellular Biophysics and Professor of Molecular Pharmacology & Therapeutics
Presentation:"Of ubiquitin, ion channels, and diseases"
Colecraft's current work is on voltage-gated calcium channels, which are critical for the biology of electrically active cells such as heart muscle and nerve cells. He focuses on understanding how these channels operate in both normal and disease states and engineering new molecules to regulate their activity for potential therapeutic benefit.
---
Shawn Liu, PhD, the Joan and Paul Marks, MD'49 Assistant Professor of Physiology & Cellular Biophysics
Presentation: "Decoding the epigenome in physiology and diseases"
The Liu lab aims to decode the epigenome in physiology and disease by combining molecular tool development with genetic and genomic approaches to explore epigenetic mechanisms underlying normal physiological functions. Liu's three major research directions: CRISPR-based epigenome editing tool development, the molecular basis of memory storage, and sculpting the epigenome to tackle human disease.
---
Stavroula Kousteni, PhD, the Edward P. Evans Professor of Myelodysplastic Syndromes Research (in Physiology & Cellular Biophysics and in the Herbert Irving Comprehensive Cancer Center)
Presentation: "The contribution of the bone marrow stroma to the pathogenesis of hematological malignancies; therapeutic implications"
Kousteni's research aims to understand the influence of the skeleton on physiological processes. A long-term goal is to uncover the pathogenesis of degenerative diseases and suggest novel and adapted therapies for them. The lab studies the function of bone as an endocrine organ regulating glucose metabolism and energy homeostasis and examines the role of osteoblasts in hematopoiesis with particular emphasis on myelodysplasia and acute myeloid leukemia.
---
Tannishtha Reya, PhD, the Herbert and Florence Irving Professor of Basic Science Research in Physiology & Cellular Biophysics
Presentation: "Unraveling the origins of cancer: a stem cell perspective"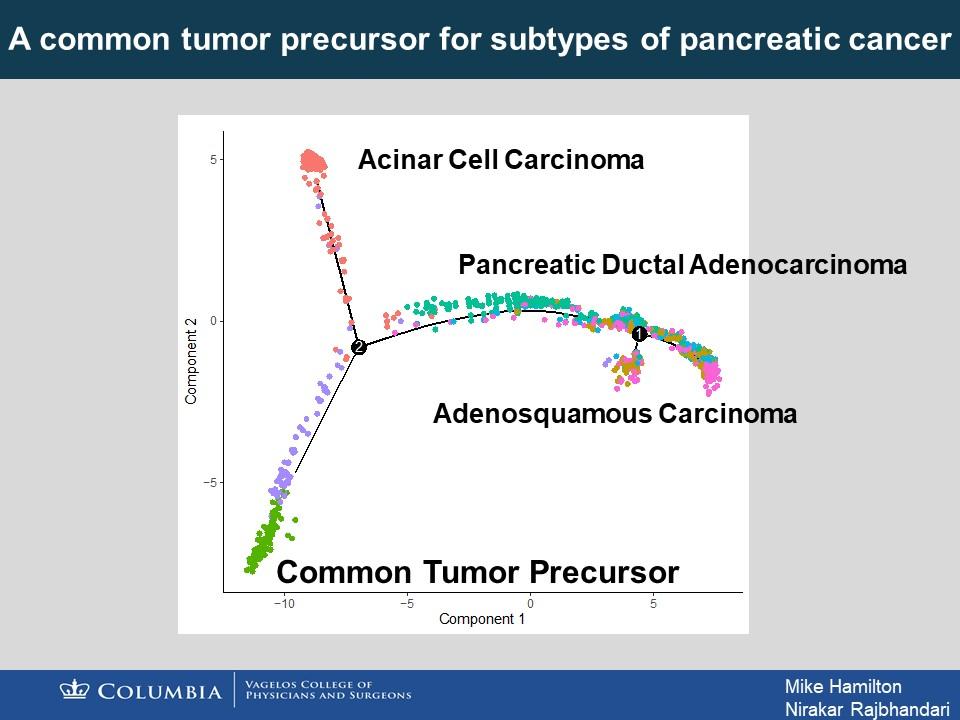 The Reya lab has three primary areas of interest: analyzing the role of stem cell signals in cancer progression, heterogeneity, and therapy resistance; developing high-resolution imaging strategies to map the behavior and interactions of stem cells with the microenvironment in living animals and defining how these interactions change during regeneration and cancer growth; and developing new strategies for cancer therapy.
---
Yvon Woappi, PhD, the Herbert and Florence Irving Assistant Professor of Dermatology and Assistant Professor of Physiology & Cellular Biophysics
Presentation: "Tissue systems physiology: Orchestrating wound healing for organ-level regeneration"
The Woappi lab aims to understand how varied cells mediate restoration of damaged tissue, with the goal of leveraging this insight to develop novel treatments for large-scale tissue injuries.
Since June, four departments or centers at VP&S have participated in the Afternoon of Science series, part of a year-long scientific prioritization process designed to facilitate collaboration and coordination across the medical school. Read the recaps from past afternoons featuring Genetics & Development, the Institute for Cancer Genetics, and Neuroscience.