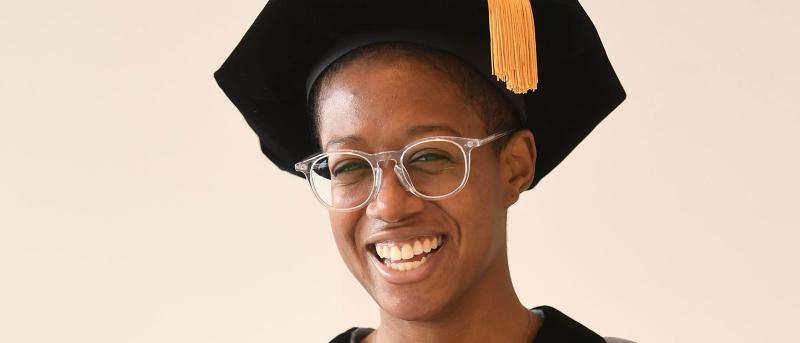 VP&S Class of 2021: Lauren Fields
Lauren Fields decided to go to medical school in large part because she knows what it is like to feel dismissed and misunderstood within the medical system. She has been in situations where her symptoms were underestimated or assumptions were made about her medical history.
"I also know what a relief it can be to see clinicians who look like you and how rare that experience was for me, as a Black woman, and doubly so as a descendant of U.S. slaves," she says. "As I progress through my career, I plan to use my experiences to advocate better for my patients and ensure that individuals are treated appropriately regardless of their background, while filling the roles of mentor and supporter that so many Black women in medicine have filled for me over the past four years." 
Psychiatry drew Fields to medical school, and though she kept an open mind during her major clinical year, Fields found herself drawn to the psychological and social issues on each rotation. She begins her residency in psychiatry at Massachusetts General Hospital this summer. 
Fields has come a long way on the path to becoming a doctor, though she still sometimes grapples with imposter syndrome and hopes prospective students will learn from her experiences. 
"I doubted myself a lot when I got here because I didn't have the background that I assumed I was supposed to have when going into medical school," she says. "But it's been reinforced to me over and over again by mentors and educators that there is more than one way to be a good medical student and more than one way to be a good physician. The individual interests, experiences, and passions that got you to this point will be more than enough to make you successful, however you define success for yourself."
A desire to help her fellow students succeed also led Fields to join the first class of Vagelos College of Physicians and Surgeons Equity and Justice Fellows, who were selected to work on anti-racist education innovation within the medical school curriculum. Their faculty mentor is Hetty Cunningham, MD, associate professor of pediatrics. 
"I'm most proud of our efforts to magnify the voices and experiences of students who are underrepresented in medicine, whether through advocating for more student representation in curricular planning groups or ensuring that student feedback is appropriately translated into real curricular change," says Fields. "One of my favorite projects has been creating workshops to help these students cope with the racism and microaggressions they face that can so often be isolating and disorienting in the preclinical and clinical settings."    
Throughout medical school, Fields also found time to nurture her love of poetry, which she started writing in elementary school. "I wrote something kind of silly about animals, but there was something about poetry that I really fell in love with, and I've been writing ever since," says Fields, whose poem, "A Laying on of Hands in the OR," received a 2020 International Hippocrates Prize for Poetry & Medicine. She has since written a collection of six poems based largely on clinical experiences with patients over the past year, which has overlapped with the COVID pandemic.
Hearing about the difficult experiences of health care professionals at the height of the pandemic made Fields more mindful of the impact of the practice of medicine on clinicians and their mental health needs. 
"I hope that I will be even more attuned to the needs of my colleagues and contribute to health care environments that allow us to take care of each other as we strive to take care of our patients," she says.