Student Vaccination Volunteers Reflect on Lessons of the Armory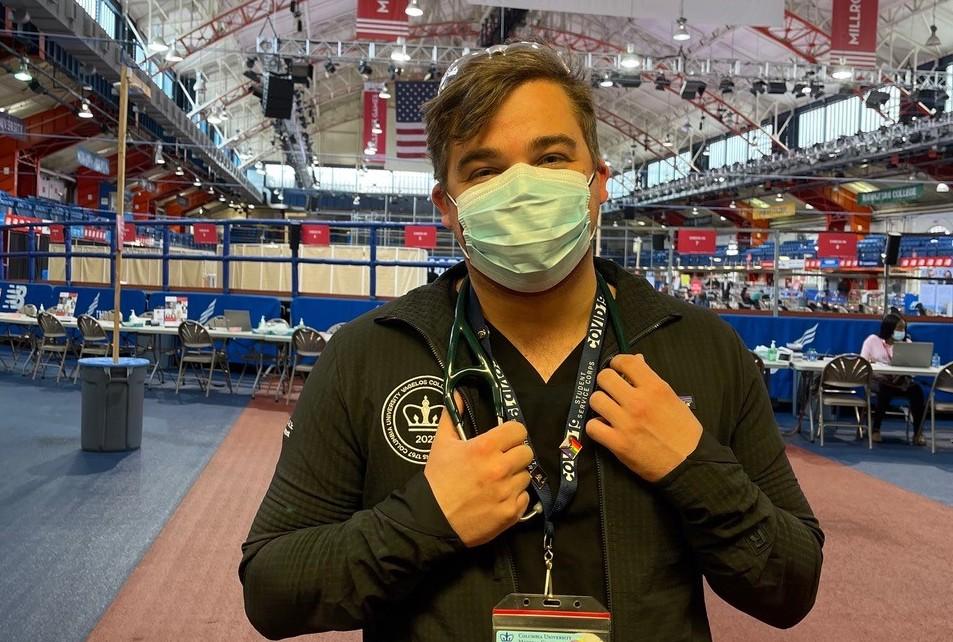 Thanks to the COVID-19 Student Service Corps (CSSC), more than 400 students from CUIMC's four schools were able to lend their talents to the Armory vaccination site in Washington Heights.
With the site scheduled to wind down operations this month, students discussed lessons, memories, and even laughs that they experienced at one of New York City's largest mass COVID-19 vaccination sites.
Finally in the Right Place
Sam Burnim, a fourth-year student in VP&S and MBA student, serves as student co-chair of the CSSC under the guidance of Marina Catallozzi, MD, MSCE, and Urmi Desai, MD. Burnim recruited students, coordinated with administrators at NewYork-Presbyterian, and directed hundreds of student volunteers at the Armory vaccination site. 
"When the Armory opened up, there was a lot of concern given the volume and the upscaling that needed to be done very quickly, especially given demand in the Washington Heights area," Burnim says. "Drs. Catallozzi and Desai—who are very involved in medical education and in this interprofessional, intercampus relief organization for COVID-19—reached out and said that the CSSC would step up to the plate and start organizing student volunteers at the Armory." 
The group utilized the Mary & Michael Jaharis Simulation Center in the Vagelos Education Center to train medical and dental students to administer injections and offer counsel regarding the vaccines. Students were also trained as patient navigators.
"Our shifts start at noon," Burnim recalls of the routine once the volunteers moved to the Armory. "I start the day by hovering to make sure that students are in the right place, which is important, because it's an enormous machine over there. With NewYork-Presbyterian, we're coordinating thousands of volunteers. Once the flow gets going by one o'clock, I'm usually right next to our student vaccinators vaccinating community members."
For Burnim, the experience has been equal parts unforgettable and invaluable.
"These are moments that rank at the very top of my medical school experience," he says. "We wanted to help and we figured out a way to fill a need.
"My most meaningful experience at the Armory was sitting down with an older woman, a breast cancer survivor. She was telling me how grateful she was to have a spot at the Armory that day and how worried she had been," Burnim recalls.
"She was teary eyed, and she said, 'It's just awesome to see the energy that you guys bring and how streamlined this whole thing is.' She told me how easy and comfortable we had made it for her. She said, 'There's been so much fear going around with everything that's happened. It's nice to finally feel like I'm in the right place.'"
Everyone in Alignment
Ian Irwin has called New York home for more than 20 years. He served in the U.S. Marine Corps Reserves, earned a degree in electrical engineering, and worked in EMS before shifting gears and enrolling in the School of Nursing's Master's Direct Entry (MDE) program. 
His background in EMS meant that he was qualified to administer vaccines when the call for volunteers first went out, and he reached out to CSSC straight away. On his busiest shifts at the Armory, Irwin vaccinated dozens of people and interacted with a variety of community members.  
"A lot of people were very excited, but some people were still a little skeptical," he says. "I definitely had some people come in saying, 'My family member is making me be here today.' But they are there," he says.
"I think the most impressive people, to me, are the folks who are deathly afraid of needles but are still there to get their vaccine. These are people who are telling me, 'I never get any shots; I never do anything with a needle,' But they're still coming out to get their COVID vaccine. It's nice to see them come through."
Irwin notes that the amount of gratitude the students receive is immense, and can even border on overwhelming. "It can feel a little weird sometimes," he confesses with a laugh.
"But I do feel very grateful to hear from people. People want to tell us, 'Thank you so much for all you do, and thank you for being here for us.' But for me it's like, 'Well, I just showed up, and I've got some needles here…  Someone else put on the whole rest of the show," he says with a smile.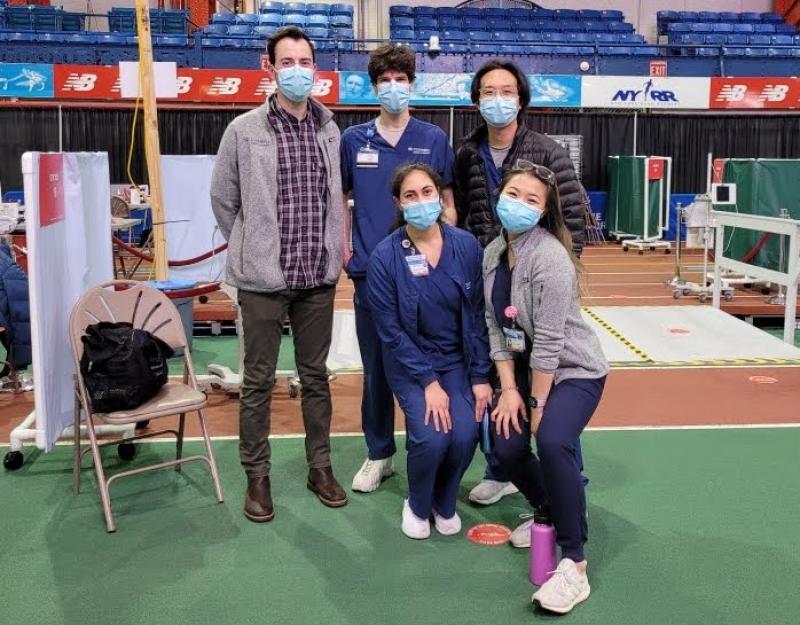 As a veteran and former EMT, what impressed Irwin most was the level of efficiency and camaraderie he experienced at the Armory.
"Everyone you talk to is super helpful. Everyone is on board," he says. "This is the kind of experience you only have when everyone is there for a specific goal, when every person is aligned in a specific direction. I feel grateful to be a part of it."
A Reason to Smile Again
Pich Seekaew is a second-year PhD student in epidemiology at the Mailman School of Public Health. When the call went out for students to help staff the Armory, he eagerly volunteered as a patient navigator. 
Only months earlier, Seekaew's grandmother was hospitalized with pneumonia and passed away at a time when the pandemic made travelling back to his home in Thailand difficult. Thousands of miles away, his family urged him to stay safe and remain in New York. 
"I had to find a way to cope, and volunteering has definitely been a good way for me to get out there and be connected again to society," he says.
Seekaew says he found a much-needed sense of community in Washington Heights, where he has lived since starting his master's degree at Mailman.
"There's something special about Washington Heights: It is really communal and it feels different than the rest of Manhattan," he says. "In a way, it's very similar to my community where I grew up in Thailand.
"It's so crazy, and so positive, the number of people who came up to the Armory," he says. "They were so appreciative, and everybody is smiling. It's so great to be in that space and to be with people and to be one of the reasons that they could smile again."
One patient returned the favor by bringing a smile to Seekaew's face, too. "One of the most notable memories that I have was of this grandma. She was really, really appreciative, and she just kept wanting to give us chocolate," he recalls. "She came in with a fanny pack stuffed full of chocolates and kept coming up to us volunteers like, 'Here, you need this.' That was a really special moment."
But as a public health professional, Seekaew also viewed his experience at the Armory as a valuable learning opportunity.
"This pandemic points out the inequity in our society," he says. "If you look at our Black and Latino communities, they are the hardest hit populations in the country with COVID, but their vaccination rate is among the lowest. So what does that mean for us as public health practitioners? What can we learn from this moment, so that we can bridge those disparities that we see so vividly through COVID?"
Generations Bridged
Lydia Nieto is a Queens native and a third-year student in the College of Dental Medicine. Attending Columbia University was a childhood dream ever since she participated in the State Pre-College Enrichment Program, a program she would eventually go on to teach in as a dental student. 
As the pandemic brought public life to a halt, she missed participating in community service programs through the College of Dental Medicine. When Nieto received the email about the need for volunteers, she signed up for training and began spending her Saturdays at the Armory.
"My friends and I at the dental school would wake up at 5 a.m. to start our shifts at 6," she says. Nieto was especially grateful to be able to serve the Washington Heights community.
"The people I vaccinated were so happy when they would come to me and I could actually explain everything in Spanish clearly to them and allow them to feel like they could ask as many questions as they wanted to," she says. Nieto vaccinated dozens of people each day, but one experience was particularly memorable.
"I was able to vaccinate my own grandmother," Nieto says. "And that is something that I'll never forget.
"She was very nervous at first to come get her vaccination. She wanted all the facts," Nieto says. "I went through everything the same way I do with everyone. She agreed and my mom brought her up one Saturday."
That scene—of three generations of women holding hands at a vaccination station at the Armory, the youngest vaccinating the oldest—was "a really special moment, that I was able to feel like I was helping and protecting her, and that she trusted me to do this for her," Nieto says.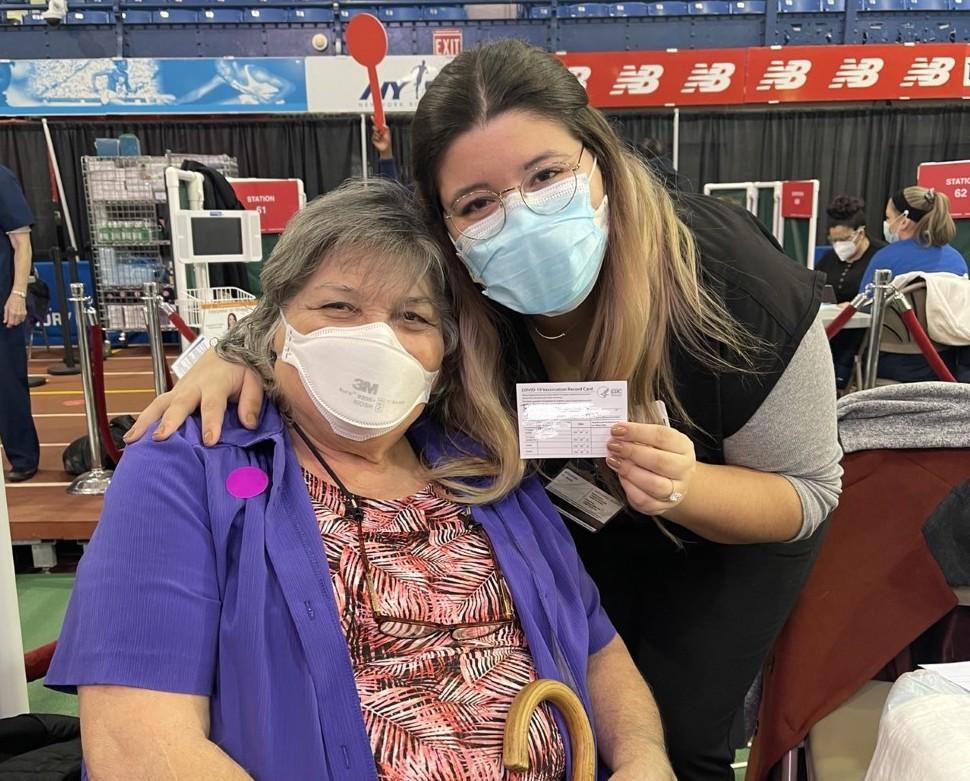 Nieto also vaccinated her great-uncle, and on another day, she was able to vaccinate a 97-year-old man who couldn't remember the last time that he had a vaccination.
"I really feel this an honor, and I feel like a part of history," she says. "We will all look back on these years, and it's just hard to believe that I was a part of bringing the pandemic to an end."
---
As vaccination efforts shift away from mass vaccination sites, Burnim is excited to see what comes next for fellow students who were able to volunteer.
As new vaccination sites open around the city, students have expressed interest in taking their skills to other spaces, including some of the satellite clinics operated by ColumbiaDoctors.
"The end of the pandemic is in sight," Burnim says, "but what I think is more exciting is that the students are more focused on channeling this momentum and helping more people."