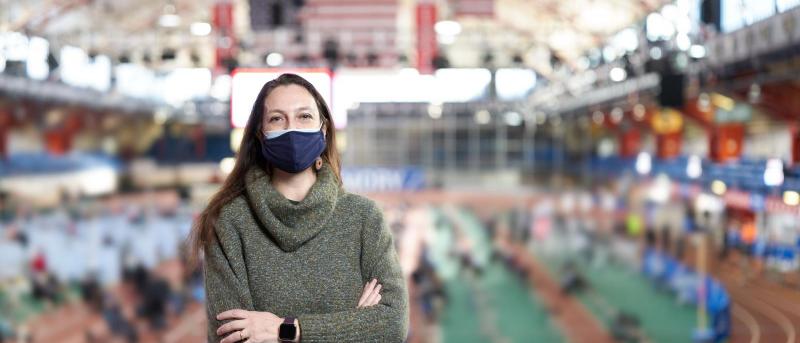 CUIMC Vaccine Volunteers Describe Sense of Community, Hope
When the call for volunteers to staff the Armory vaccination site went out to CUIMC staff on the evening of Jan. 13, Columbia University faculty and staff flooded the gates. 
Within a week, more than 1,700 Columbia faculty and staff members volunteered to assist on site. The crush of volunteers was so great that the volunteer registration page had to be temporarily taken down. On a conference call the following week, Donna Lynne, DrPH, CUIMC senior vice president, chief operating officer, and University COVID director, addressed the overwhelming response.
"We appreciate everyone who has volunteered and who will volunteer," Lynne said. "This is a marathon. We will be open for a long period of time to do this work." 
The vaccination site, part of the NewYork-Presbyterian vaccination effort, opened at the Armory on Jan. 14. The cavernous 65,000-square-foot indoor track and field complex is now home to approximately 70 vaccination stations. As of Jan. 27, all new appointments at the Armory are for New York City residents only, and a minimum of 60% of appointments are reserved for eligible residents of the Washington Heights, Inwood, Harlem, and South Bronx communities.  
Vaccines are administered beginning at 7 a.m. five days a week. Volunteers without clinical experience serve as greeters and patient intake specialists, while those with medical training are charged with administering vaccines.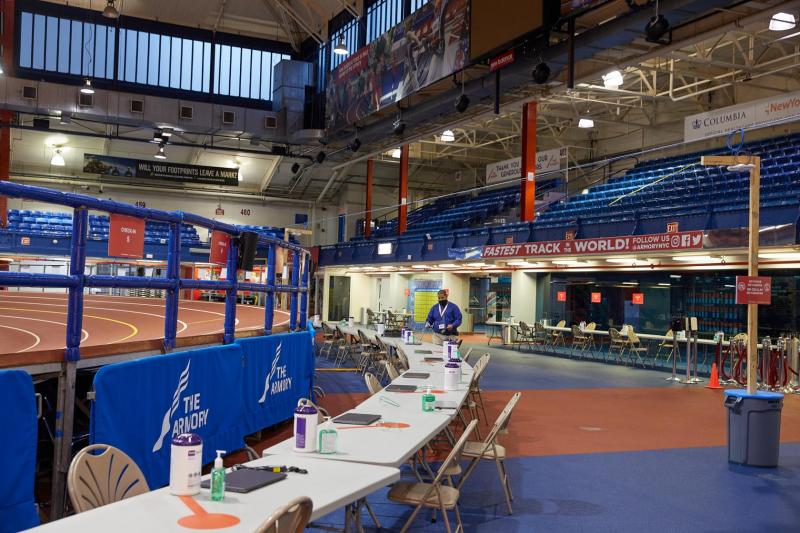 Like Waking from a Nightmare
Manuela Buonanno, PhD, associate research scientist in the Center for Radiological Research, volunteered as a greeter. Buonanno and her husband both contracted COVID-19 in 2020, and she can still vividly recall her long wait outside the emergency room when her husband first had trouble breathing. She and her husband recovered, and when the opportunity to help others avoid the same experience presented itself, her decision was automatic.
"I checked with my supervisor, and as soon as I was able, I signed up for the first five shifts available," Buonanno says. 
When she arrived for her first volunteer shift at 5:30 a.m., she found the vaccination site already bustling. Hundreds of patients are vaccinated every hour; Buonanno and her fellow volunteers serve as a helpful touchpoint and offer relief from any lingering anxiety about the vaccine. 
"I hope I could help alleviate some of the tension, whether with a smile or just by saying, 'Without any doubt, you're doing great. Congratulations. You are doing something fantastic—for you and for everybody in your community,'" she says. In return for her service at the Armory, Buonanno has found a long-awaited sense of hope.
"It feels like waking when a nightmare is finally ending," she says. "And maybe it's a silly phrase, but this feels like we are seeing a light at the end of the tunnel. For the first time, it feels like we have the opportunity to end this, to be together again, and to live without fear."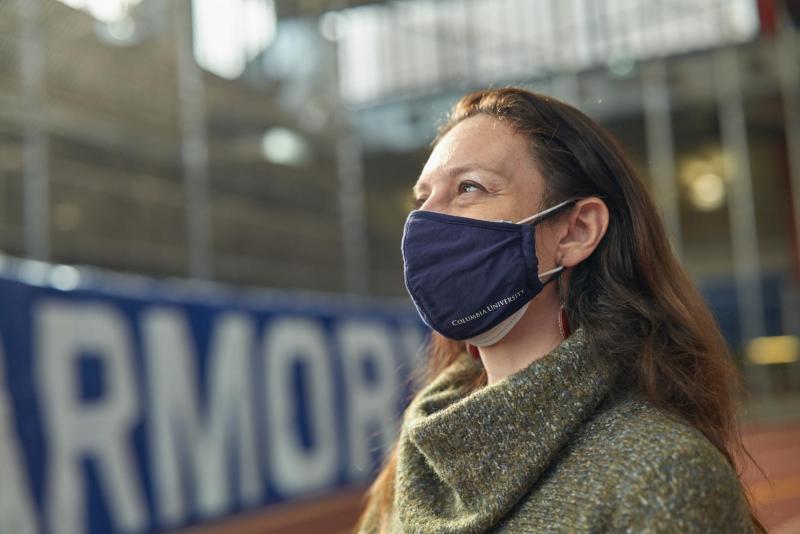 A Pivotal Point in Time
Kiran Thakur, MD, the Winifred Mercer Pitkin, MD Assistant Professor of Neurology at VP&S, has volunteered as a vaccinator. As a health care provider, she stresses the importance of the community taking advantage of the vaccine.    
"It's critically important that our community be vaccinated," Thakur says. "The Armory site is a real opportunity for us to serve our local community and, importantly, prevent them from coming to the hospital with COVID-19."  
Initially, Columbia and NYP were able to serve any of their patients living in New York State. Subsequently this was modified to limit vaccination to NYC residents 65 and over and reserved a minimum of 60% of appointments each day for residents of the Washington Heights, Inwood, Harlem, and South Bronx communities. NYP also partnered with more than 40 community-based and faith-based organizations to contact eligible Northern Manhattan residents and help them register for appointments.
Like Buonanno, Thakur notes the camaraderie she's enjoyed while volunteering. "Despite COVID having drawn people apart due to physical distancing and the general nature of the pandemic, I think people have also really come together in unique ways," she says. "I met a number of colleagues from different parts of the hospital and we all felt a positive energy at the Armory."  
Still, Thakur warns that the work is far from over and that the threat of COVID-19 is still immense. New York City remains at extremely high risk, reporting thousands of confirmed cases per day. 
"We have a lot of work ahead. This is a pivotal point in time. We all need to come together, help people understand the importance of being vaccinated, especially those in our local Northern Manhattan community who have already suffered too much from the pandemic, and volunteer," she says. "One thing we have learned from COVID is that we all have to work together as a team—as a very multidisciplinary unit. I think the Armory represents that in a very visible way."  
On a Mission
One member of that multidisciplinary force is Oscar Padilla, MD, a postdoctoral residency fellow in the Department of Radiation Oncology. Padilla spoke about his experience as a Latino physician volunteering as an Armory vaccinator.
"It's a moment of relief for patients, I sense, and it's an extreme moment of gratification for me," he says. Padilla's very first patient while volunteering was an elderly cancer patient who spoke only Spanish.
"She breathed a sigh of relief when she realized that I was also Spanish speaking," he recalls. "There are a lot of questions that patients and people have surrounding this vaccine, and not just Latino patients or minority patients. Americans in general have these uncertainties.
"This patient wanted me to know her story, and she wanted me to see her. She appreciated me knowing who she was, not just as a compendium of medical conditions and medications, but as a person—and in knowing someone's culture, that is part of their identity," he says. "She was beckoning me to explore her history and assure her that it was going to be okay for her to receive this vaccine." 
Padilla and his family have been particularly hard hit by COVID-19. He was one of the first COVID-19 patients at NewYork-Presbyterian Hospital, suffering symptoms for eight weeks starting in early March. In the months that followed, he saw multiple family members hospitalized with the disease.
This February, Padilla's father succumbed to COVID-19. It was the latest and most harrowing blow in a long line of stinging losses suffered throughout the pandemic. 
"I am even more invigorated to continue volunteering because of what happened to my father. It's a sense of mission for me, to ensure that as many people get vaccinated as possible. I'm doing this work physically by volunteering at the Armory and also virtually with my family. I keep reminding them the importance of the vaccination and telling them to talk to their neighbors and extended family," he says. "Now I'm on a mission. I feel emboldened."
Tears in Their Eyes
Brett Anderson, MD, MBA, MS, the Florence Irving Assistant Professor of Pediatrics, feels that energy too. On her first day at the Armory, Anderson was scheduled to administer vaccines for eight hours; she stayed for 11.
"When I got my vaccine, I felt like I had won the lottery. Volunteering and giving the vaccine to others felt like winning all over again with each family that came in," Anderson says. 
"The number of people who had tears in their eyes as they were getting the vaccine—with thoughts that they might actually be able to see their grandchildren—was a reminder of why we all went into medicine in the first place." 
Anderson is a Spanish speaker, and like her peer, Padilla, she was able to make deeper connections with members of the local community. "There was an amazing amount of relief on people's faces when I started speaking Spanish, and they realized that they had a Spanish-speaking physician who could explain how the vaccine provides protection," she says. "It really made for a joyous day on both sides.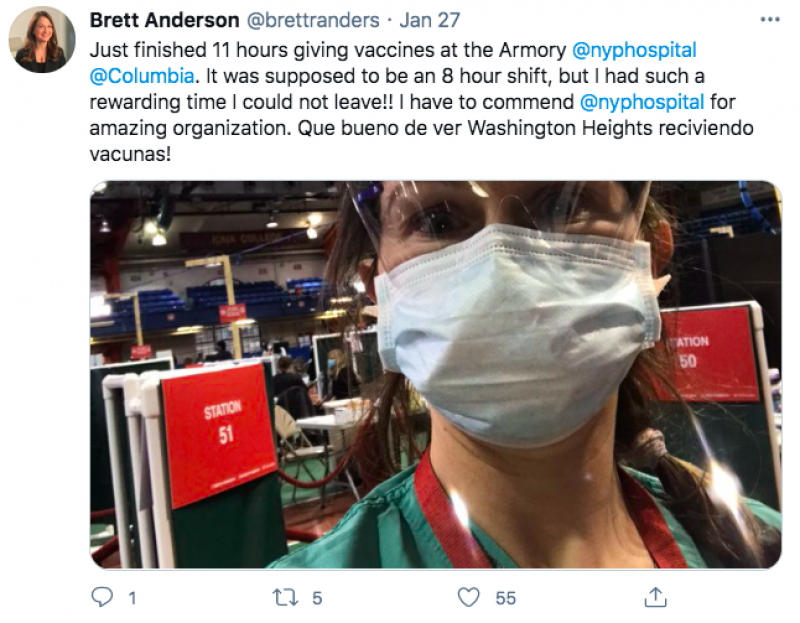 "Speaking with a person face to face is so much more comforting for folks than tablets and virtual translators," she says, and she encourages other Spanish-speaking health care providers to volunteer alongside her. Spanish-speaking volunteers are now being prioritized as the Armory vaccination site aims to better serve Washington Heights and the surrounding communities.
"This was really one of the most rewarding things that I have done in a long, long time," Anderson says. "If there are others who need a reminder of why they went into medicine, this is it. Go and volunteer."
References
The work continues at the Armory. To date, more than 25,000 patients have been vaccinated with the help of volunteers from the Columbia community. Eligible members of the community may register for a vaccination appointment at VaccineTogetherNY.org. If you are interested in volunteering to support the ongoing vaccination effort, see the Vaccine Volunteer Program FAQ for more information. To register, visit Armory Staffing Sign-Up.