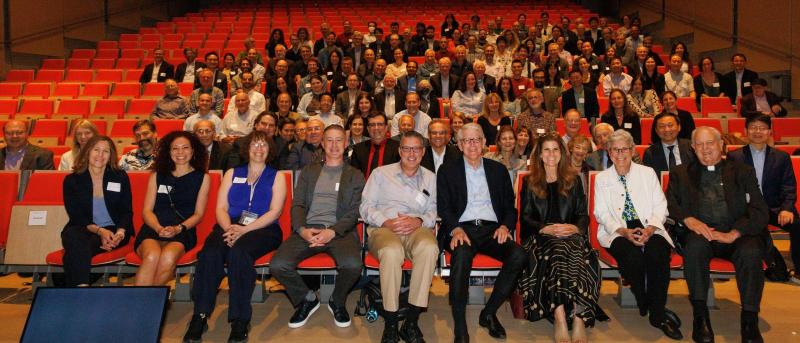 Molecular Biology Community Honors Tom Maniatis on 80th Birthday
Scientists from around the world gathered at The Forum at Columbia University May 12 to celebrate the 80th birthday of Tom Maniatis, PhD, the Isidore S. Edelman Professor of Biochemistry & Molecular Biophysics at Columbia University Vagelos College of Physicians and Surgeons, and recognize his contributions to molecular biology.  
Maniatis' research has been crucial to the field of molecular biology, focusing on how human genes are switched on and off in cells. He was the first to create a DNA library, making it possible to isolate human genes and further understand how mutations cause genetic diseases. Maniatis is known for creating a method to clone messenger RNAs (cDNA cloning) and creating the "Molecular Cloning" manual in 1982, which is seen as the definitive laboratory manual on genetic engineering and set a standard for international dissemination of recombinant DNA methods. 
"When my lab was founded in 1975, we knew virtually nothing about human genes, there was no genomic technology, and sequencing 35 base pairs of DNA was worthy of a Nature paper. No one could have imagined that we as a field would be where we are today in our understanding of molecular mechanisms that underlie human diseases," Maniatis said. "Thus, we were celebrating our science and, more broadly, the breathtaking scientific advances of the field. The warmth, humor, and collegiality of the gathering reflected common goals and culture that has persisted through generations of lab members."
The festivities were organized by Stavros Lomvardas, PhD, the P. Roy Vagelos Chair of the Department of Biochemistry & Molecular Biophysics at the Vagelos College of Physicians and Surgeons, and Bing Ren, PhD, professor of cellular and molecular medicine at the University of California, San Diego School of Medicine. 
"Dr. Bing Ren and I decided to organize this symposium at Columbia, offering the opportunity to Dr. Maniatis's colleagues to celebrate with him but also offering the rare opportunity to students and trainees to witness the history of molecular biology through the discoveries of one of its founders," Lomvardas said. 
The celebration included a day-long symposium featuring former members of the Maniatis lab and colleagues, including Katrina Armstrong, MD, P. Roy Vagelos, MD'54, and Richard Axel, MD. More than 70 participants attended the symposium, presented current research, and reflected on the influence of Maniatis' pioneering work on the history of molecular biology.  
"I am deeply grateful to all of my former lab members, colleagues, friends, and family, some of whom traveled great distances to share their latest science, recollections, and humor. It was wonderful to see the continuing impact of their research and to learn about the work of their trainees," Maniatis said.   
Maniatis, the Evnin Family Scientific Director and CEO of the New York Genome Center, has received several awards recognizing his achievements, including the 2012 Lasker-Koshland Special Achievement Award in Medical Science, the Donald Mulder Award for ALS research from the ALS Association, a Scientific Achievement Award from the American Medical Association, the Eli Lilly Award in Microbiology and Immunology from the American Society of Microbiology, and the Richard Lounsbery Award for Biology and Medicine from the U.S. and French national academies of science. 
Maniatis was founding director of Columbia's Precision Medicine Initiative and served as chair of the Department of Biochemistry & Molecular Biophysics at the Vagelos College of Physicians and Surgeons. He is a principal investigator at Columbia's Mortimer B. Zuckerman Mind Brain Behavior Institute.