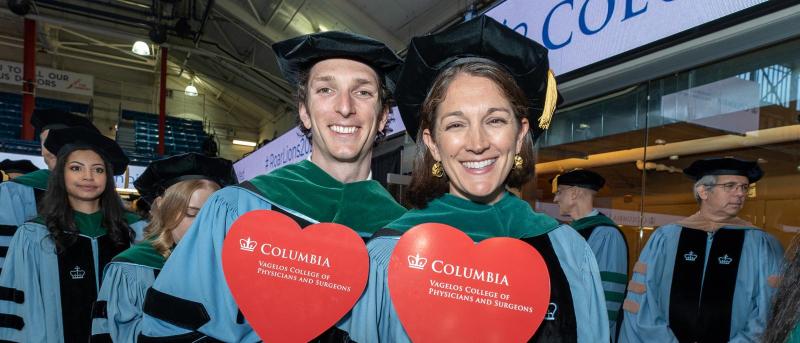 Medical School Celebrates 2023 Graduates
The Columbia University Vagelos College of Physicians and Surgeons Class of 2023 celebrated graduation with friends and families on May 17. The ceremony honored 140 students who received MD degrees from VP&S and 77 students who received PhD degrees in biomedical sciences from Columbia's Graduate School of Arts and Sciences.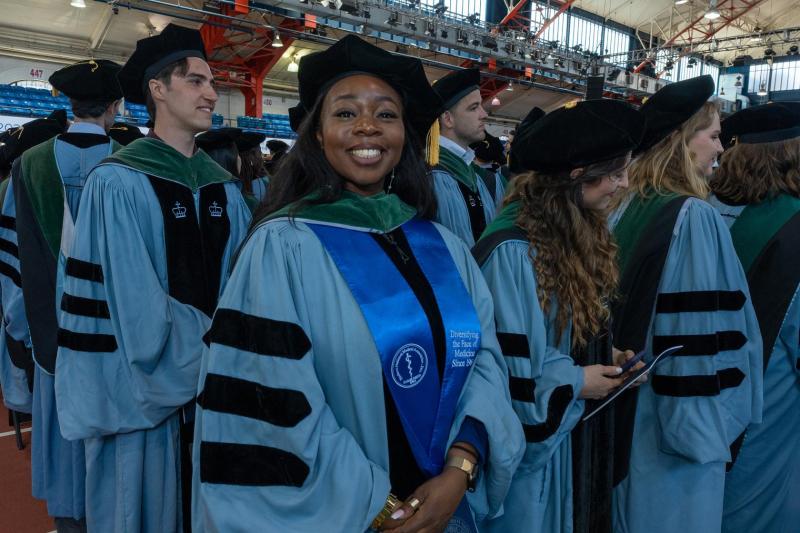 Atul Gawande, MD, assistant administrator for global health at USAID, delivered the graduation address. Before his appointment to USAID, Gawande was a practicing general and endocrine surgeon at Brigham and Women's Hospital and a professor at Harvard Medical School and the Harvard T.H. Chan School of Public Health.
In his address, Gawande recounted the story of his father, who grew up in rural India and was inspired to become a physician after caring for his mother, who died of malaria. During his 50-year career in medicine, Gawande's father saw an explosion of change in medical practice, including new drugs, devices, and therapies and increased physician specialization.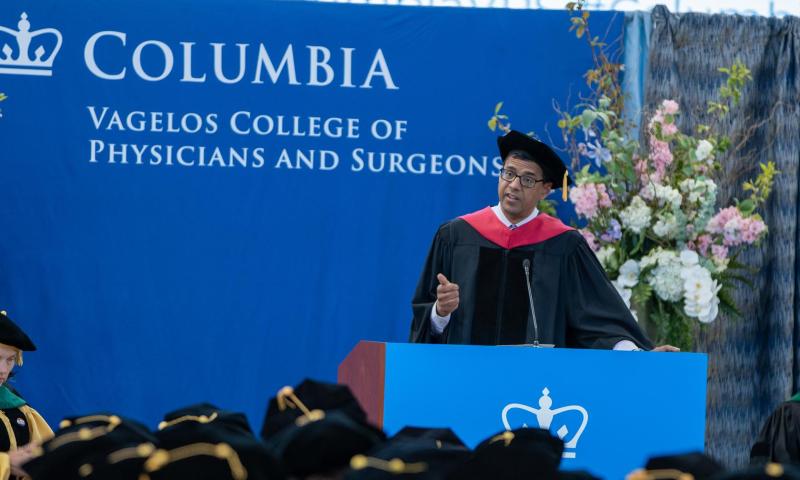 "In medicine, the definition of what it means to win the game is ever-changing," Gawande said. "The goal of a patient is individual and subject to modification. We all have hopes and fears and priorities beyond just living longer. Learning the goals that people have for their lives and using your ever-expanding kit of tools to accomplish them is what it means to deliver care. It requires human caring and human creativity and expertise. Whatever you do in medicine, know that it evolves, but also know that you need to find your way to bring world class medicine to everyone."
Much of the Class of 2023's four years of medical school took place during the COVID-19 pandemic, a time of immense upheaval and change across all fields. In her remarks at the graduation ceremony, Katrina Armstrong, MD, dean of VP&S, said she hopes that the new graduates will use the lessons learned during the pandemic as they begin their careers.
"You had a front row seat to the potential of science and medicine to make the world a better place and to the obstacles to realizing that potential," Armstrong said. "I ask you to remember what it felt like when you had your world disrupted overnight and to bring that to your work, with your patients, with your colleagues, and to your family, your loved ones, and everyone you encounter. So many are putting on a brave face every day, trying to hide the story they carry with them. Kindness and compassion can never be the wrong answer."
Columbia University Irving Medical Center's three other schools also held graduation ceremonies this week. Meet graduates from VP&S, the College of Dental Medicine, the School of Nursing, and the Mailman School of Public Health.
Graduation and Commencement Awards
Several VP&S faculty members received awards at the VP&S ceremony for service, teaching, research, or humanism:
Jay Lefkowitch, MD, professor emeritus of pathology & cell biology: Distinguished Service Award in Basic Science
Elizabeth Shane, MD, professor emeritus of medicine: Distinguished Service Award in Clinical Science
Alan J. Detton, PhD, assistant professor of pathology & cell biology: Charles W. Bohmfalk Award for Pre-Clinical Years
Michael Devlin, MD, professor of psychiatry: Charles W. Bohmfalk Award for Clinical Years
Jocelyn Brown, MD, professor of pediatrics: Leonard Tow Humanism in Medicine Award
Manu Ben-Johny, PhD, assistant professor of physiology & cellular biophysics: Doctor Harold and Golden Lamport Research Award in Basic Sciences
Alexander Harris, MD, assistant professor of clinical psychiatry: Doctor Harold and Golden Lamport Research Award in Clinical Sciences
Lisa A. Mellman, MD, the Samuel Rudin Professor of Psychiatry and senior associate dean for student affairs: Distinguished Teacher Award given by the Class of 2023
At Columbia University's commencement ceremony, several students and faculty members from across CUIMC were recognized:
Tka Edwards (Nursing), Joanne Michelle F. Ocampo (Mailman), Daniel J. Pohl (VP&S), and Nolan Allan Wendling (CDM): 2023 Campbell Award winners
William Turner, MD, VP&S associate professor of medicine: 2023 Faculty Service Award
Anette Wu, MD, PhD, associate professor of medical sciences (in medicine) and of pathology & cell biology at VP&S: Columbia Alumni Medalist as an graduate of the Mailman School of Public Health.