Improving Access to Mental Health Care
Commencement offers graduates a moment to reflect on their time as a Columbia student before they take the next step on their life path. It is an opportunity to celebrate accomplishments, but also pause and appreciate the people, relationships, and lessons that coalesce to make each graduating student's experience unique.  
We asked Nia Josiah, who will receive her DNP from the School of Nursing, to share a few highlights of her time at Columbia and their impact on her personal and professional development.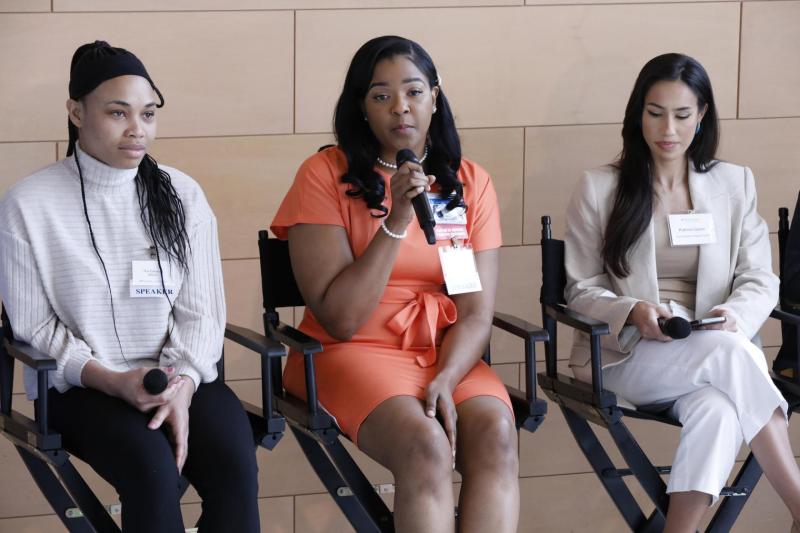 What drew you to nursing and, in particular, Columbia's DNP program in mental health? 
I have devoted my life to service, and I take great pride in being an advocate for social justice. The School of Nursing's mission and commitment to support health and well-being as a human right aligns with my values. Also, its location in Washington Heights fosters an awareness of underserved and underrepresented minority populations.  
I see serving these populations as my Divine purpose, and I believed wider access to mental health care would lead to better mental health outcomes. I saw in Columbia a similar dedication to both serving marginalized patient populations and addressing unjust systems and structures. I wanted to make the most of this alignment of purpose. 
Was there one course or clinical rotation that made a deep impression on you? 
One course that made a deep impression on me was "Introduction to Addictive Behaviors" taught by Professor Ronica Mukerjee. The course not only provided an understanding of addictive behaviors but a historical understanding of the war on drugs and the negative impact carceral systems have on people who use drugs. The course also introduced us to harm reduction and patient support as alternatives to punishment. 
The course resonated with me in a profound way. My late cousin and best friend passed away from a fentanyl overdose. I have since been committed to addressing the lack of access to mental health care in marginalized and disadvantaged communities and the cultural stigma of mental health challenges in those communities.  
Can you tell us about a project you worked on that has special meaning to you? 
Let me tell you about two. With my CUSON colleagues, I co-authored a discursive review and will be presenting a poster that surveys nurse-led patient education programs that address depressive symptoms in African American heart failure patients. The presentation encapsulates my passion for making mental health care accessible to, and equitable for, all Americans, which I see as an issue of social justice. I look forward to sharing my findings at an international nursing congress in Abu Dhabi in July 2023.
I also have served as a PLAN Leadership Scholar. Through the Pathways to Leadership and Advancement in Nursing (PLAN) program, I have four mentees that I uplift and empower to manifest their Divine purpose—to be transformational nursing leaders. For me, this is both an opportunity and a responsibility to pay homage to my nursing ancestors and to extend a supportive hand to those walking a similar path. We must encourage one another and lift each other up! 
Is there one professor that you would especially like to thank? 
I would like to thank Dean Judy Wolfe for using her platform as a woman of color in a predominantly white institution to advocate for me. Dean Wolfe has been instrumental in my success at the School of Nursing, as she has been a voice and a pillar of support at moments when I felt voiceless and most discouraged. She believed in me and has spoken many words of encouragement, willing me to the graduation finish line.   
What's the next step for you in your career? What do you ultimately hope to accomplish? 
With the skills and knowledge I have acquired at Columbia, I will serve the needs of disadvantaged minority populations at the individual, family, and communal level through clinical practice and nursing research.  
I would like to work in an inpatient psychiatric hospital and to obtain a full-time faculty position at a reputable institution. Within two years I plan on opening my own private practice, while continuing nursing research and philanthropic pursuits. I also plan on volunteering my time to help marginalized communities at local outreach centers. 
What one thing will you miss most about Columbia? 
I will most miss the meaningful friendships I have fostered along my journey. The reality that we are going to soon take flight in different directions is bittersweet. Although my family is in Maryland, my Columbia classmates and colleagues have become my extended family. I will sorely miss them when I transition to post-graduate life because each of them reminds me to cherish every waking moment and to truly value the bonds we share.