French Delegation Visits Columbia Stem Cell Initiative
French Minister of Higher Education, Research and Innovation Frédérique Vidal, PhD, visited the Columbia Stem Cell Initiative (CSCI) on Saturday, Dec. 4, alongside a delegation of French scientists and government officials. 
The tour of CSCI's facilities was the first stop for Minister Vidal on a five-day visit to the United States, which will conclude with the French and American Summit on Science and Technology in Washington, D.C., on Dec 6-7. The visit brings together French and American scientists and leaders of several major universities to discuss common ambitions in higher education, research, and innovation.  
Leading the tour of the CSCI facilities were Columbia University's Emmanuelle Passegué, PhD, the Alumni Professor of Genetics & Development and director of CSCI, and Gérard Karsenty, MD, PhD, the Paul A. Marks MD Professor and chair of the Department of Genetics & Development at the Vagelos College of Physicians and Surgeons.  
"Building links with research agencies in other countries is critical for scientific exchange and creativity," Passegué says. "Today's visit and our ongoing collaboration with our international peers reflects the premier status of CSCI and its global visibility. At Columbia, we have built our stem cell community into a cohesive, forward-looking, and globally recognized program." 
Passegué, Karsenty, and Columbia faculty showcased the CSCI headquarters and its research contributions, including tours of the Stem Cell Core Facility and the Flow Cytometry Core Facility. Research highlights included the work of the CSCI's Smeeton Lab, which uses zebrafish to research the progressive deterioration of joints and the activation of stem cells for joint repair.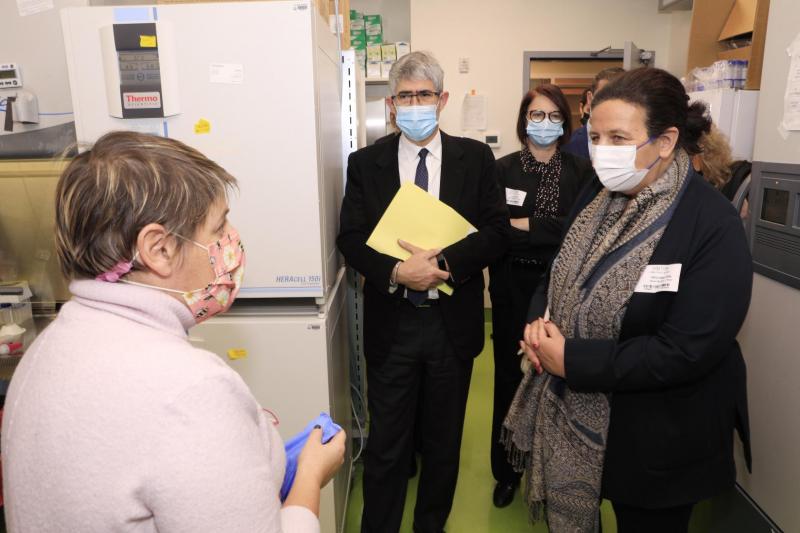 "The Minister was very impressed by the state-of-the-art technological platforms of our core facilities," Passegué says. "She also expressed her appreciation for the breadth of our research, which ranges from early development to cancer and aging, with a strong focus on neurogenesis and personalized medicine modeled with induced pluripotent stem cells (iPSC) and their many applications including new bioengineering developments."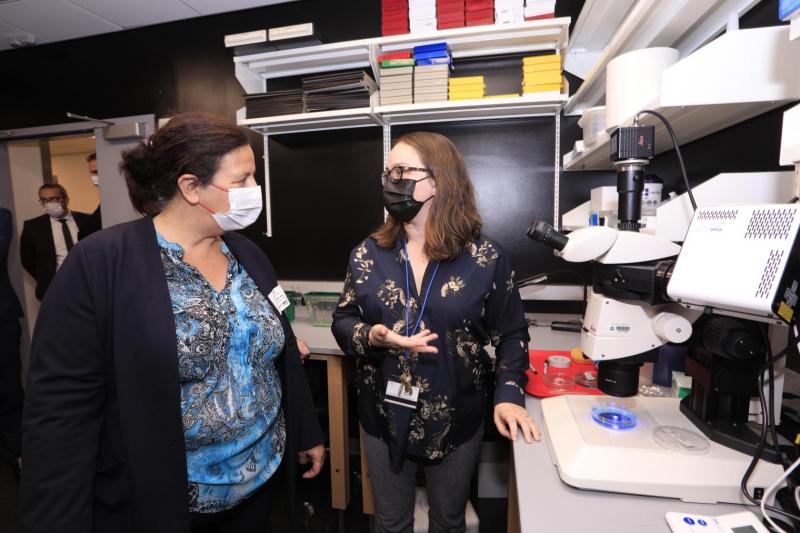 The visit was a resounding success, both scientifically and personally, Karsenty says.  
"On one hand, this visit illustrates the quality of training that scientists receive in European countries. On the other hand, it illustrates the welcoming and international nature of the Columbia University Irving Medical Center," he says. "I have no doubt that this will lead to more long-term and fruitful collaborations between Columbia University and leading scientific institutions in France." 
Also representing the delegation were leading members of the French scientific community, including Gilles Bloch, chairman and CEO of the French National Institute of Health and Medical Research, and Claire Giry, director general of research and innovation in the French Ministry of National Education.  
"We are very grateful to have hosted Minister Vidal and this delegation of esteemed French peers," says Anil Rustgi, MD, interim executive vice president and dean of the Faculties of Health Sciences and Medicine at Columbia University. "The internationally renowned Columbia Stem Cell Initiative is a leader in fundamental aspects of stem cell biology, and we hope that Drs. Passegué and Karsenty and our colleagues from other disciplines at Columbia will forge new and exciting collaborations with the French government and scientists." 
The CSCI opened its new headquarters facilities in June 2019. The initiative was created in 2008 in the Department of Rehabilitation & Regenerative Medicine and became a stand-alone institute in 2017. CSCI's goal is to promote the use of stem cells to model human diseases, develop new diagnostics and therapies, and create new cells and tissues to replace damaged, aged, or diseased body parts.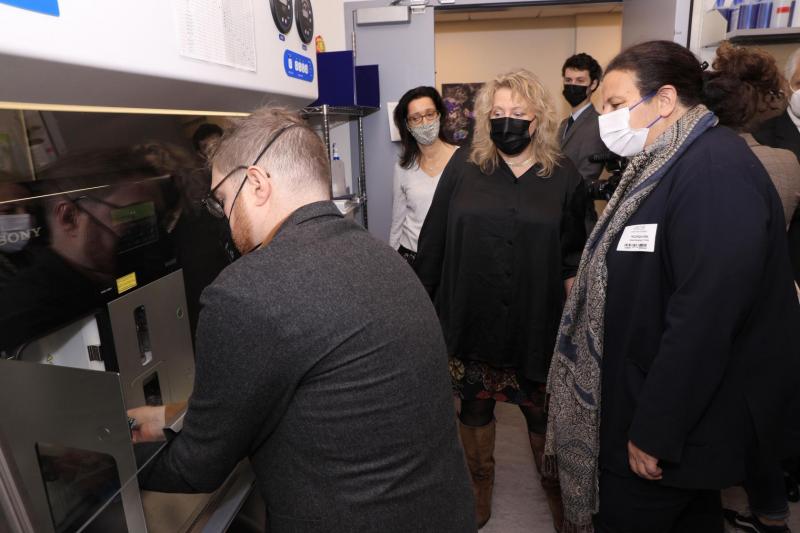 "The development of stem cell research is now more than ever central to the biomedical enterprise and the development of many future treatments and cell replacement therapies," Passegué says. "Institutes like CSCI, which connect diverse academic departments and serve as a research incubator bridging basic discovery to early translation, represent a powerful structure that French research would like to emulate. I hope this visit is the first on the road to more active collaboration between Columbia University and French research institutions." 
In New York, Vidal and the French delegation also visited the laboratories of Jean-Laurent Casanova, MD, PhD, at Rockefeller University and Olivier Elemento, PhD, at Weill Cornell Medicine. The delegation will next meet with Eric Lander, PhD, director of the Office of Science and Technology Policy and science advisor to President Biden, in Washington, D.C. 
"The work of French researchers shines around the world and is a source of pride for France," Vidal wrote. "[I am] delighted to have been able to meet these eminent scientists in New York." 
References
More information
The Columbia Stem Cell Initiative focuses on understanding and using the potential of stem cells for human treatment. CSCI brings together scientists from the many schools and affiliated hospitals of Columbia University to advance scientific discovery in stem cell biology and tissue regeneration and develop new stem cell-based treatments for patients. CSCI provides a vibrant and outstanding intellectual community with broad and complementary expertise, funds novel research, helps with cutting-edge technologies, and implements new collaborative academic and industrial models. Learn more.