LatinX Employee Resource Group Provides Space for Professional, Personal Growth
In 2019 Tonya Richards, chief diversity, equity, and inclusion officer at Columbia University Irving Medical Center, introduced the idea of Employee Resource Groups (ERGs) as a vehicle for engaging and supporting faculty and staff. At the same time, a group of CUIMC employees were interested in raising awareness of the LatinX experience in the workplace and in the surrounding community.
The two joined together and formed the LatinX ERG to help create a supportive environment for LatinX/Hispanic employees and to contribute to the success of Columbia University's mission.
"The LatinX ERG is a space where we can celebrate our heritage and support and advance not only our careers at Columbia, but the goals and aspirations of the wider LatinX community," says Sandra Harris, associate vice president of government and community affairs at CUIMC, who helped organize the group and serves as the ERG's executive sponsor.
The group organized their first event in June 2019, with a panel discussion about being LatinX in the workplace and has steadily grown its membership. Today the LatinX ERG has approximately 65 members and its events attract a much wider audience, including members of other ERGs and the wider CUIMC community.
For Daniela Isakov, who helped organize the group, the best parts of the ERG are the opportunities for connection and growth. "I've had the pleasure of meeting many wonderful Columbia University employees that I wouldn't encounter without the existence of this group," says Isakov, a senior HR generalist at CUIMC. "Everyone is supportive, and I've truly enjoyed sharing experiences and collaborating with the people I've met."
The LatinX ERG sponsors a wide array of events, based on the needs and interests of its members, ranging from seminars on financial literacy and colorism in the LatinX community to salsa and cooking lessons.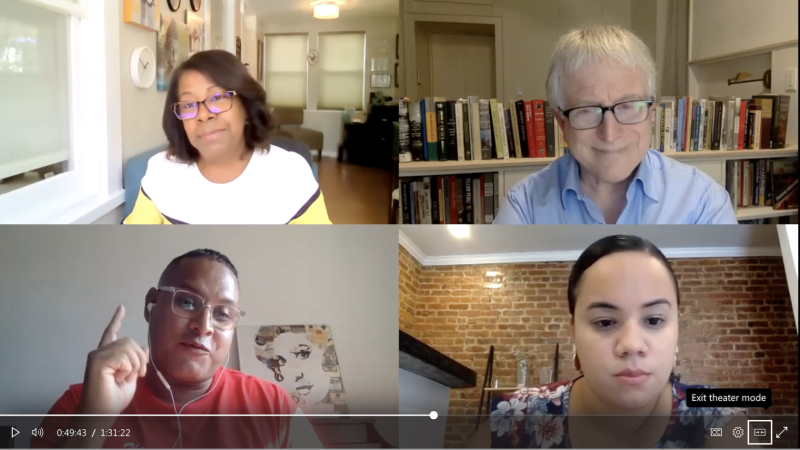 To mark Hispanic Heritage Month in 2020, the LatinX ERG met with Columbia psychiatrist Alexandra Canetti, MD, and other experts for a panel discussion on "Overcoming Limiting Beliefs in the LatinX Community," which addressed assumptions and attitudes surrounding gender roles, physical appearance, and perceptions of self-worth. Canetti and the panel identified and challenged many of the learned assumptions and attitudes that can hinder the personal and professional growth of individuals in the LatinX community.
The LatinX ERG is also a critical resource for understanding the challenges facing members' local communities, says Vanessa Gonzalez, director of HR and academic affairs in the Department of Dermatology, and taps into the desire of LatinX employees to contribute to their communities' betterment.
In September of 2020, when it had become clear that New York City's COVID outbreak was taking a larger toll on Black and brown communities, the LatinX ERG hosted an online panel discussion, "Race and Resilience in Washington Heights."
The panel recounted how the Dominican community of Washington Heights emerged from the 1980s and early 1990s stronger and more vibrant, with small businesses, new non-profits, and a more assertive collective voice, and discussed how to replicate that success to overcome the effects of the COVID pandemic.
Such events also allow employees to learn from key LatinX leaders in different careers and how they faced challenges and found opportunities, says Harris.
"To me, the LatinX group is a mentorship space where we all support each other, thus enhancing our contribution to Columbia in our respective roles and helping to make CUIMC a great place to work, learn, and succeed."
Related: CUIMC Staff Stories
Set in one of the most multicultural cities in the world, CUIMC is part of a diverse community that includes people from a wide variety of backgrounds. Simply put, our diversity is our strength. In our CUIMC Staff Stories series, meet Lina Maria Alfonso, a business process/quality improvement specialist in the Department of Medicine, and other staff members who discuss what they find motivating about being part of our community. The ERGs, Alfonso says, contribute to the welcoming environment at CUIMC, "where I feel supported not only for the work that I do, but I feel valued as a person."