CUIMC Update - November 23, 2022
CUIMC Update is a weekly e-newsletter featuring medical center news and the accomplishments of our faculty, staff, and trainees. Please send your news, honors, and awards to cuimc_update@cumc.columbia.edu. Grants are provided by the Sponsored Projects Administration office.
NEWS
Reminder: Please Take the CUIMC Well-Being Survey Before Nov. 30
If you haven't completed the survey already, now is the time! The anonymous survey is for faculty and staff and asks about burnout, working conditions and professional development opportunities. All participants are eligible to win a $25 Amazon gift card. Complete the survey here.
Columbia Gastroenterologist Talks Thanksgiving, Acid Reflux, and GERD
Thanksgiving starts the time of year when many of us relax our eating restrictions. Columbia gastroenterologist Andy Liu, MD, explains what happens to our digestive system when we go big at the holiday dinner table, and how to limit the consequences of excess. Read more.
Increased Number of Men in Nursing Dispels Stereotypes
The tenfold increase in the number of men in nursing over the past 40 years is challenging perceptions and definitions in what was once considered a "women's profession." At Columbia Nursing, men who are nurses are recognizing the many opportunities to achieve and give back within their profession. Read more.
Fall Festival Warms Up Haven Plaza with Live Music, Autumn Foods
CUIMC faculty, staff, and students, as well as community members in Washington Heights enjoyed live music, warm soup, and winter squash at the Annual Fall Festival on Nov. 15 in Haven Plaza. Read more and watch the video.
How to Prevent the Most Common Soccer Injuries, According to Columbia's Chief of Sports Medicine
As the men's 2022 World Cup begins, Christopher Ahmad, MD, chief of sports medicine at Columbia University Vagelos College of Physicians and Surgeons, discusses the top three worst soccer injuries and ways to prevent them. Read more.
EVENTS
Grand Rounds: Contributing to the Public's Good - Foundational, Core, and Local Public Health Services  
Nov. 30, 4 p.m., Allan Rosenfield Building, 722 W. 168th Street, 8th Floor Auditorium and online
Register here.
Winter Haven
Dec. 1, 4:30 p.m., Haven Plaza, Haven Avenue between Fort Washington Avenue and 169th Street
Get more information.
Growing Good Physicians: Caretaking, Attention, and Good Medicine
Dec. 1, 5 p.m., Vagelos Education Center, 104 Haven Avenue, Room 405
Register here.
CU Public Safety / Shotokan Karate Club FREE Self Defense Class
Dec. 5, 6 p.m., 50 Haven Avenue, Main Ballroom Lower Level
Register here.
Creating Connections: An Alda Center Workshop
Dec. 6, 10 a.m., online
Register here.
Quarterly All ERG Meeting
Dec. 6, 11 a.m., online
Register here.
Person, Place, Thing: Live Taping with Randy Cohen and Guest Dean Lorraine Frazier
Dec. 6, 3 p.m., Columbia University School of Nursing, 560 W. 168th Street, 7th Floor
Register here.
TISSUE TALKS: Sheila Chari, Cell Press
Dec. 7, 3 p.m., online
Register here.
9th Annual Cardiovascular Summit
Dec. 8, Vivian and Seymour Milstein Family Heart Center, 173 Fort Washington Avenue
Register here.
A Conversation Exploring Psychedelic Use in Palliative Care - Dr. Carl Hart & Dr. Craig Blinderman
Dec. 8, 12 p.m., online
Register here.
Pediatric Liver Disease and Transplantation Symposium
Dec. 9-10, online
Register here.
The Biology of Aging Seminar Series Presents Dr. Peter D. Adams
Dec. 14, 12 p.m., online
Register here.
TISSUE TALKS: Sam Sia, Columbia University
Dec. 14, 3 p.m., online
Register here.
GRANTS
MAILMAN SCHOOL OF PUBLIC HEALTH
Jeffrey Shaman, PhD, Environmental Health Sciences: $450,000 over two years from Pfizer for "COVID-19 Pandemic and Invasive Meningococcal Disease."
VAGELOS COLLEGE OF PHYSICIANS AND SURGEONS
Selim Arcasoy, MD, MPH, Medicine: $388,087 over seven years from the National Institute of Allergy and Infectious Diseases for "Targeting Inflammation and Alloimmunity in Lung Transplant Recipients With Clazakizumab."
Emily Dimango, MD, Medicine: $254,772 over one year from the Cystic Fibrosis Foundation for "Therapeutics Development Center (TDC) Award."
Joel Gabre, MD, Medicine: $300,000 over three years from the American Gastroenterological Association for "Modeling Mechanisms of Chemoradiation Resistance in Esophageal Adenocarcinoma using Patient Derived Organoids."
Jean Guglielminotti, MD, Anesthesiology: $411,042 over two years from the National Institute of Mental Health for "Obstetric Anesthesia and Postpartum Depression."
Shawn Liu, PhD, Physiology: $482,877 over two years from the Rett Syndrome Research Trust for "Multiplex Epigenome Editing to Reactivate and Maintain MECP2 in RTT Neurons."
Chao Lu, PhD, Genetics and Development: $2,266,001 over five years from the National Institute of Dental and Craniofacial Research for "Epigenetic regulation of head and neck cancer immune evasion."
Sumit Mohan, MD, Medicine: $847,117 over two years from the Kidney Transplant Collaborative for "Using shared decision making to improve kidney transplantation rates."
Sarah Rossetti, RN, PhD, Biomedical Informatics: $1,546,721 over four years from the Agency for Healthcare Research and Quality for "Essential Nurse Documentation: Studying EHR Burden during COVID-19 (END-Burden)."
Anna-Lena Steckelberg, PhD, Biochemistry and Molecular Biophysics: $458,408 over two years from the National Institute of Allergy and Infectious Diseases for "Small molecule inhibitors targeting the SARS-CoV-2 pathogenicity factor Nsp1."
Stephen Tsang, MD, PhD, Ophthalmology: $2,664,732 over five years from the National Eye Institute for "Enhancing cone survival in retinitis pigmentosa through cell-specific therapeutic CRISPR editing of a roxadustat target."
HONORS
VAGELOS COLLEGE OF PHYSICIANS AND SURGEONS
Brooke Aggarwal, EdD, and Matthew Lewis, MD, Medicine, were recently awarded the 2022-23 Lewis Katz Cardiovascular Research Prizes for Division of Cardiology Investigators.
Jack Drescher, MD, Psychiatry, was announced a winner of The Sigourney Award for 2022.
SCHOOL OF NURSING
Ruth Masterson Creber, PhD, received the Protégé Award from the Friends of the National Institute of Nursing Research. She also was selected to receive the Research Article of the Year Award by the American Heart Association's Council on Cardiovascular and Stroke Nursing.
Maureen George, PhD, RN, was appointed as a member of the Interdisciplinary Clinical Care in Specialty Care Settings Study Section by the National Institutes of Health.
Gregory Alexander, PhD, RN, received the Harriet Werley Award for Best Paper from the American Medical Informatics Association.
SOCIAL MEDIA SNAPSHOT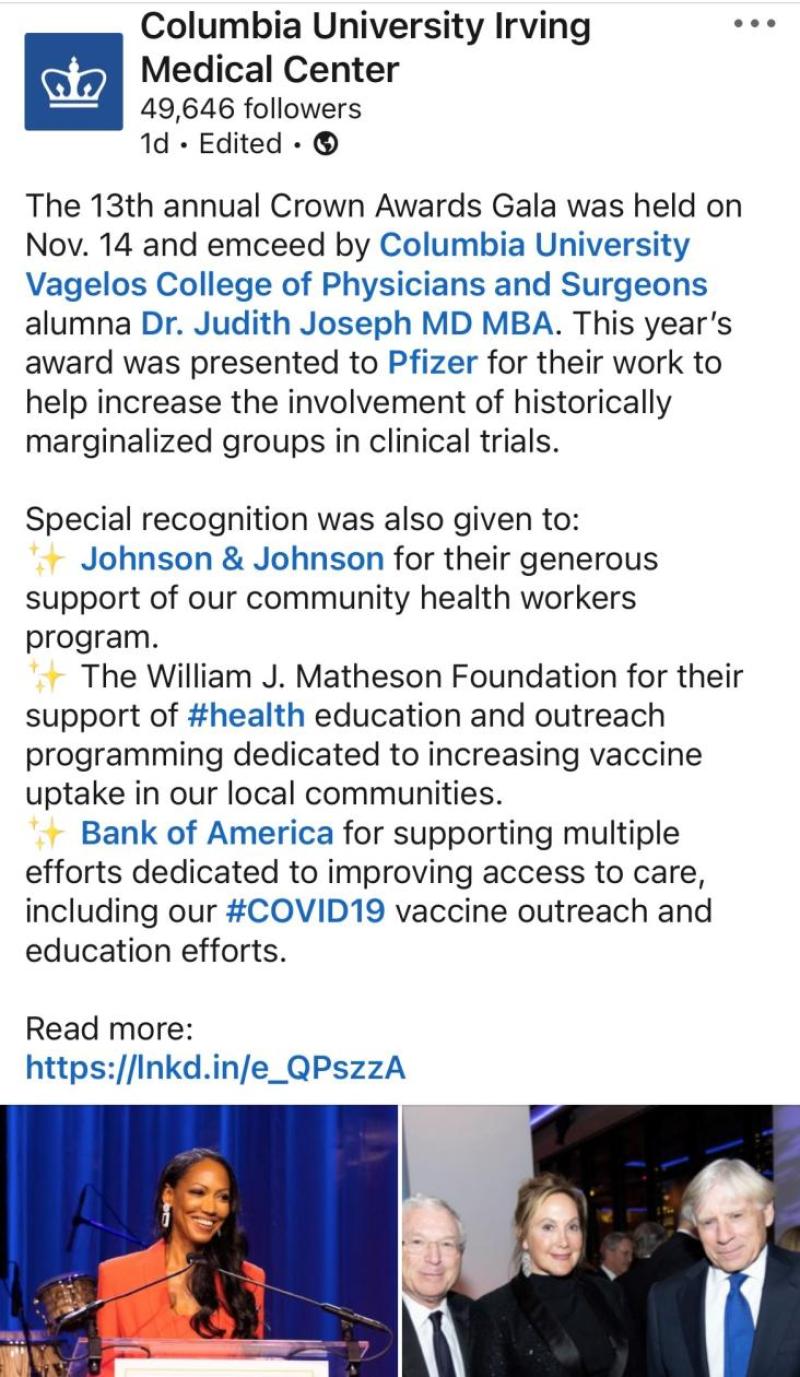 IN THE NEWS 
The New York Times
The Anatomy of a Panic Attack
Nov 10, 2022 - Panic attacks revolve around terror. Though people mainly associate them with the mind, they're actually constellations of symptoms, both physical and cognitive. Your brain is seized by fear; your body responds, and it can be hard to make sense of it all.

Editor's Note: Franklin Schneier, consulted for this article, is a special lecturer in the Department of Psychiatry at the Vagelos College of Physicians and Surgeons. Dr. Schneier also is co-director of the Anxiety Disorders Clinic at the New York State Psychiatric Institute.
Daily Mail
Brain Cancer Breakthrough: Implant Beams Chemotherapy Directly into Tumors at 1,000-Times Stronger Dose and Raises Hope for Incurable Form of Disease
Nov 16, 2022 - Dr. Jeffrey Bruce, a neurosurgeon at Columbia University who led the study, said: "This new approach has the potential to transform treatment for patients with brain cancer, where the outlook for survival remains very poor, though more testing is needed in patients with earlier-stage tumors and with different types of chemotherapy."
STAT
Brains of Black Americans Age Faster, Study Finds, with Racial Stressors a Likely Factor
Nov 14, 2022 - Adam Brickman, a professor of neuropsychology at Columbia University and the study's senior author, said the research group wanted to understand when those racial and ethnic disparities began to manifest in the brain. But he did not expect to see brain aging start so early, and to do so only in the Black population.