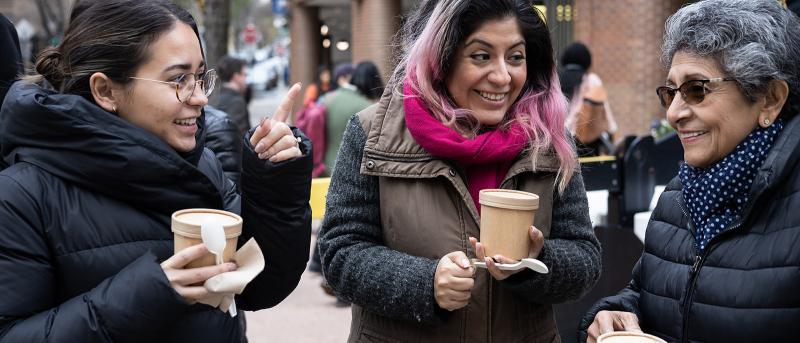 Fall Festival Warms Up Haven Plaza with Live Music, Autumn Foods
Faculty, staff, and students at Columbia University Irving Medical Center as well as community members in Washington Heights enjoyed live music, warm soup, and winter squash at the Annual Fall Festival on Nov. 15 in Haven Plaza. More than 1,500 winter squash were given out to attendees, as well as around 2,600 servings of soup. The festival was part of a series of employee appreciation events hosted by the CUIMC Events Office.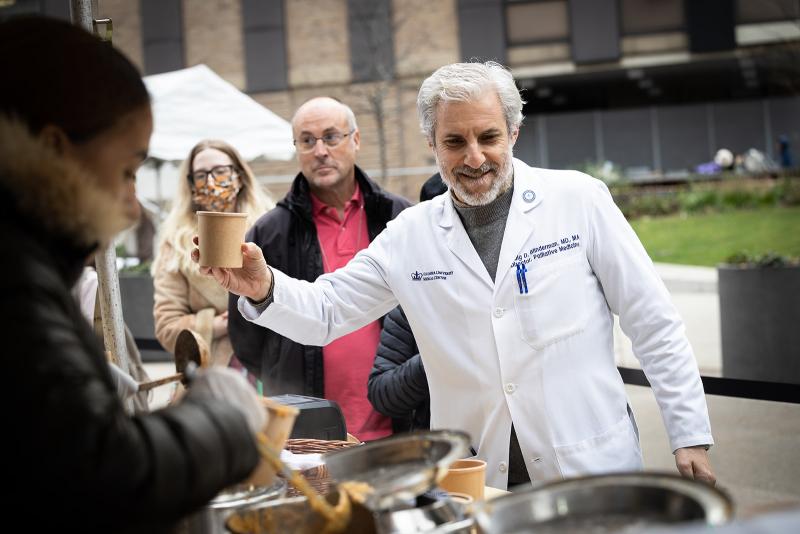 Festival attendees also donated to the Helping Hands Annual Food Drive organized by the CUIMC Office of Government and Community Affairs. Attendees donated more than 500 food packages, including boxes of pasta, seasonings, flour, oats, sauces, and more. The food drive benefited the Fresh Youth Initiatives' Helping Hands Food Bank, which will distribute the collected goods to families in need during the holidays.
At the event, the winners of the latest CUIMC Step Challenge, "Steppin' through History," were announced. Nearly 400 CUIMC faculty and staff participated in the challenge and collectively stepped more than 25,000 miles, exceeding the challenge's goal of 20,000 miles. Miao Li, PhD, associate research scientist in the Department of Anesthesiology, took the top prize of Grand Champion with 749,453 steps.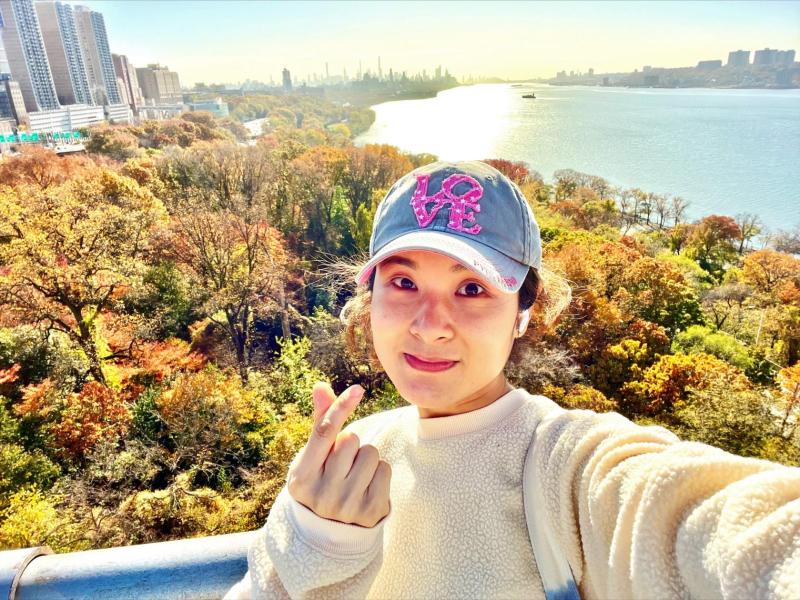 Step Challenge Winners
Grand Champion
Highest stepper: Miao Li, PhD, associate research scientist in the Department of Anesthesiology, 749,453 steps
Went the Distance
Vagelos College of Physicians & Surgeons: Anoop Yadiki, finance analyst, 731,515 steps
School of Nursing: Kristopher Machado-Mirasola, assistant manager, HR, 728,456 steps
Columbia University Irving Medical Center: Kathleen Crowley, DrPH, vice president, Environmental Health and Safety, 660,215 steps
Mailman School of Public Health: Tessa Bloomquist, teaching assistant, 325,379 steps
College of Dental Medicine: Steven Chussid, DDS, associate professor of dental medicine (pediatric dentistry), 283,715 steps
More photos