CUIMC Update - November 10, 2022
CUIMC Update is a weekly e-newsletter featuring medical center news and the accomplishments of our faculty, staff, and trainees. Please send your news, honors, and awards to cuimc_update@cumc.columbia.edu. Grants are provided by the Sponsored Projects Administration office.
NEWS
Take the CUIMC Well-Being Survey
Faculty and staff are encouraged to complete an anonymous survey on burnout, working conditions, professional development opportunities, and more. The deadline for completing the survey is Nov. 30 and participants are eligible to win a $25 Amazon gift card. Complete the survey here. 
Three Appointments at VP&S
Stavros Lomvardas, PhD, has been appointed chair of Biochemistry & Molecular Biophysics. Hülya Bayır, MD, has been appointed Chief of Critical Care and Hospital Medicine in Pediatrics, and Dean Chou, MD, has been appointed chief of the Spine Division in Neurological Surgery. Read more about the appointments of Bayır, Chou, and Lomvardas.  
You're Invited: CUIMC Fall Festival for Employees
Join your CUIMC colleagues on Nov. 15 from 11 a.m. to 3 p.m. for live music, free soup and winter squash, and relaxation sessions on Haven Plaza. Food drive donations will be accepted, and CUIMC faculty and staff winners of the CU Steppin' Through History Step Challenge will be announced. Read more. 
Columbia's VETSmile program: Patient, Dental Student and a Shared Military Connection
When Army veteran Gilberto Rivera arrived for his Columbia dental appointment, he didn't expect that he and his provider would share such a close military connection. Read more. 
Wafaa El-Sadr: Public Health is All Around, All the Time
Wafaa El-Sadr, MD, the recipient of public health's most prestigious award, the Sedgwick Memorial Medal for Distinguished Service in Public Health, discusses what everyone should know about public health. Read more. 
EVENTS
CUIMC Fall Festival on Haven 
Nov. 15, 11 a.m., Haven Plaza  
Read more.
Annual Helping Hands Food Drive 
Accepting nonperishable food items now through Nov. 15.  
Donation drop off sites are located in the Allan Rosenfield lobby, Black Building lobby, and School of Nursing lobby. 
TISSUE TALKS: Yibing Qyang, Yale University   
Nov. 16, 3 p.m., online   
Register here.
Monkeypox and Protecting Communities of Color    
Nov. 22, 11:30 a.m., online    
Register here.
Grand Rounds: Contributing to the Public's Good - Foundational, Core, and Local Public Health Services  
Nov. 30, 4 p.m., Allan Rosenfield Building, 722 W. 168th St., 8th Floor Auditorium and online  
Register here.
Archives & Special Collections Exhibit: "New Old Things: Recent Accessions, Archives & Special Collections, 2012-2022" 
Through Dec. 16, 2022 
Hammer Health Sciences Center, Lower Level 2 
For more events, visit the CUIMC Events listing.
GRANTS
MAILMAN SCHOOL OF PUBLIC HEALTH
Deborah Hasin, PhD, and Silvia Martins, MD, PhD, Epidemiology: $2,700,235 over five years from the National Institute on Drug Abuse for "Substance Abuse Epidemiology Training Program (SAETP) at Columbia University." 
VAGELOS COLLEGE OF PHYSICIANS AND SURGEONS
Adam Brickman, PhD, Taub Institute: $2,439,094 over five years from the National Institute on Aging for "Alzheimer's Disease Sequencing Project Phenotype Harmonization Consortium." 
Alejandro Chavez, MD, Pathology & Cell Biology: $643,234 over two years from the National Human Genome Research Institute for "Protein tagging at scale to enable functional genomic studies." 
Lauren Chernick, MD, and Jason Zucker, MD, Emergency Medicine: $451,875 over two years from the National Institute of Allergy and Infectious Diseases for "A Digital Patient Decision Aid to Increase Sexually Transmitted Infection Testing in the Emergency Department: The STIcker Study." 
Jianing Fu, PhD, Medicine: $445,500 over two years from the National Institute of Allergy and Infectious Diseases for a subaward of "Immune profiling of γδ T cells after human intestinal transplantation." 
Hanina Hibshoosh, MD, Pathology & Cell Biology: $132,817 over five years from the National Cancer Institute for a subaward of "Tyrosine phosphorylation of p27Kip1 as a biomarker to identify Cdk4/6 inhibitor response." 
Catherine Monk, PhD, Psychiatry: $261,683 over two years from the National Institute of Child Health and Human Development for "Gestational Diabetes Mellitus, Perinatal Depression, and Offspring Neurodevelopmental Phenotype." 
Elena Ladas, PhD, Pediatrics: $1,280,246 over four years from Army Medical Research and Material Command for "Identifying sociodemographic, behavioral, and genetic modifiers of a behavioral intervention for the prevention of overweight/obesity in children with ALL." 
Sarah Rossetti, PhD, Biomedical Informatics: $1,499,702 over three years from the American Nurses Foundation for "CONCERN Implementation Toolkit: Advancing technology-enabled nursing expertise and equitable predictions." 
Samuel Williams, PhD, Obstetrics & Gynecology: $275,000 over one year from the Norn Group for "A double-blind, randomized, placebo controlled trial evaluating the ability of rapamycin to extend the human female reproductive lifespan." 
Aaron Viny, MD, Medicine: $300,000 over three years from the Damon Runyon Cancer Research Foundation for "Epigenetic coupling of DNA methylation and chromatin structure on leukemic transformation and therapeutic response."
HONORS
COLUMBIA UNIVERSITY IRVING MEDICAL CENTER
Lorraine Frazier, PhD, RN, dean of the School of Nursing, and Linda Fried, MD, dean of the Mailman School of Public Health and director of the Robert N. Butler Columbia Aging Center, were selected as two of Politics NY's 2022 Power Players in Health Care. Read more. 
SOCIAL MEDIA SNAPSHOT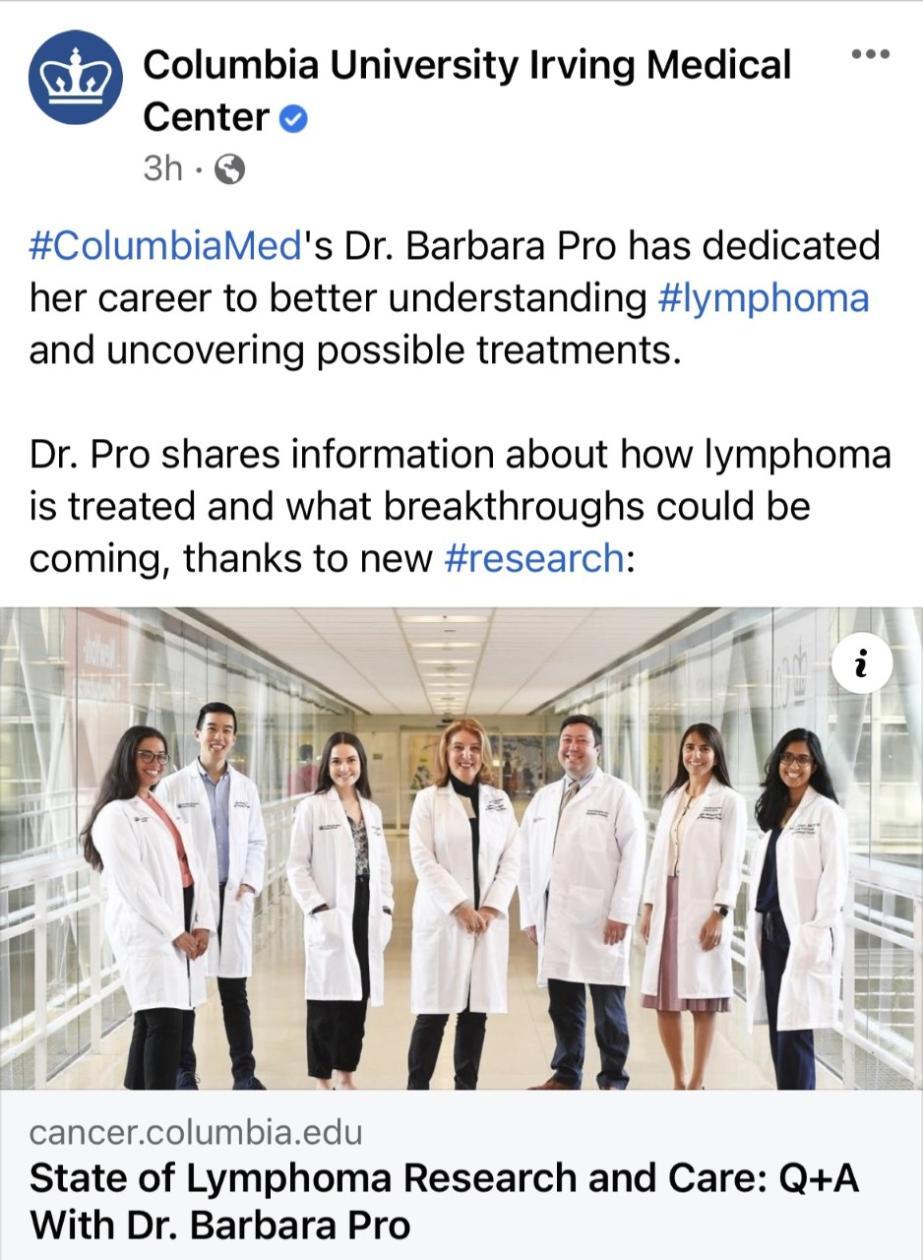 IN THE NEWS
ABC News Online
Why This Could Be the Worst Flu Season in the US in More Than a Decade
Nov 3, 2022 - "It's definitely not too late," Dr. Justine Justman, an associate professor of medicine in epidemiology at Columbia University's Mailman School of Public Health, told ABC News. "Now is a great time. This week is a great time to get your flu shot. I wouldn't put it off, it's still completely worth it." 
Los Angeles Times 
Psychedelic 'Magic Mushroom' Drug May Ease Some Depression
Nov 3, 2022 - Dr. David Hellerstein, a co-author and Columbia University research psychiatrist, said those side effects are not surprising given the intensity of the psychedelic experience from the drug. But he said they underscore the importance of using psilocybin in a medical setting. 
Nature  
Could a Nose Spray a Day Keep COVID Away?
Oct 31, 2022 - Now Anne Moscona, at Columbia University in New York City, and her colleagues have homed in on a compound that might foil SARS-CoV-2. Even better, it's simply sprayed up the nose — no needle required. 
If effective in humans, these compounds would be a welcome addition to the limited arsenal that researchers have developed against the virus, says Donna Farber, an immunologist at Columbia University in New York City.