CUIMC Update - May 3, 2023
CUIMC Update is a weekly e-newsletter featuring medical center news and the accomplishments of our faculty, staff, and trainees. Please send your news, honors, and awards to cuimc_update@cumc.columbia.edu. Grants are provided by the Sponsored Projects Administration office.
NEWS
100 Years of the Mailman School of Public Health
A special centennial gala fundraiser celebrated a century of the Mailman School of Public Health, highlighting the school's legacy of impact and affirming its leadership for the coming decades. The event raised funds to support science, education, and service and honored three public health luminaries: Wafaa El-Sadr, MD, director of ICAP at Columbia; P. Roy Vagelos, retired president and chief executive and chairman of Merck & Co., and philanthropist; and Anthony S. Fauci, former director of the National Institute of Allergy and Infectious Diseases. Read more.
Christine Garcia Appointed Director of Columbia Precision Medicine Initiative
Christine Kim Garcia, MD, PhD, has been appointed director of the Columbia Precision Medicine Initiative, a multidisciplinary effort to accelerate the development of precision medicine and its use in clinical settings. Dr. Garcia succeeds Tom Maniatis, PhD, a renowned leader in molecular and cell biology who has been director of the CPMI since its founding. Read more.
Columbia Cardiologist Discusses Heart Health
Heart disease is the leading cause of death in both men and women in the United States and around the world. When detected early, heart issues can be repaired before they become irreversible. Columbia cardiologist Stacy Baird, MD, shares the lifestyle tips she recommends for maintaining or improving heart health and the one question all patients ask about heart health. Read more.
Columbia Study Finds High School Quality May Have a Long-Term Impact on Cognition
A study led by Columbia neuropsychologist Jennifer Manly, PhD, of adults who attended U.S. high schools in the early 1960s found that those who attended higher quality schools had better cognitive function 60 years later. "Our study suggests that increased investment in schools, especially those that serve Black children, could be a powerful strategy to improve cognitive health among older adults in the United States," she said. Read more.
CUIMC Celebrates Earth Day on Haven Plaza
CUIMC and the Washington Heights community celebrated Earth Day with a street fair highlighting sustainable transportation alternatives, paper and electronics shredding and recycling, and information about Columbia's sustainability efforts. The event coincided with Ride Your Bike to Work Day and offered free registration and electronic tattooing for bikes and electronic devices. Read more.
EVENTS
FORWARD Fellows Equity Showcase
May 4, 9:30 a.m., Allan Rosenfield Building, 722 W. 168 St., Room 532
Register here.
Regarding the Revolution of AI and Machine Learning for Persons Who Are Blind
May 4, 12 p.m., Presbyterian Building, 622 W. 168 St., Room 20-200
Register here.
Community De-Implementation Seminar: Feeding Practices in Early Care and Education
May 5, 12 p.m., online
Register here.
Washington Heights Mental Health Awareness Walk
May 7, 10:30 a.m., 618 West 177 St. and Wadsworth Avenue
Register here.
Why Is There Confusion About Whether Masks Prevent COVID-19?
May 9, 6:15 p.m., online
Register here.
Tissue Talks: Jeanette Wing, Columbia Data Science Institute
May 10, 3 p.m., online
Register here.
Enrollment Drive: All of Us
May 12, ColumbiaDoctors Tarrytown, 155 White Plains Road
Email or call 212-305-9927 to register.
New York City Ballet: Accessible Movement Workshop & Performance
May 13, 11 a.m., Metropolitan Opera, 30 Lincoln Center Plaza
Register here.
Washington Heights CSA Summer Season Kickoff
May 14, 173rd Street and Haven Avenue
Register here.
Tissue Talks: Eben Alsberg, University of Illinois Chicago
May 17, 3 p.m., online
Register here.
GRANTS
MAILMAN SCHOOL OF PUBLIC HEALTH
Jamie Daw, PhD, Health Policy & Management: $344,535 over five years for a subaward from the Agency for Healthcare Research and Quality for "Improving Maternal and Child Health in the Year After Birth: An Early Evaluation of Postpartum Medicaid Eligibility Extensions."
VAGELOS COLLEGE OF PHYSICIANS AND SURGEONS
Sandra Comer, PhD, Psychiatry: $538,527 over five years for a subaward from the National Institute on Drug Abuse for "Phase 1 and 2 studies of sublingual dexmedetomidine, an alpha 2 adrenergic agonist, for treating opioid withdrawal."
Cong Liu, PhD, Biomedical Informatics: $4,987,652 over five years from the National Human Genome Research Institute for "RESCUE: Rare Disease Detection and Escalation Support via a Learning Health System."
Konstantin Petrukhin, PhD, Ophthalmology: $383,990 over one year from the National Eye Institute for "Novel therapies for macular degeneration, transthyretin amyloidosis and their common age-related comorbidities."
Anne-Catrin Uhlemann, MD, Medicine: $470,001 over one year from the New York City Department of Health and Mental Hygiene for "HMH Whole GEnome Sequencing of SARS-CoV-2."
Jason Wright, MD, Obstetrics & Gynecology: $1,084,055 over five years for a subaward from the National Cancer Institute for "Improving Treatment Selection in Advanced Ovarian Cancer."
Zhiguo Zhang, PhD, Institute for Cancer Genetics, and Lorraine Symington, PhD, Microbiology & Immunology: $1,862,785 over five years from the National Cancer Institute for "Genome and Epigenome Integrity In Cancer."
HONORS
MAILMAN SCHOOL OF PUBLIC HEALTH
Christian Gloria, PhD, Sociomedical Sciences, was elected to the Board of Directors of the New York State Public Health Association.
VAGELOS COLLEGE OF PHYSICIANS & SURGEONS
Rodney Rothstein, PhD, Genetics & Development, was honored with the Alumni Achievement Award by the University of Illinois Chicago.
William Turner, MD, Medicine, received a 2023 Faculty Service Award from the Columbia University Office of the Provost.
Olajide Williams, MD, Neurology, received the 2023 ACTS Addressing Health Equity Through Partnership and Innovation Award.
SOCIAL MEDIA SNAPSHOT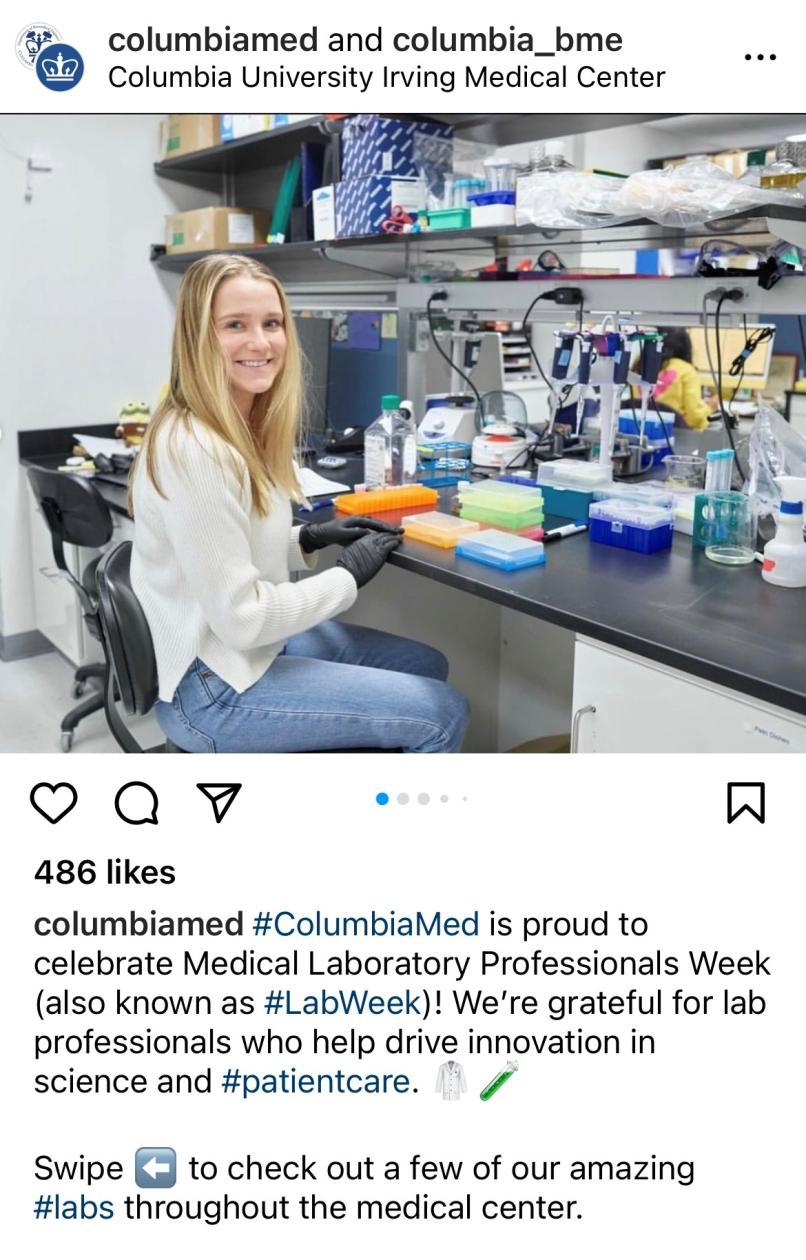 IN THE NEWS HIGHLIGHTS
Los Angeles Times
Who Gets on a Kidney Waitlist? We're in the Dark on a Crucial Step Toward Transplant
Apr 28, 2023 - "It's a huge problem," said Dr. Sumit Mohan, a professor of medicine and epidemiology at Columbia University. "We have no idea, nationally, what proportion of patients are actually being referred to transplant centers. We have no idea what proportion actually make it into the transplant center."
The New York Times
Opinion: Finding the Origin of a Pandemic Is Difficult. Preventing One Shouldn't Be.
Apr 25, 2023 - We must not get stuck endlessly rehashing the origins of Covid-19 without action; we must move to implement necessary programs and policies to stop the wildlife trade, as well as international regulations and oversight over research that may carry risks, and build a truly global surveillance system with data sharing between scientists and public health officials to stop the next pandemic in its tracks.
Editor's Note: W. Ian Lipkin, the author of this opinion essay, is director of the Center of Infection and Immunity at the Mailman School of Public Health.
Crain's New York Business (Requires a subscription)
Columbia Launches $75M Precision Psychiatry and Mental Health Center
Apr 25, 2023 - Columbia has launched the Stavros Niarchos Foundation Center for Precision Psychiatry & Mental Health with a $75 million gift, the school announced Monday. Dr. Sander Markx, an assistant professor of clinical psychiatry at Columbia University Vagelos College of Physicians and Surgeons, said the center will allow Columbia to scale up its efforts to characterize disease mechanisms, or defects in molecular or cellular processes that trigger illness, and treat them.