CUIMC Celebrates Earth Day on Haven Plaza
Columbia University Irving Medical Center and the Washington Heights community celebrated Earth Day on Haven Plaza Friday, April 28. Jointly organized by CUIMC Facilities Management and Public Safety, the street fair highlighted sustainable transportation alternatives, paper and electronics shredding and recycling, information about Columbia's sustainability efforts, and games and prizes.
The event coincided with Ride Your Bike to Work Day and offered free registration and electronic tattooing for bikes and electronic devices with Public Safety and the New York City Police Department, discounted bike locks for sale, and bike tuneups by Innovation Bike Shop.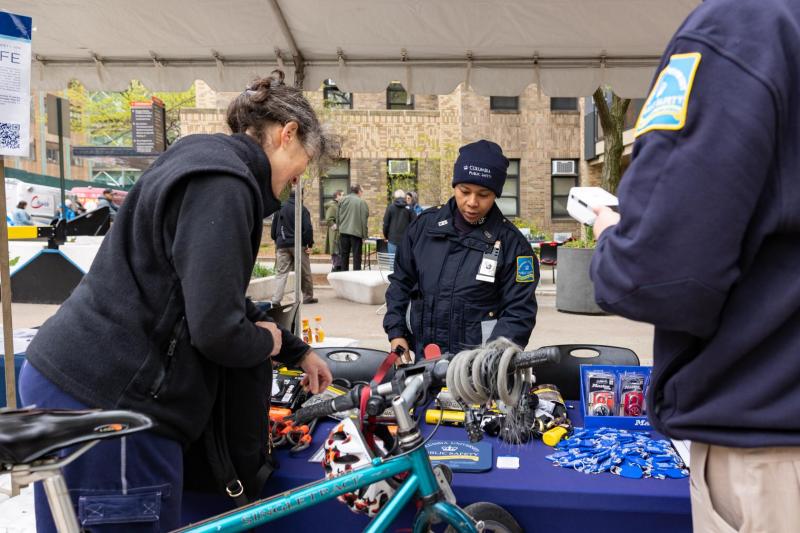 Leadership from CUIMC Facilities was on hand to offer information about sustainability initiatives on campus, including Plan 2030, a 10-year strategic plan that outlines sustainability goals for Columbia's New York campuses to achieve net zero emissions by 2050. The plan commits to campus-wide electrification and 100% renewable electricity, reducing commuter emissions and minimizing business travel, prioritizing sustainability in construction and design, and achieving zero waste.
"CUIMC has developed a comprehensive roadmap for the next two decades that aligns with Sustainable Columbia's Plan 2030 goals," says Jeet Viswanathan, director of energy management and sustainability for CUIMC Facilities Engineering.
Community organizations GrowNYC, Papai's Garden, and the Riverside Oval Association shared information about upcoming volunteer opportunities with their organizations. GrowNYC manages several farmer's markets in New York City; Papai's Garden is a community garden and resource for people with intellectual disabilities; and the Riverside Oval Association maintains Riverside Oval, a wild perennial garden on Riverside Drive at 156th Street that is partially funded by charitable initiatives at CUIMC and NewYork-Presbyterian.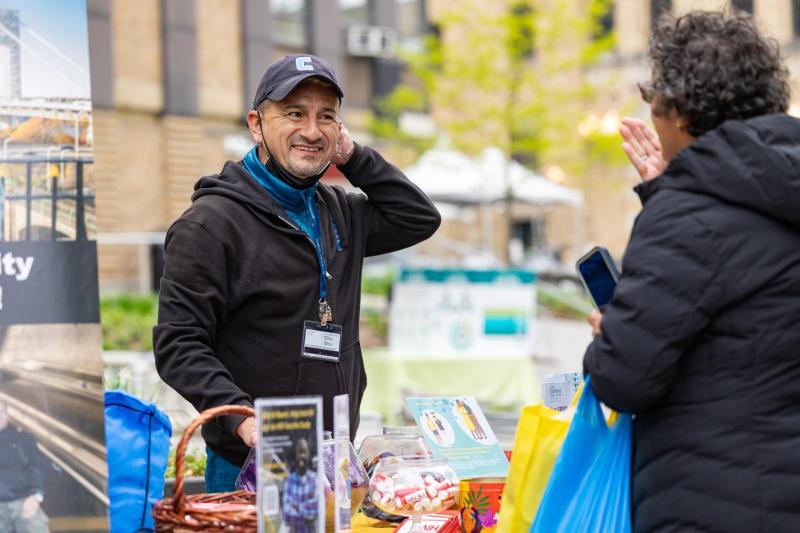 Despite slightly cooler-than-average temperatures, Viswanathan says it was encouraging to witness people take an interest in learning more about CUIMC's efforts to create a sustainable campus.
"Events like Earth Day are great opportunities for the Facilities team to connect with our campus community and keep them up-to-date on our commitments and progress toward these initiatives," Viswamathan says. "I look forward to making Earth Day an annual tradition here at CUIMC."
For more information on CUIMC's sustainability efforts, visit the CUIMC Facilities Management website.
References
Understanding Plan 2030
Learn more about Plan 2030, what it means for CUIMC, and ways members of the CUIMC community can help create a more sustainable campus. Watch the video.