CUIMC Update - May 10, 2023
CUIMC Update is a weekly e-newsletter featuring medical center news and the accomplishments of our faculty, staff, and trainees. Please send your news, honors, and awards to cuimc_update@cumc.columbia.edu. Grants are provided by the Sponsored Projects Administration office.
NEWS
CUIMC Celebrates National Nurses Week
This National Nurses Week, May 6-12, School of Nursing Dean Lorraine Frazier, PhD, reflects on nursing's importance to our nation's health during public health crises and beyond and the importance of mental health care. Read more.
Michael Shadlen Elected to National Academy of Sciences
Columbia neuroscientist Michael N. Shadlen, MD, PhD, has been elected to the National Academy of Sciences. Shadlen is professor of neuroscience at VP&S and a principal investigator at Columbia's Zuckerman Institute. He is among 120 newly elected members announced by the NAS last week. Read more.
Columbia Pediatrician Trained in Child Abuse Investigation Helps Children and Families
Columbia's Jocelyn Brown, MD, is among a small number of pediatricians in the United States who are trained to evaluate potential child abuse patients. Learn more about her and her team's work and reflections on the field here.
Mailman Study Finds Accelerated Biological Aging May Contribute to Depression and Anxiety
A study by researchers at the Mailman School of Public Health and Peking University School of Public Health finds that adults with advanced biological age were more likely to experience depression and anxiety compared with peers who were the same chronological age but tested to be biologically younger. Read more.
What You Should Know About Bone Deterioration and Density, According to a Columbia Expert
Bones begin to deteriorate in middle age, and at its most extreme, the deterioration can lead to osteoporosis, when even a relatively benign activity can break a bone. Columbia endocrinologist Marcella Donovan Walker, MD, discusses when you should consider getting a bone density scan and what happens if the scan detects weak bones. Read more.
EVENTS
All of Us Enrollment Drive
May 12, ColumbiaDoctors Tarrytown, 155 White Plains Road
Email or call 212-305-9927 to register.
New York City Ballet: Accessible Movement Workshop & Performance
May 13, 11 a.m., Metropolitan Opera, 30 Lincoln Center Plaza
Register here.
Washington Heights CSA Summer Season Kickoff
May 14, 173rd Street and Haven Avenue
Register here.
Health on Haven Student Support Webinar
May 15, 3 p.m., online
Register here.
Tissue Talks: Eben Alsberg, University of Illinois Chicago
May 17, 3 p.m., online
Register here.
Diversity, Equity, and Inclusion in Clinical Trials
May 18, 4 p.m., Milstein Building, 177 Fort Washington Ave., Heart Center Auditorium
Register here.
Community Health Workers Town Hall on COVID-19
May 18, 5 p.m., online
Register here.
GRANTS
MAILMAN SCHOOL OF PUBLIC HEALTH
Ana Navas-Acien, MD, PhD, Environmental Health Sciences: $9,381,875 over five years from the National Institute of Environmental Health Sciences for "Columbia University and Northern Plains Partnership for the Superfund Research Program."
VAGELOS COLLEGE OF PHYSICIANS AND SURGEONS
Whitney Booker, MD, Obstetrics & Gynecology: $387,603 over two years for a subaward from the National Heart, Lung, and Blood Institute for "Cardiac Manifestations of Preeclampsia."
Tal Korem, PhD, Systems Biology: $804,804 over two years for a subaward from the National Institute of Diabetes and Digestive and Kidney Diseases for "Microbiome Based Biomarkers of Wound Healing."
Yueqing Peng, PhD, Pathology & Cell Biology: $452,375 over one year from the National Institute of Neurological Disorders and Stroke for "Understanding the relationship between protein homeostasis and sleep dysfunction in mouse models of Huntington's disease."
Andrew Sproul, PhD, and Dritan Agalliu, PhD, Pathology & Cell Biology: $1,183,917 over three years from the National Institute on Aging for "Developing a microfluidic human neurovascular unit system to investigate genetic and age-related risk factors in Alzheimer's disease."
Milton Wainberg, MD, Psychiatry: $750,000 over one year from the Substance Abuse & Mental Health Services Administration for "Community-based mental health services, including training and service delivery (Columbia Northern Manhattan Corps)."
Emmanuel Zorn, PhD, Medicine: $452,376 over two years from the National Institute of Allergy and Infectious Diseases for "Thymic plasma cells as a source of protective natural antibodies in human neonates."
HONORS
COLUMBIA UNIVERSITY IRVING MEDICAL CENTER
Tka Edwards (Nursing), Joanne Michelle F. Ocampo (Mailman), Daniel J. Pohl (VP&S), and Nolan Allan Wendling (CDM) are among the 19 students from across Columbia University who were named 2023 Campbell Award winners.
MAILMAN SCHOOL OF PUBLIC HEALTH
Elaine J. Abrams, MD, Epidemiology, was named the 2023 Virginia Apgar Academy of Medical Educators Educational Mentor of the Year.
Chinmayi Balusu, Epidemiology, received a "One to Watch" Award from the Alzheimer's Association International Conference Neuroscience Next.
SCHOOL OF NURSING
Kellie Bryant, DNP, received the Virginia Commonwealth University Lectureship Award for her lecture titled "Reimagining Nursing Education: Fostering the Next Generation of Health Equity Advocates."
VAGELOS COLLEGE OF PHYSICIANS & SURGEONS
Michael Argenziano, MD, Surgery; Carolyn Barley Britton, MD, Medicine; James Lee, MD, Surgery; Benjamin Schwartz, MD, Surgery; and Elaine Wan, MD, Medicine, presented at the 2023 Academy of Clinical Excellence Bill Campbell Clinical Champions Symposium.
Stephanie Le Melle, MD, Psychiatry, received a Lifetime Achievement Award from the Judges and Psychiatrists Leadership Initiative.
Bianca Jones Marlin, PhD, Neurology, was named one of the inaugural Freeman Hrabowski Scholars by the Howard Hughes Medical Institute.
Anette Wu, MD, PhD, Pathology & Cell Biology and Medicine, was named a Columbia Alumni Medalist as an alumna of the Mailman School of Public Health.
SOCIAL MEDIA SNAPSHOT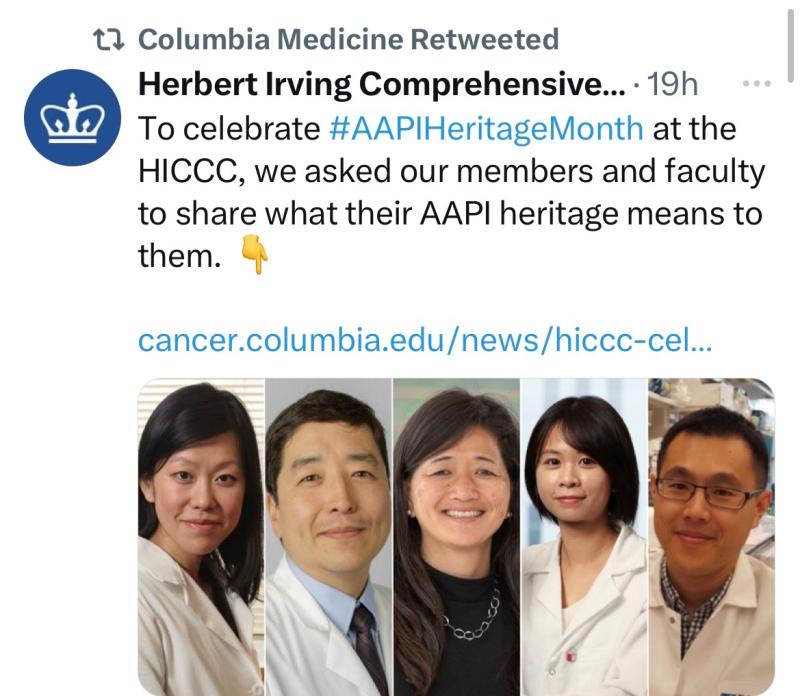 IN THE NEWS HIGHLIGHTS
CBS 2 New York (video)
After 3 Organ Transplants, Brooklyn Man Defying All Odds and Training for 40-Mile Charitable Bike Ride
Apr 19, 2023 - The life-threatening disorder eventually took a toll on his lungs, and on this day in 2012, he underwent a lung transplant at NewYork-Presbyterian/Columbia University Irving Medical Center. "It's the surgical risks and then post-operative recovery and then the second part is living with a lung transplant which is extremely challenging for many reason," says Dr. Selim Arcasoy, his pulmonologist and the hospital's Lung Transplant Medical Director.
The Washington Post
Parents Are Not Ready for the New Reality of Teen Cannabis Use
May 3, 2023 - Research published in 2022 by Oregon Health & Science University found that adolescent cannabis abuse in the United States has increased by about 245 percent since 2000; a 2022 study by the Columbia University Mailman School of Public Health found that, in 2020, 35 percent of high school seniors and 44 percent of college students reported using marijuana within the past year.
Manhattan Times
Care Caravan
May 1, 2023 - A new mobile health clinic operated by the Columbia University College of Dental Medicine is set to offer free health screenings and dental care to residents of Northern Manhattan and the Bronx. "This clinic is [our] first to offer both medical and dental services," said Christian Stohler, professor and dean at the College of Dental Medicine.