CUIMC Update - March 15, 2023
CUIMC Update is a weekly e-newsletter featuring medical center news and the accomplishments of our faculty, staff, and trainees. Please send your news, honors, and awards to cuimc_update@cumc.columbia.edu. Grants are provided by the Sponsored Projects Administration office.
NEWS
One Nurse's Story: Turning Grief Into Purpose
The care Emily Estrella's critically ill baby daughter Olivia received at NewYork-Presbyterian Morgan Stanley Children's Hospital made a huge impression on Estrella, who decided to go to nursing school with the intention of working in critical care. In 2021, Estrella started working in the same pediatric neuro intensive care unit where Olivia spent some of the last days of her life. Read more.
Center Helps Patients Get Past Fear and Adopt Healthier Habits
Science shows many people develop fear after experiencing sudden, serious health scares, which can become an obstacle to changing habits that may have led to the health scare. Ian Kronish, MD, is the director of Columbia's Roybal Center for Fearless Behavior Change in the Division of Cardiology at VP&S. The center helps patients get past their fear and adopt new health-promoting habits. Read more.
Statins May Reduce Heart Disease in People with Sleep Apnea
A study led by Sanja Jelic, MD, associate professor of medicine at VP&S, suggests that cholesterol-lowering drugs called statins have the potential to reduce heart disease in people with obstructive sleep apnea regardless of the use of CPAP machines during the night. CPAP machines, according to this new research, are associated with increased levels of a protein associated with inflammation and heart disease among users. Read more.
Mailman Study Proposes A New Score Card for Progress in Sexual Health
Moving away from a focus on disease risk to a more positive, holistic, and health-promoting approach to sexual health is key to improving health outcomes, according to a new study led by Jessie V. Ford, PhD, assistant professor of sociomedical sciences at the Mailman School of Public Health. Read more.
Study Using Focused Ultrasound Offers a New Paradigm for Pediatric Brain Tumors
Along with colleagues from Columbia's biomedical engineering department, pediatric oncologist Luca Szalontay, MD, and radiation oncologist Cheng-Chia Wu, MD, PhD, have launched a trial of a non-invasive ultrasound method to circumvent the blood-brain barrier, which most chemotherapeutic agents are unable to penetrate. The team behind the study (pictured above) hopes to change the currently dismal outlook for the 700 U.S. children diagnosed each year with a type of brain tumor called diffuse midline glioma. Read more.
Celebrate Match Day with #ColumbiaMed!
If you'll be celebrating Match Day this Friday, March 17, join the fun with #ColumbiaMed on social media. Just search Columbiamed in the GIFs section on Facebook and Instagram to use our Columbia-branded Match Day GIFs in your posts.
EVENTS
Sleep Across the Life Cycle: Implications for Health & Treatment
March 17, 8:30 a.m., online
Register here.
CU Public Safety / Shotokan Karate Club Self Defense Class
March 20, 6:30 p.m., Wien Hall, 411 W. 116 St., Wien Lounge
Register here.
Celebrating Faculty Teaching Transformations at Columbia
March 21, 3 p.m., Low Library, 535 W. 116 St., Faculty Room
Register here.
Barriers and Facilitators to Healthy Eating: Why It Matters
March 21, 3 p.m., Vagelos Education Center, 104 Haven Ave., Room 401
Register here.
"Extrapolations" Screening & Climate Conversation with Scott Z. Burns
March 21, 3:30 p.m., Lerner Hall, 2920 Broadway, Room 555
Register here.
Empower, Educate, and Support LGBTQIA2+ Families and Friends
March 21, 6 p.m., online
Register here.
The Biology of Aging Seminar Series Presents Shin-ichiro Imai, MD, PhD
March 22, 11 a.m., Irving Cancer Research Center, 1130 St. Nicholas Avenue, 1st Floor Auditorium
Register here.
Tissue Talks: Susan Margulies, NSF, GIT, Emory University
March 22, 3 p.m., online
Register here.
Mid-Career Faculty Professional Development Series
March 22, 4 p.m., Faculty Club, 630 W. 168 St., 4th Floor
Register here.
2023 Celebration of Teaching and Learning Symposium
March 23, online
Register here.
The AOA Lecture presented by Eve Higginbotham, SM, MD, ML
March 23, 4:30 p.m., Black Building, 650 W. 168 St., Alumni Auditorium and Schaefer Awards Gallery
Register here.
OSR Reach for Research Excellence Seminar: Dr. Corina Lelutiu-Weinberger
March 29, 12 p.m., School of Nursing, 560 W. 168 St., Conference Room 114/115
Register here.
Employee Appreciation Networking Event
March 30, 4 p.m., School of Nursing, 560 W. 168 St., 7th Floor Rooftop
Register here.
GRANTS
MAILMAN SCHOOL OF PUBLIC HEALTH
Charles Branas, PhD, Epidemiology: $326,587 over four years for a subaward from the National Heart, Lung, and Blood Institute for "The role of neighborhood greenspace in reducing risk of hypertensive disorders of pregnancy, chronic hypertension, and racial disparities in maternal morbidity."
Kelli Hall, PhD, Population and Family Health: $3,439,225 over five years from the National Institute on Alcohol Abuse and Alcoholism for "Improving alcohol and substance use care access, outcomes, and equity during the reproductive years: A Type 1 Hybrid Trial in Family Planning Clinics."
Christian Gloria, PhD, Sociomedical Sciences: $3,075,216 over four years from the Health Resources and Services Administration for "Affordable Care Act: Public Health Training Centers Program."
Mary Beth Terry, PhD, Environmental Health Sciences, and Jasmine McDonald, PhD, Epidemiology: $1,693,082 over five years from the National Cancer Institute for "Training in Health Equity, Highlighting Environmental Inequities, & Growing Neighborhood Teachers and Students (YES in THE HEIGHTS)."
SCHOOL OF NURSING
Rebecca Schnall, PhD, and Suzanne Bakken, PhD: $2,646,073 over five years from the National Institute of Nursing Research for "Reducing Health Disparities Through Informatics (RHeaDI)."
VAGELOS COLLEGE OF PHYSICIANS AND SURGEONS
Delivette Castor, PhD, Medicine: $2,358,268 over four years for a subaward from the U.S. Agency for International Development for "The Microbicide 2021 Introduction and Access Project."
Steven Reiner, MD, Microbiology & Immunology: $6,958,412 over five years from the National Institute of General Medical Sciences for "Medical Scientist Training Program."
Marcella Walker, MD, Medicine: $3,609,845 over five years from the National Institute of Arthritis and Musculoskeletal and Skin Diseases for "Serotonin and Skeletal Health."
Yonghao Yu, PhD, Molecular Pharmacology & Therapeutics: $1,677,408 over three years from the National Institute of General Medical Sciences for "Posttranslational Regulation of Cell Growth and Stress Responses."
Shan Zha, MD, PhD, Pathology & Cell Biology: $2,968,007 over five years from the National Cancer Institute for "The non-catalytic function of PARP2 in DNA repair and cancer therapy."
HONORS
SCHOOL OF NURSING
Ashley Graham-Perel, EdD, was awarded the Alice Fisher Fellowship Award from the Barbara Bates Center for the Study of History of Nursing at the University of Pennsylvania.
VAGELOS COLLEGE OF PHYSICIANS AND SURGEONS
Denise Kandel, PhD, Psychiatry, received the Joseph Zubin award from the American Psychopathological Association.
SOCIAL MEDIA SNAPSHOT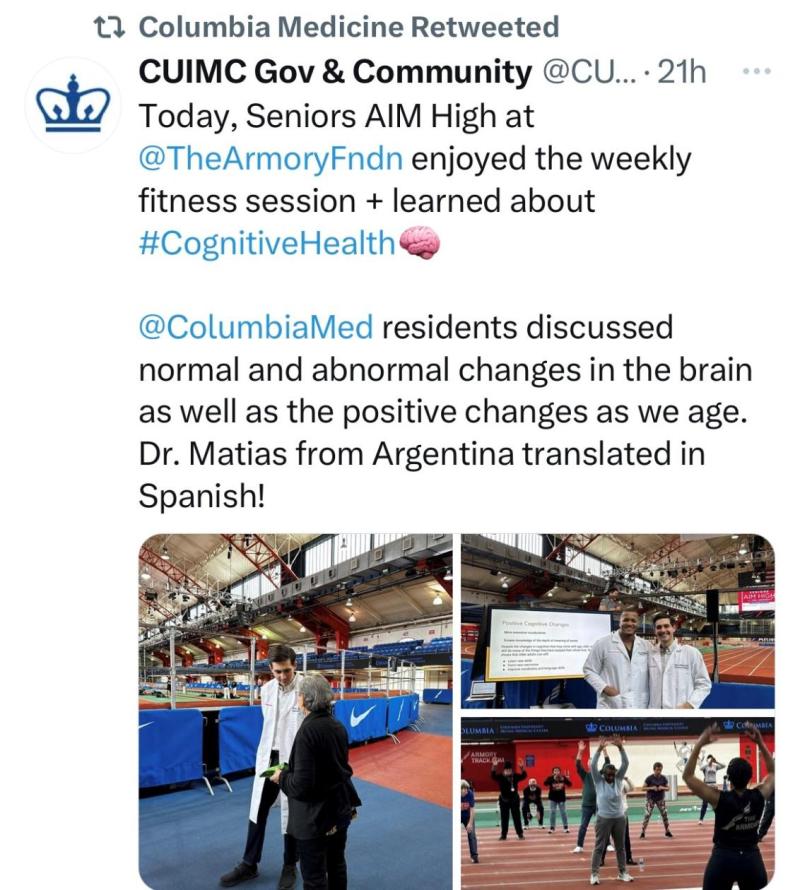 IN THE NEWS HIGHLIGHTS
USA Today
FDA Is Requiring Mammogram Patients Be Notified About Breast Density, a Risk Factor for Cancer
Mar 9, 2023 - Dr. Lauren Friedlander, radiologist at NewYork-Presbyterian Westchester and associate professor of radiology at Columbia University Irving Medical Center, called mammography "the mainstay of breast cancer screening."
NBC News Online
The Best Treatments for Keratosis Pilaris in 2023, According to Dermatologists
Mar 9, 2023 - For many people, keratosis pilaris can flare up with hormonal fluctuations — for example, around the menstrual cycle, during pregnancy or puberty, according to Dr. Lindsey Bordone, board-certified dermatologist and assistant professor of dermatology at Columbia University Irving Medical Center.
TIME
Extreme Heat Is a Health Crisis, Scientists Warn. And Climate Change Is Making It Worse
Feb 28, 2023 - Diana Hernandez, associate professor of sociomedical sciences at the Columbia University Mailman School of Public Health, is researching how certain vulnerabilities, such as medical conditions or access to energy, could be affected by changing climate domestically and internationally.
"The climate is changing, and we are not adapted to be able to deal with it from a health perspective," said Cecilia Sorensen, a physician and associate professor of environmental health sciences at Columbia University Irving Medical Center.