CUIMC Update - March 1, 2023
CUIMC Update is a weekly e-newsletter featuring medical center news and the accomplishments of our faculty, staff, and trainees. Please send your news, honors, and awards to cuimc_update@cumc.columbia.edu. Grants are provided by the Sponsored Projects Administration office.
NEWS
Columbia Nursing Ranks No. 1 in NIH Funding
Columbia University School of Nursing ranked No. 1 among all U.S. schools of nursing for total research funding received from the National Institutes of Health (NIH) in 2022, up from No. 4 in the three previous years. In 2022, the school was awarded 36 NIH grants totaling more than $18.7 million, nearly double the school's total in 2021. Read more.
VP&S Students Travel to Albany, Meet with Legislators for Advocacy Day
A group of VP&S students spent the day in Albany on Jan. 31, meeting with legislators and other policymakers to discuss issues related to improving patient care, promoting public health and reproductive rights, and addressing health inequities and environmental and housing justice. Read more.
Ultrasound Device May Offer New Treatment Option for Hypertension, According to Columbia Research
A device that uses ultrasound to calm overactive nerves in the kidneys can help some people get their blood pressure under control. Study leader Ajay Kirtane, MD, an interventional cardiologist and director of the cardiac catheterization laboratories at NYP/CUIMC, discusses what this means for patients with uncontrolled high blood pressure. Read more.
Is Surgery to Prevent Ovarian Cancer a Good Idea? Columbia Expert Weighs In
Many women were caught by surprise last month when the Ovarian Cancer Research Alliance encouraged women undergoing pelvic surgery to consider having their fallopian tubes removed to prevent ovarian cancer. June Hou, MD, a gynecologic cancer specialist at VP&S, explains why this recommendation makes sense for women at average risk for the disease who are already undergoing a hysterectomy. Read more.
AEDs Can Save a Life. Here's What You Need to Know to Use One
When someone is in cardiac arrest, you can save that person's life if you have access to an automated external defibrillator (AED), even if you have no medical training. We spoke with Daniel O'Connor, MD, a cardiologist at VP&S, about what it takes to use an AED, why it works, and why we should have no fear using them in an emergency. Read more.
EVENTS
Sundeep Khosla, MD, to present the Cartwright Lecture
March 1, 4:30 p.m., Black Building, 650 W. 168 St., Alumni Auditorium and Schaefer Awards Gallery
Register here.
Pediatric Obesity: An Expert Review of the New AAP Guidelines
March 1, 6 p.m., online
Register here.
Leveraging Human-Centered Design to Advance Implementation Science
March 3, 1 p.m., online
Register here.
The Value of Public Health Engagement in Healthy Aging
March 7, 11:30 a.m., online
Register here.
A Conversation with Author Linda Villarosa
March 7, 5:30 p.m., School of Nursing, 560 W. 168 St., 7th floor
Register here.
Jewish Cultural ERG Celebrates Purim on Haven Plaza
March 8, 11 a.m., Haven Plaza, Haven Avenue between Fort Washington Avenue and 169th Street
Register here.
An Economic Argument for Public Health as a Public Good
March 8, 11:30 a.m., Allan Rosenfield Building, 722 W. 168 St., 8th Floor Auditorium
Register here.
Tissue Talks: Derrick Rossi, NYSCF
March 8, 3 p.m., online
Register here.
Anti-Racism Speaker Series featuring Dr. Jolaade Kalinowski
March 9, 10 a.m., online
Register here.
Meet the Author: The Pain Gap: How Sexism and Racism in Healthcare Kill Women
March 14, 4:30 p.m., School of Nursing, 560 W. 168 St., 7th floor
Register here.
Passover Meets Ramadan Lunch & Learn
March 15, 11:30 a.m., School of Nursing, 560 W. 168 St., 7th floor
Register here.
GRANTS
MAILMAN SCHOOL OF PUBLIC HEALTH
Claire Greene, PhD, Population and Family Health: $879,582 over five years from the National Institute of Mental Health for "Optimizing implementation of evidence-based mental health interventions to promote reach and retention among migrants in transit in humanitarian emergencies."
Gary Miller, PhD, Environmental Health Sciences: $720,382 over three years from the Army Medical Research and Materiel Command for "Novel exposomics and extracellular vesicle biomarkers to unravel gene‐environment interactions and mechanisms of neurodegeneration in Parkinson's disease."
Kara Rudolph, PhD, Epidemiology: $3,110,616 over five years from the National Institute on Drug Abuse for "Design and analysis advances to improve generalizability of clinical trials for treating opioid use disorder."
SCHOOL OF NURSING
Rebecca Schnall, PhD, and Dustin Duncan, ScD, Epidemiology, Mailman School of Public Health: $3,600,000 over two years from the National Institute of Allergy and Infectious Diseases for "MyPEEPS Mobile LITE: Limited Interaction Efficacy Trial of MyPEEPS Mobile to Reduce HIV Incidence and Better Understand the Epidemiology of HIV among YMSM."
VAGELOS COLLEGE OF PHYSICIANS AND SURGEONS
Claudia Doege, MD, Pathology & Cell Biology: $2,151,360 over three years from Regeneron Pharmaceuticals for "Linked exome sequence variants on beta cell differentiation, proliferation, function and adaptation to hyperglycemia."
Steven Kernie, MD, and Tony Tzong-Shiue Yu, PhD, Pediatrics: $2,054,482 over five years from the National Institute of Neurological Disorders and Stroke for "The role of ApoE in injury-induced neurogenesis."
Ronald K. Liem, PhD, Pathology & Cell Biology, and Donna Farber, PhD, Microbiology & Immunology: $4,162,895 over five years from the National Institute of General Medical Sciences for "Training in Cellular, Molecular and Biomedical Studies (CMBS)."
Mishaela Rubin, MD, Medicine: $1,599,661 over four years from the Food & Drug Administration for "Advancing Product Development for Hypoparathyroidism: A Prospective Natural History Study of the Clinical Outcomes and Regulation of Disordered Mineral Metabolism."
Milan Stojanovic, PhD, Medicine; Serge Cremers, PhD, PharmD, Pathology & Cell Biology; Qiao Lin, PhD, Mechanical Engineering; and Sumit Mohan, MD, Medicine: $2,701,270 over four years from the National Institute of Biomedical Imaging and Bioengineering for "Towards rapid measurement of antibiotics in critical care setting."
Angeliki Tsapanou, PhD, Medicine: $261,237 over two years from the National Institute on Aging for "Sleep Duration Polygenic Risk Score: association with cognition and brain measures."
HONORS
VAGELOS COLLEGE OF PHYSICIANS AND SURGEONS
Columbia University Fertility Center was named the No. 4 fertility clinic in the United States by Newsweek and recognized as the best fertility clinic for genetic testing by Parents Magazine.
SOCIAL MEDIA SNAPSHOT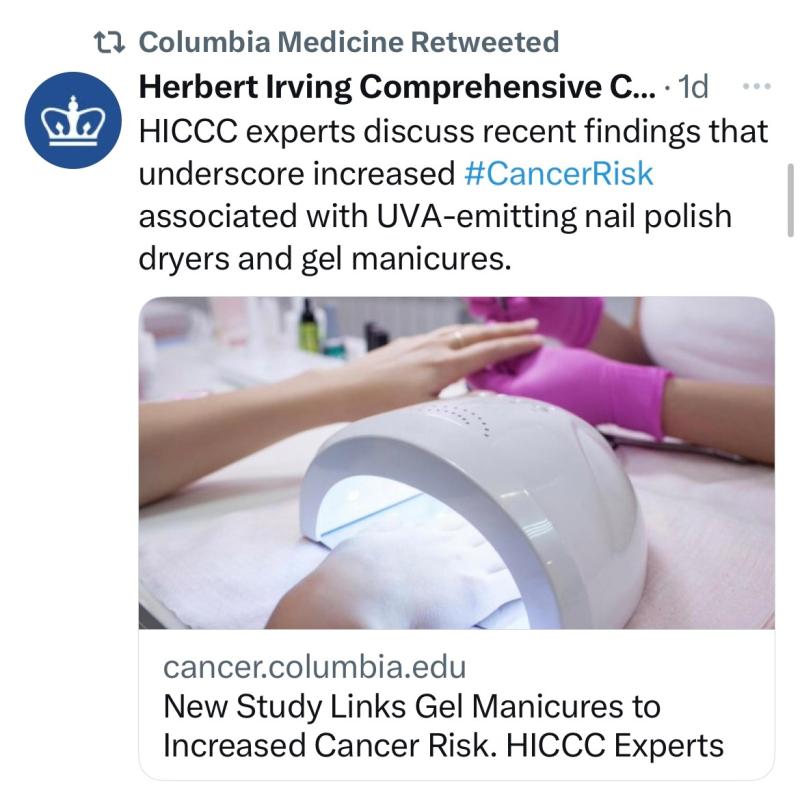 IN THE NEWS HIGHLIGHTS
USA Today
Just How Dangerous Is the Ohio Derailment Disaster? Why It's Confusing.
Feb 22, 2023 - "For a long time, this has been an underfunded and understaffed agency, so things like science communication and community involvement have been really cut. The only time that EPA is called in is in these disasters, so there's not a lot of space there to build trust," said Tiffany Sanchez, a professor of environmental health sciences at Columbia University's Mailman School of Public Health.
The Wall Street Journal (Requires a subscription)
Therapists Get Anxious, Too. Here's What They Do.
Feb 20, 2023 - When we get anxious, we tend to breathe more quickly and more shallowly, says Anne Marie Albano, a professor of medical psychology in psychiatry at Columbia University Irving Medical Center.
TIME
How COVID-19 Changes the Heart—Even After the Virus Is Gone
Feb 18, 2023 - In a presentation at the annual meeting of the Biophysical Society, an international biophysics scientific group, Dr. Andrew Marks, chair of the Department of Physiology at Columbia University, and his colleagues reported on changes in the heart tissue of COVID-19 patients who had died from the disease, some of whom also had a history of heart conditions.