CUIMC Update - January 18, 2023
CUIMC Update is a weekly e-newsletter featuring medical center news and the accomplishments of our faculty, staff, and trainees. Please send your news, honors, and awards to cuimc_update@cumc.columbia.edu. Grants are provided by the Sponsored Projects Administration office.
NEWS
2022 Martha A. Hooven Awards Honor Six VP&S Employees
Patrice Malone, Julie Glickstein, Yong Shi (Backer) Li, Paulette B. Schneider, Vanessa Gonzalez, and Karen J. Allis have been honored for their contributions to the VP&S community. Read more.
Worried about Prolonged Sitting? Take A Five-Minute Stroll Every Half Hour
A study by Keith Diaz, PhD, associate professor of behavioral medicine, and colleagues found that just five minutes of walking every half hour can offset some of the most harmful effects of periods of prolonged sitting. Read more.
New Program to Bridge Oral Health Disparities
A new grant to the College of Dental Medicine will launch a program to bridge disparities in vulnerable populations and people with intellectual and developmental disabilities. Read more.
VP&S Expert: What We Know About Food and Your Brain
New research led by Sabrina Diano, PhD, director of the Institute of Human Nutrition at VP&S, investigates how nutrients—specifically macronutrients, such as carbohydrates, fats, and proteins—act on brain cells. Diano shares why a Mediterranean diet is best for brain health. Read more.
Multidisciplinary Team of Columbia Experts Tackles Subway Crowding During Pandemics
Researchers from across the university, including faculty members from VP&S and Mailman, are collaborating on a project that integrates crowd and airflow modeling with public health expertise and applies it to subway crowd management. The goal is to help transit riders and workers make informed decisions about their travel behavior. Read more.
EVENTS
Solidarity & Unity in Honor of Dr. Martin Luther King, Jr. Panel Discussion
Jan. 19, 3 p.m., online
Register here.
Exploring the Ethics of Maternal Healthcare Post-Roe
Jan. 19, 6:15 p.m., online
Register here.
Creating the Fourth Chapter of Human Genomics
Jan. 20, 12 p.m., Herbert Irving Comprehensive Cancer Center, 1130 St. Nicholas Ave., 1st Floor Auditorium
Register here.
International Holocaust Remembrance Day: StoryFile AI conversational video
Jan. 24, 5 p.m., Columbia School of Nursing, 560 W. 168 St., 7th floor
Register here.
The Importance of Well-Being for Delivering Exceptional Performance
Jan. 25, 12:30 p.m., Faculty Club, 630 W. 168 St., 4th Floor
Register here.
Autism: From "Neuroplacentology" to Your Offices and Patients
Jan. 25, 6 p.m., online
Register here.
Bioethics in Film: From Screen to Seminar – "Seizing Hope"
Jan. 26, 6 p.m., online
Register here.
Film Screening and Discussion: "Peaceful"
Jan. 26, 7 p.m., Horace Mann Hall, Cowin Auditorium, Teachers College, Broadway and 120th Street
Register here.
How Physicians Partnered with the Nazi Regime: Possible Lessons for Today
Jan. 27, 1 p.m., Vagelos Education Center, 104 Haven Avenue, Room 405
Register here.
CUIMC Grand Rounds: In Science We Trust
Jan. 30, 4 p.m., Black Building, 650 W. 168 St., Alumni Auditorium and Schaefer Awards Gallery
Register here.
Kathleen Hickey Endowed Lectureship in Cardiovascular Care
Feb. 9, 4 p.m., Columbia School of Nursing, 560 W. 168 St., 7th Floor
Register here.
GRANTS
MAILMAN SCHOOL OF PUBLIC HEALTH
Daniel Malinsky, PhD, Biostatistics: $554,049 over five years from the National Institute of Environmental Health Sciences for "Flexible causal inference methods for estimating longitudinal effects of air pollution on chronic lung disease."
Ana Navas-Acien, MD, PhD, Environmental Health Sciences: $675,010 over three years for a subaward from the National Center for Complementary and Integrative Health for "Trial to Assess Chelation Therapy 2 (TACT2) DCC Competing Renewal."
SCHOOL OF NURSING
Rebecca Schnall, PhD: $15,149,718 over five years from the National Institute of Allergy and Infectious Diseases for "Examining Social Ecological and Network Factors to Assess Epidemiological Risk in a Large National Cohort of Cisgender Women."
VAGELOS COLLEGE OF PHYSICIANS AND SURGEONS
Francesca Bartolini, PhD, Pathology & Cell Biology: $2,370,583 over three years from the National Institute on Aging for "Pathogenic Roles for Microtubule Stabilization Pathways in Alzheimers Disease."
Jahar Bhattacharya, MD, DPhil, Medicine: $3,003,772 over four years from the National Heart, Lung, and Blood Institute for "Mechanistic role of membrane pore formation in lung-endothelial barrier failure due to blood-borne pathogens."
Joseph Garcia, MD, PhD, Medicine: $424,735 over three years for a subaward from The G. Harold and Leila Y. Mathers Charitable Foundation for "Targeting HIF-associated factors Acss2 and CCCs: Essential and linked signal transducers in solid tumors."
Xin Huang, PhD, Medicine: $452,375 over two years from the National Institute of Child Health and Human Development for "SINE-Mediated Regulation of mRNA Epitranscriptome for Pluripotency Maintenance and Differentiation."
Rita Kukafka, DrPH, Biomedical Informatics: $448,959 over two years from the National Institute on Minority Health and Health Disparities for "Integrating EHR and patient-generated health data for breast cancer risk assessment and decision support in a diverse multiethnic population."
Shawn Liu, PhD, Physiology & Cellular Biophysics: $2,029,535 over five years from the National Institute of Neurological Disorders and Stroke for "Epigenetic mechanisms contributing to the pathogenesis of ALS/FTD with GGGGCC repeat expansion mutation at the C9orf72 locus."
Umrao Monani, PhD, Neurology: $461,500 over two years from Sarepta Therapeutics for "A 'Humanized' Rodent Model of Glut1 Deficiency Syndrome: A Critical Tool for Therapy Development."
HONORS
MAILMAN SCHOOL OF PUBLIC HEALTH
Linda P. Fried, MD, Dean, was elected to be one of three new at-large members of the Association of Schools and Programs of Public Health's Board of Directors.
SOCIAL MEDIA SNAPSHOT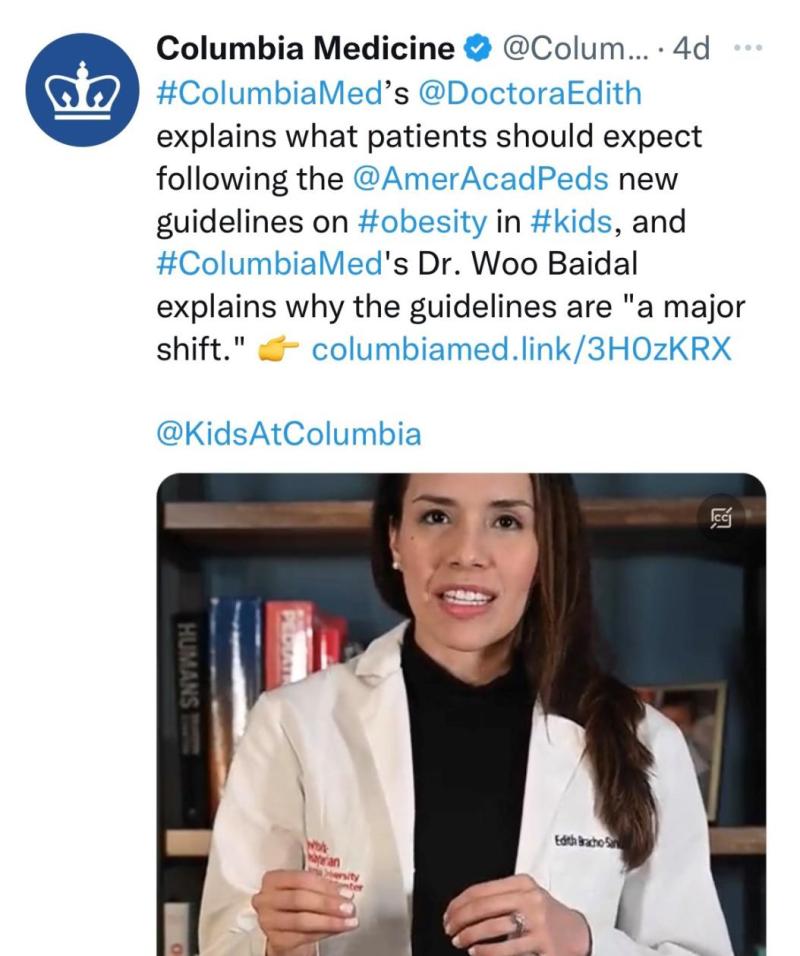 IN THE NEWS
CBS 2 New York (video)
Rules Changes and Science Work Together to Combat Concussions in Youth Sports
Jan 10, 2023 - Editor's Note: James Noble, who appears in this video, is an associate professor of neurology at the Vagelos College of Physicians and Surgeons.
U.S. News & World Report
Bivalent COVID Boosters Offer No Extra Protection, Studies Suggest
Jan 11, 2023 - The new mRNA bivalent boosters produced by Moderna and Pfizer only attack the COVID-19 virus about as well as the companies' first-wave vaccines, according to a blood testing study led by renowned virologist Dr. David Ho, a professor of microbiology and immunology at Columbia University, in New York City.
The City
How to Get Help for Long COVID in NYC
Jan 10, 2023 - Dr. Lawrence Purpura, who runs a long COVID clinic at Columbia University Irving Medical Center, recommends New Yorkers discuss symptoms with a primary care doctor — if they have one — "who already has a good understanding of their medical history."