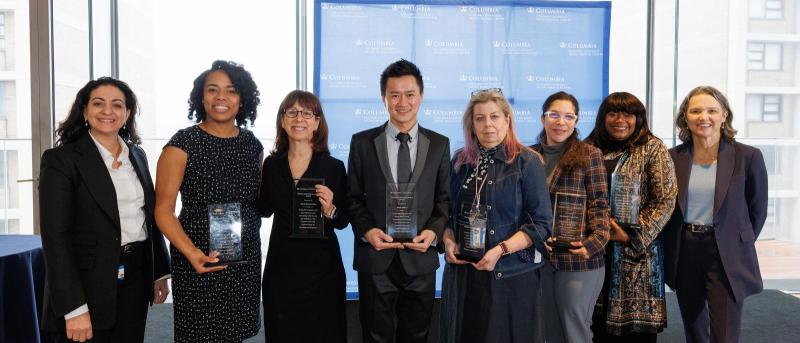 2022 Martha A. Hooven Awards Honor Six VP&S Employees
Columbia University Vagelos College of Physicians and Surgeons honored six employees with Martha A. Hooven Awards for Excellence at a ceremony on Jan. 12. The awards are given annually to commend employee contributions to the medical school's workplace and community. This year marked a return to an in-person ceremony after two years of virtual celebrations.
In her remarks at the event, Katrina Armstrong, MD, dean of the Vagelos College of Physicians and Surgeons, emphasized that institutions achieve success due to the efforts of individuals who go above and beyond.
"Day in and day out, I'm unbelievably impressed by the dedication, the work, and the collegiality across our campus," said Armstrong. "We come together today to recognize these award winners and all of us who come in every day to do our best—to create the best possible outcomes, to serve those around us, and to elevate the work we do in clinics, labs, and classrooms."
The Martha A. Hooven Awards for Excellence awards were initiated in 2008 and renamed in 2019 to recognize the late Martha A. Hooven, who served as vice dean of administration at VP&S for 11 years.  
This year, more than 130 award nominations were submitted. The award recipients were chosen by a selection committee comprised of representatives from across VP&S. Read on for more information about each honoree.
---
Vincent C. Santana Officer of Administration/Managerial Award
Vanessa Gonzalez, Director, Human Resources and Academic Affairs, Department of Dermatology
Vanessa Gonzalez has worked in the Department of Dermatology for more than 20 years and currently serves as the director of human resources and academic affairs. Gonzalez assists with operations and provides other assistance to research and clinical divisions in the department. In the past she has provided integral support for medical education and has filled in as department administrator. She also has assisted with several major leadership transitions.
---
Officer of Administration Professional/Administrative Award
Karen J. Allis, Administrative Manager, Department of Molecular Pharmacology & Therapeutics and Department of Physiology & Cellular Biophysics
Karen Allis has served as an administrator for more than 36 years in a unique dual role in the Department of Molecular Pharmacology & Therapeutics and the Department of Physiology & Cellular Biophysics. Allis assists the chairs and faculty of both departments in faculty recruitment, seminar scheduling, procurement processing, pre-award grant submissions, and more. She also serves as the program administrator for the departments' graduate programs and the Columbia University Summer Research Program for High School Science Teachers.
---
Officer of Research Award
Yong Shi (Backer) Li, Senior Staff Associate II, Department of Ophthalmology
Yong Shi (Backer) Li has more than 10 years of experience in the field of biomedical science, having worked on projects in genetics, cell and molecular biology, small animal models, and clinical observation. In his tenure at VP&S, Li has developed various preclinical models and disease diagnosis criteria. With these tools he has helped uncover disease mechanisms and proposed treatments for cancer and neurodegenerative disorders. He is currently conducting research on the immune response in the retina and therapies to rescue visual function by using CRISPR-modified patient-derived iPSCs, cell therapeutics, and AAV therapeutics.
---
SSA Union Member/Clerical Technical Award
Paulette B. Schneider, Senior Research Technician, Irving Institute for Clinical and Translational Research
Paulette B. Schneider is a senior research technician in the Bionutrition Research Core in the Irving Institute for Clinical and Translational Research. She worked in a variety of health care settings as a dietetic technician before joining her current team 23 years ago. Schneider pioneered a food waste analysis project in her unit, donating unused food from studies to local food pantries in Washington Heights. Her work has helped inspire a national conversation about food waste among research dieticians and metabolic kitchens.
---
Diversity Award
Patrice Malone, MD, Assistant Professor of Psychiatry
Patrice Malone, MD, is the co-founder and executive board member of the Psychiatry Residents Diversity Alliance and has led the Dr. June Jackson Christmas Medical Student Summer Fellowship for the past six years. Malone also is co-chair of the Diversity and Inclusion Alliance Committee for Clinical Services in the Department of Psychiatry. With support from CopeColumbia faculty, Malone proposed, co-developed, and led the Bold Conversations for Healing & Reshaping Our Medical Center Community program, an ongoing series of panel discussions with CUIMC faculty and staff. Panelists in the series share personal experiences and model resilience and coping strategies for handling racialized stress in the workplace.
---
Community Service Award
Julie Glickstein, MD, Professor of Pediatrics
Julie Glickstein, MD, is a pediatric cardiologist and a founding member of LEARNIT, a volunteer-based, interdisciplinary team dedicated to improving health literacy while closing the digital divide. She also is a faculty adviser for Pick Up Sports and Health (PUSH), a Columbia medical student organization that aims to motivate students who are traditionally underrepresented in medicine to enter the medical field and promotes health equity in Upper Manhattan. Both projects are grass roots organizations that work to deliver more effective medical care through community outreach.