CUIMC Update - February 15, 2023
CUIMC Update is a weekly e-newsletter featuring medical center news and the accomplishments of our faculty, staff, and trainees. Please send your news, honors, and awards to cuimc_update@cumc.columbia.edu. Grants are provided by the Sponsored Projects Administration office.
NEWS
A NICU Love Story
Desirie Williams was rushed to CUIMC at high risk of preterm birth just four days before her planned wedding date. Doctors safely delivered twins before Williams and her fiancé exchanged vows in the garden outside Morgan Stanley Children's Hospital on their original wedding date. The couple plans to return to the garden on their anniversary to celebrate their marriage, the twins who are thriving, and the care they received at NYP/CUIMC. Read more.
Nobel Laureate Eric Kandel, MD, Honored with Program and Exhibit
Colleagues of Eric Kandel, MD, University Professor Emeritus and Nobel laureate, gathered Feb. 9 to honor his contributions to Columbia, the field of neuroscience, and the areas beyond Columbia and science that have benefited from his work. The program featured a screening of a 2018 video interview with Kandel and remarks from Kandel's colleagues and VP&S leadership. Read more and watch the video.
CUIMC Expert on How Kindness Can Make a Difference for Your Health
Positive emotional connections play a significant role in health and well-being, according to Kelli Harding, MD, assistant clinical professor of psychiatry at VP&S, who researches the science of kindness and the social dimensions of health. "Medical care, while critical, only accounts for about 10-20% of our overall health status," Harding says. "Instead, much of good health depends on creating supportive relationships." Read more.
February is American Heart Month. Get Heart Healthy with These Tips
Most of us know we should do more to keep our hearts healthy, but we might not know the best ways to get started. Columbia cardiologist Jennifer Haythe, MD, shares lifestyle changes that she suggests for her patients. Read more.
Mailman Research Identifies Gut Microbiome Disturbances as Signature of Chronic Fatigue Syndrome
New research from the Mailman School of Public Health reveals differences in the gut microbiomes of people with myalgic encephalomyelitis/chronic fatigue syndrome compared with others. Many patients report that an earlier infectious disease triggered their chronic fatigue, supported by the recent emergence of long COVID, which often presents with symptoms similar to those observed in ME/CFS. Read more.
EVENTS
The 2022 Horwitz Prize Lectures
Feb. 16, online
Register here.
Precision Medicine & Society: Scholars' Day
Feb. 17, 1 p.m., Lerner Hall, 2920 Broadway, Room 555
Register here.
Leading The Way: Honoring Dr. Bernardine Mays Lacey
Feb. 20, 3 p.m., School of Nursing, 560 W. 168 Street, 7th Floor
Register here.
The Biology of Aging Seminar Series Presents Vishwa Deep Dixit, DVM, PhD
Feb. 22, 11 a.m., Herbert Irving Comprehensive Cancer Center, 1130 St. Nicholas Avenue, 1st floor auditorium
Register here.
Tissue Talks: Cherie Stabler, University of Florida
Feb. 22, 3 p.m., online
Register here.
Columbia University 7th Annual Engineering in Medicine Symposium
Feb. 23, 10:30 a.m. to 6 p.m., online
Register here.
Demystifying Publishing and Promoting Medical Activism with The Lancet
Feb. 23, 3 p.m., Vagelos Education Center, 104 Haven Avenue, Clyde and Helen Wu Auditorium
Register here.
Patterns & Determinants of Racialized Inequities in Health & Aging
Feb. 27, 11:30 a.m., online
Register here.
Reimagining the VP&S Curriculum Retreat
Feb. 28, 1 p.m., Vagelos Education Center, 104 Haven Avenue, Room 401
Register here.
Pediatric Obesity: An Expert Review of the New AAP Guidelines
March 1, 6 p.m., online
Register here.
GRANTS
MAILMAN SCHOOL OF PUBLIC HEALTH
Daniel Belsky, PhD, Epidemiology, and Peter Muennig, MD, Health Policy & Management: $2,979,505 over five years from the National Institute on Aging for "The MyGoals for Healthy Aging Multi-Center Randomized Controlled Trial."
Dustin Duncan, ScD, Epidemiology: $299,689 over five years for a subaward from the National Institute of Allergy and Infectious Diseases for "Optimizing HIV prevention for highly vulnerable methamphetamine-using sexual minority men."
SCHOOL OF NURSING
Ruth Masterson Creber, PhD: $2,570,249 over four years from the National Heart, Lung, and Blood Institute for "Improve the Meaning of Patient Reported Outcomes to Evaluate Effectiveness for Cardiac Care (IMPROVE-Cardiac Care)."
VAGELOS COLLEGE OF PHYSICIANS AND SURGEONS
Medini Annavajhala, PhD, Medicine: $251,300 over two years from the National Institute of Allergy and Infectious Diseases for "Operationalizing wastewater-based surveillance of multidrug-resistant bacteria."
Pallavi Balte, MD, PhD, and Elizabeth Oelsner, MD, Medicine: $452,375 over two years from the National Heart, Lung, and Blood Institute for "Changes in the public health burden of tobacco use during the COVID-19 pandemic: the C4R Study."
Jahar Bhattacharya, DPhil, Medicine: $1,918,304 over three years from the Army Medical Research and Materiel Command for "Protein transduction therapy for ARDS."
Anne Gershon, MD, Pediatrics, and Michael Gershon, MD, Pathology & Cell Biology: $3,051,150 over five years from the National Institute of Diabetes and Digestive and Kidney Diseases for "VZV in the enteric nervous system: pathogenesis and consequences."
Rene Hen, PhD, Psychiatry: $321,250 over one year from the National Institute of Neurological Disorders and Stroke for "The origins and function of sensory cue and place responses in the dentate gyrus."
Laura Landweber, PhD, Biochemistry & Molecular Biophysics: $3,858,485 over five years from the National Institute of General Medical Sciences for "Understanding Complex Genome Editing and RNA Biology in Oxytricha."
Shan Zha, MD, PhD, Pathology & Cell Biology: $2,665,987 over five years from the National Cancer Institute for "The role of DNA-PKcs in DNA repair, lymphocyte development, RNA metabolism and tumor suppression."
HONORS
VAGELOS COLLEGE OF PHYSICIANS AND SURGEONS
Marie-Pierre St-Onge, PhD, Medicine, was named Specialty Chief Editor for Frontiers in Sleep: Sleep & Metabolism.
SOCIAL MEDIA SNAPSHOT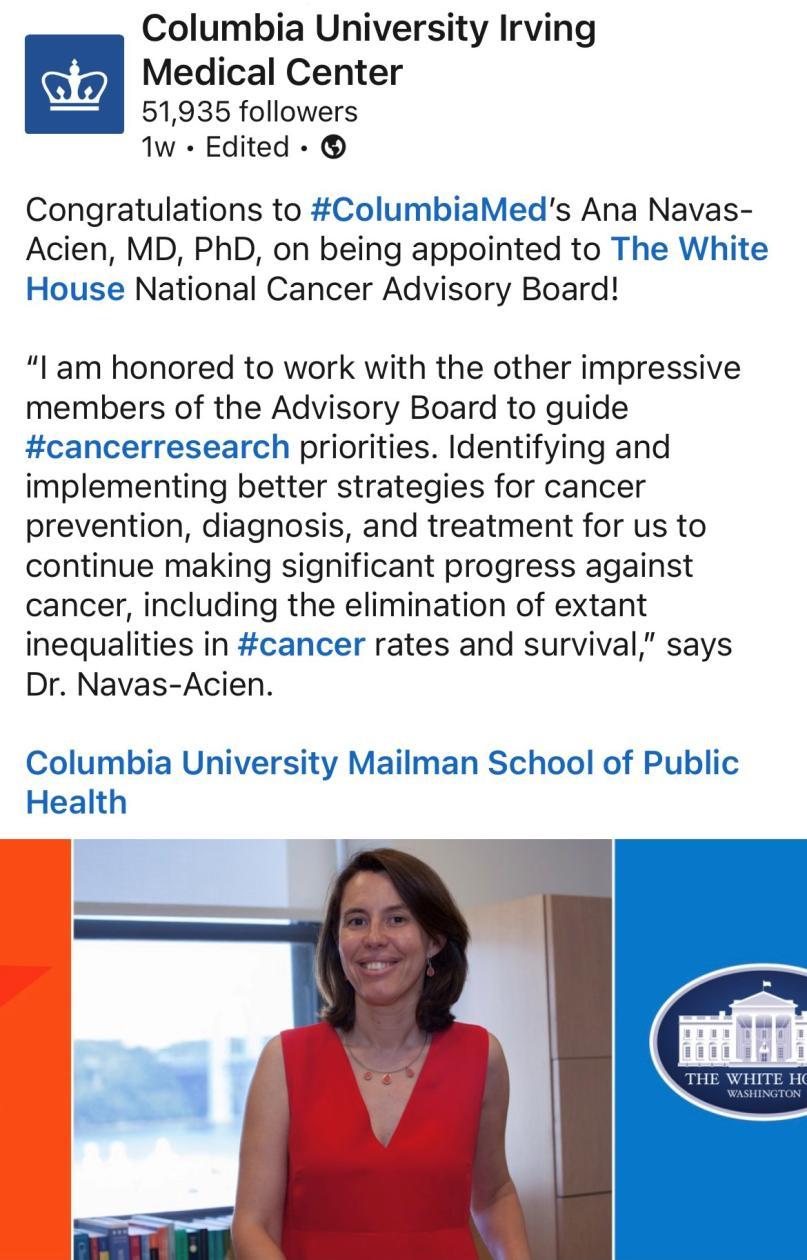 IN THE NEWS HIGHLIGHTS
TIME
So, Is the Pandemic Over Yet?
Feb 8, 2023 - "There is a disconnect between the broad perception that the pandemic is behind us, and focusing on getting back to life as it was pre-pandemic," says Wafaa El-Sadr, founder and director of ICAP at Columbia University's Mailman School of Public Health. "But the reality is that we still continue to have substantial transmission and deaths due to COVID in the U.S., and we are in a situation where the virus will be with us for a long time."
The Washington Post
The Power of Social Touch: How a Loving Caress Really Can Ease Anxiety
Feb 9, 2023 - All mammals that have been studied have C-tactile fibers, suggesting that these sensory cells — and the ability to detect social touch — are evolutionarily conserved and essential, said Ishmail Abdus-Saboor, a biological scientist specializing in touch research at Columbia University's Zuckerman Mind Brain Behavior Institute.
MedPage Today
Their Alzheimer's Disease Didn't Worsen. Why?
Feb 3, 2023 - Of all the possible contributors, intense physical activity was the likely disease-modifying factor, Davangere Devanand, MD, of Columbia University Irving Medical Center in New York City, and co-authors wrote in Alzheimer's & Dementia.