This is a Valentine's story of renewed love, babies, extraordinary medical care, and making the most of the situation.
On Wednesday, Aug. 24, Desirie Williams was 27 weeks pregnant with twins, and making the final preparations for her wedding that weekend.
The wedding date—Sunday, Aug. 28—had special meaning to Desirie and her partner, Lateek Wilson, who had been high school sweethearts years ago before recently reconnecting. "Doctors had told me I wouldn't be able have more children after my first son was born, but as soon as Lateek and I accepted God in our lives, I got pregnant," Williams says.
To honor God, the couple chose Aug. 28 for their wedding day because of Romans 8:28: "And we know that in all things God works for the good of those who love him." "That verse is perfect for us," says Wilson, "It describes how we're together now for the greater good."
The twins, it seems, didn't want to miss the ceremony.
"My water broke Wednesday morning around 3 a.m., but I thought it was too early. The babies were due on Nov. 23 and I wasn't cramping," Williams says.
Williams went to the emergency department at Columbia University Irving Medical Center, where the doctors broke the bad news: She would have to stay in hospital while the doctors tried to prevent the twins from arriving too early.
"That was Wednesday afternoon, and I broke down crying because our wedding was Sunday," Williams says. "I asked if I could leave and come back after the wedding. The answer was absolutely not. I couldn't stop crying and the nurses tried to calm me so I wouldn't stress the babies."
Rev. Daniel Yang at Morgan Stanley Children's Hospital counseled the couple and offered to come in on his day off to perform the wedding on Aug. 28 in the garden next to the hospital.
"Right after Rev. Daniel said he'd perform our wedding, the twins were born," Williams says. "I guess they did not want to miss their parents' wedding.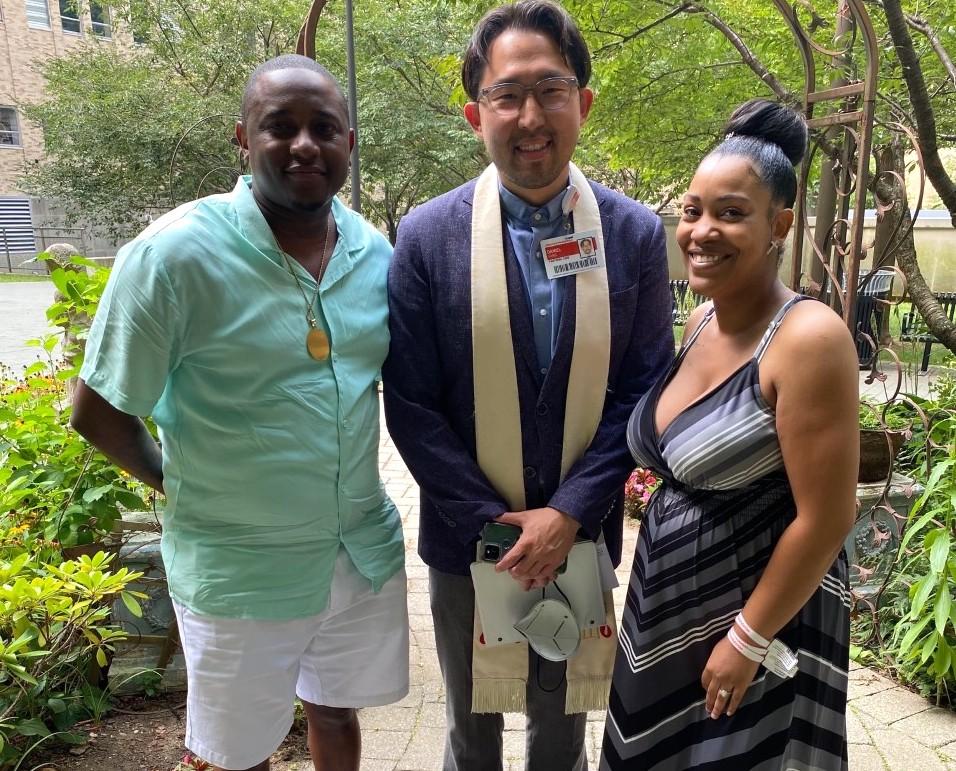 Jaliel was first, weighing 2.29 pounds; Jace was slightly heavier at 2.36 pounds.
"It was very scary to see them in the NICU with all the tubes in them. Both of them had lots of blood transfusions. Jaliel was diagnosed with necrotizing enterocolitis twice. Both of Jace's lungs collapsed. It was a rough road."
The couple said their vows in the garden that Sunday and then returned to the NICU to watch over their babies, who were finally discharged from the hospital in November and are thriving.
"The way Jace screams now you wouldn't know both lungs collapsed," Williams says.
The couple now vows to return to the garden on their anniversary to celebrate their marriage, the twins, and the care they received at NYP/CUIMC. This time, Williams will be able to wear her wedding dress, Wilson his tux, and everyone involved in the twins' care can join in.
"For months Jaliel and Jace had a big team of doctors and nurses," Williams says. "We are so grateful for everyone who worked together to give our children a fighting chance."