CUIMC Update - February 1, 2023
CUIMC Update is a weekly e-newsletter featuring medical center news and the accomplishments of our faculty, staff, and trainees. Please send your news, honors, and awards to cuimc_update@cumc.columbia.edu. Grants are provided by the Sponsored Projects Administration office.
NEWS
How Columbia Occupational Therapy Students Are Helping Local Kids with Disabilities
As part of a new course in the occupational therapy programs at VP&S, students are learning how to design and build assistive and adaptive devices using little more than heavy-duty cardboard, glue, and decorative decals. The course helps to address the need for customized devices for young people with disabilities. Read more and watch a video.
Columbia Public Health Expert: Your Shampoo and Skincare Products May Contain Toxic Chemicals
Many hygiene and beauty products contain endocrine-disrupting chemicals, which disrupt the body's normal functions and may increase your risk of cancer, says Adana Llanos, PhD, associate professor of epidemiology at the Mailman School of Public Health. Llanos offers tips on how to make safer choices. Read more.
How Columbia Researchers are Addressing the Epidemic of Gun Violence in the United States
In late 2022, the Columbia Scientific Union for the Reduction of Gun Violence (SURGE) helped organize and participated in the nation's largest academic conference on firearm injury prevention research. SURGE builds on decades of work by Columbia experts; learn more about Columbia's history and approach to studying gun violence here.
VP&S Expert: What Vitamins and Supplements Do You Actually Need? Probably None
Supplements have no proven benefit for healthy people who have even a remotely balanced diet, according to David Seres, MD, associate professor of medicine in the Institute of Human Nutrition. "At best (most supplements) are a waste of money," says Seres. "But some can make you very sick, sometimes fatally." Read more.
Columbia Radiology Provides Hands-on Support and Education for Guyana's Radiology Residents
Faculty and residents from the VP&S Department of Radiology travelled to Guyana's largest public hospital to provide in-person support for the hospital's radiology residency program. Over the course of the visit, Columbia faculty and residents provided a musculoskeletal ultrasound workshop, lectures, and one-on-one musculoskeletal radiology instruction. They also read CTs and ultrasounds with the doctors in Guyana. Read more.
EVENTS
Getting to the Heart of Mentorship: Lessons Learned from an Exemplar Nurse Scientist, Clinician, Mentor, and Friend
Feb. 9, 4 p.m., Columbia School of Nursing, 560 W. 168 St., 7th Floor
Register here.
A Celebration of Life Honoring John M. Driscoll Jr., MD
Feb. 13, 4:30 p.m., Black Building, 650 W. 168 St., Alumni Auditorium and Schaefer Awards Gallery
Register here.
Depression Research Summit: Understanding Suicide Risk in Children, Adolescents, and Young Adults
Feb. 14 and 16, online
Register here.
Pros and Cons of Physician Assisted Suicide and Euthanasia
Feb. 15, 5 p.m., Vagelos Education Center, 104 Haven Avenue, Room 401
Register here.
The 2022 Horwitz Prize Lectures
Feb. 16, online
Register here.
GRANTS
MAILMAN SCHOOL OF PUBLIC HEALTH
Diane Re, PhD, Environmental Health Sciences: $1,610,694 over three years from the Army Medical Research and Materiel Command for "Novel exposomics and extracellular vesicle biomarkers to unravel gene-environment interactions and mechanisms of neurodegeneration in Parkinson's disease."
Rafal Tokarz, PhD, Epidemiology: $381,000 over two years from the New York State Department of Economic Development for "TickDx: a comprehensive, rapid, inexpensive serologic platform for diagnosis of tick-borne diseases."
SCHOOL OF NURSING
Corina Lelutiu-Weinberger, PhD: $3,786,473 over five years from the National Institute of Nursing Research for "Ending the HIV Epidemic with Equity: An All-facility Intervention to Reduce Structural Racism and Discrimination and Its Impact on Patient and Healthcare Staff Wellbeing."
VAGELOS COLLEGE OF PHYSICIANS AND SURGEONS
David Jonathan Brenner, PhD, Center for Radiological Research: $498,000 over three years from the Empire State Development Corporation for "Far-UVC: A New Technology with the Demonstrated Potential to Safely Reduce Airborne Disease Transmission in Occupied Public Spaces."
Vivette D. D'Agati, MD, Pathology & Cell Biology: $405,000 over five years for a subaward from the National Institute of Diabetes and Digestive and Kidney Diseases for "Elucidating the Molecular Mechanisms that Mediate DKD Progression in Patients living with HIV."
Dympna Gallagher, EdD, Medicine: $1,159,191 over five years from the National Institute of Diabetes and Digestive and Kidney Diseases for "Obesity Research Center Training Program."
Antonio Iavarone, MD, and Anna Lasorella, MD, Pathology & Cell Biology: $2,152,090 over five years from the National Cancer Institute for "Evolution and targeting of the functional states of glioblastoma."
Jianwen Que, MD, PhD, and Timothy Cragin Wang, MD, Medicine: $4,835,325 over five years from the National Cancer Institute for "Gastroesophageal junction stem cells as the origin of Barretts esophagus and cancer."
Isabelle Schrauwen, PhD, Neurology: $2,066,222 over five years from the National Institute on Deafness and Other Communication Disorders for "Unraveling the genetic architecture of cochleovestibular malformations."
Yiyi Zhang, PhD, Medicine: $1,520,278 over five years for a subaward from the National Heart, Lung, and Blood Institute for "Improving Blood Pressure Screening and Treatment Strategies in Young Adults."
HONORS
SCHOOL OF NURSING
Allison Norful, PhD, received the American Association of Nurse Practitioners' 2023 Advocate State Award for Excellence in New York.
The Netherlands Association of Universities of Applied Sciences selected Judy Honig, EdD, DNP, to serve on the Validation Committee of the Quality Assurance Framework for the Professional Doctorate.
SOCIAL MEDIA SNAPSHOT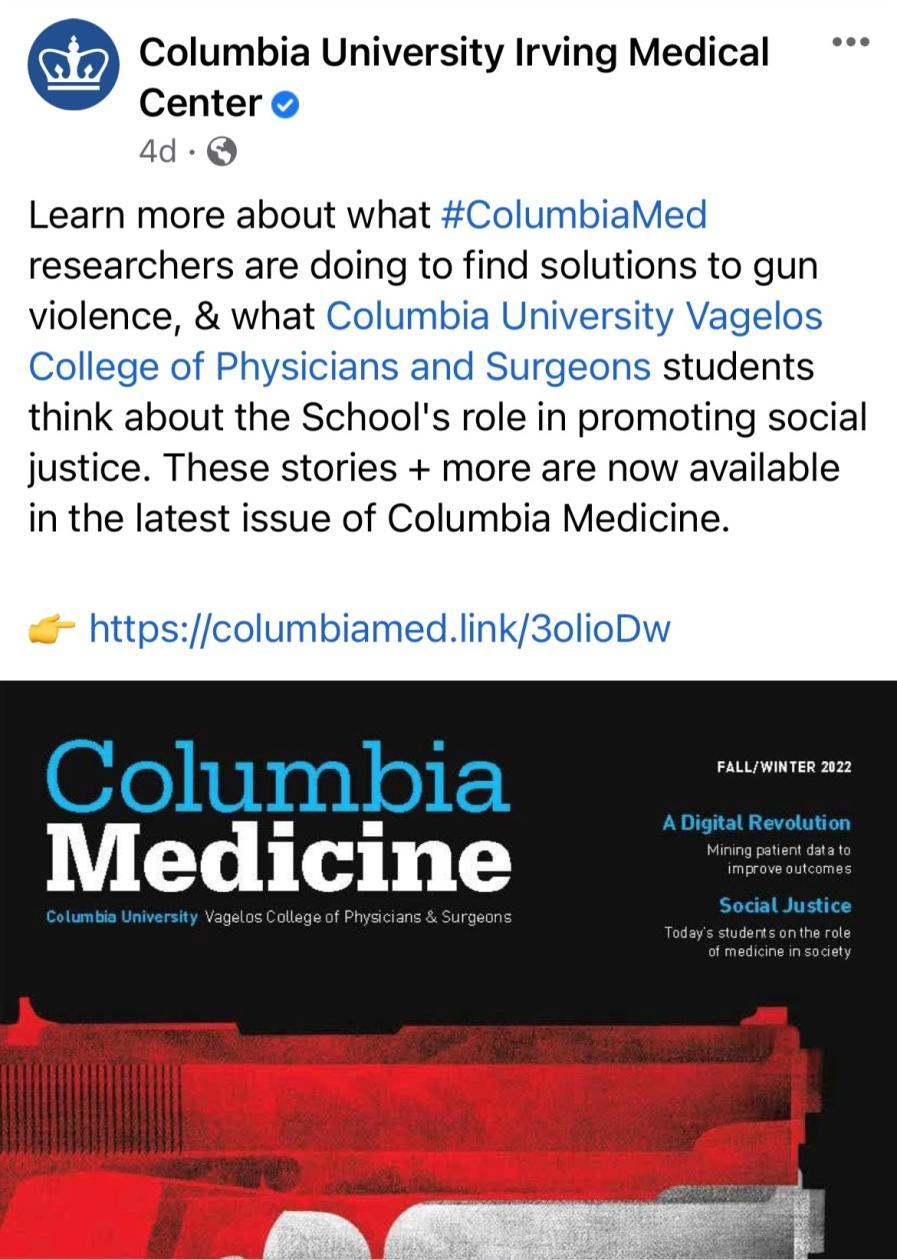 IN THE NEWS
NBC News (embedded video)
If You're Sitting All Day, Science Shows How to Undo the Health Risks. Take 'Activity Snacks' Every 30 Minutes.
Jan 12, 2023 - "If you have a job that requires you to sit most of the day or have a largely sedentary lifestyle, this is one strategy that could improve your health and offset the health harms from sitting," said the study's lead author, Keith Diaz, an associate professor of behavioral medicine at the Columbia University Vagelos College of Physicians and Surgeons.
The Atlantic
Please Don't Call My Cervix Incompetent
Jan 25, 2023 - The length and intensity of medical training increases the odds that doctors will have children later than other women—that they will be, in their own language, geriatric moms, says Monica Lypson, a vice dean at Columbia University's medical school who researches equity and inclusion. Lypson was deemed "geriatric" when she was pregnant at age 36—a choice of words she found "jarring" as a patient.
U.S. News & World Report
Why Midlife Can Bring Risk of New Eating Disorders
Jan 23, 2023 - Eating disorders can occur across the lifespan, said Dr. Evelyn Attia, director of the Columbia Center for Eating Disorders at Columbia University Irving Medical Center in New York City, and co-chair of NEDA's research advisory council.