January 15, 2021: Update on COVID-19 Vaccine Distribution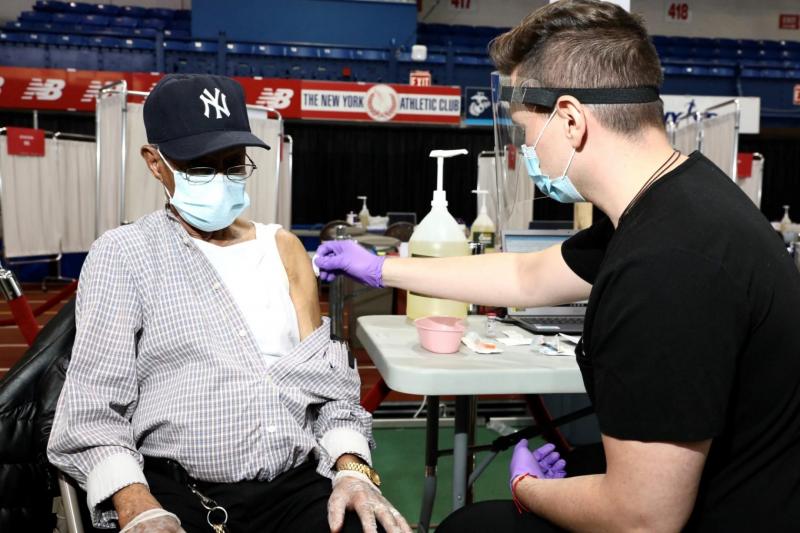 Dear Colleagues, 
Vaccinations are continuing today, January 15.
A big congratulations to the NYP team for a successful launch of the patient and community vaccination program at the Armory! More than 1,000 people have been vaccinated there so far.
As of today, over 38,000 staff at NewYork-Presbyterian, Weill Cornell, and Columbia have been vaccinated. There have also been over 9,700 second doses administered. First dose vaccinations include over 16,300 individuals on the Columbia Campus who are working in patient care areas, with over 6,900 of them Columbia employees and students. 
CUIMC and Columbia University Employees Included in New York State Phases 1a and 1b 
Phase 1A
CUIMC staff included in 1a are individuals who directly interact with patients and for all care team members and staff who provide in-person support to those delivering patient care. It also included those conducting COVID-19 tests, handling COVID-19 specimens, and administering COVID-19 vaccinations.
CUIMC staff in these roles should come in to receive a vaccine as soon as possible. Please see the hours and locations below.
Phase 1B
CUIMC and Columbia University employees age 75 and older will be able to receive vaccinations in Alumni Auditorium in the Black Building through 9 pm today.
CUIMC and Columbia University employees age 65-74 and older must make an appointment through Connect, and they will receive vaccinations at The Armory, located at 168th and Fort Washington. Only those university employees who have received a personalized letter from the University COVID Director should go to the Black Building for vaccination.
Employee Vaccination Locations and Hours for the Remainder of This Week and the Weekend, Through 1/17/21 for Cuimc Employees in Phase 1a 
Friday
Myrna Daniels Auditorium: 2nd doses will be administered from 6 am - 9 pm 
MSCH Tower 103 will be closed; staff are directed to Myrna Daniels 6 am - 9 pm 
Black Building: 1st doses will be administered from 6 am - 9 pm 
Saturday
First and second doses will be administered in the Myrna Daniels Auditorium in Milstein Hospital from noon to 8 pm. There are no morning hours. Anyone who has a second dose appointment on Saturday morning should instead come between noon and 8 pm.
Sunday
There are no Sunday or Monday hours. Anyone who has an appointment on Sunday should instead come Saturday between noon and 8 pm.
Columbia employees who work at the Allen Hospital and Lawrence Hospital can be vaccinated there.
New York State requires self-attestation that must be signed at the vaccination site attesting that a person is eligible for vaccination based on the current phases of distribution. On site facilities staff have the list of names of eligible people for this week. 
Second Dose Vaccinations (Individuals in Phase 1A) 
Second dose reminders are sent via Connect. For questions about where/when to go for your second dose on each campus, please go to the Employee Information section on the VaccineTogetherNY.org site.
Patient and Community Vaccinations
NYP and ColumbiaDoctors patients and the community who are in phase 1A or 1B can be vaccinated at The Armory, at 168th and Fort Washington. Appointments can be made through Connect and appointment availability can be checked on the VaccineTogetherNY.org site. Information is also available at 646.697.VACC. 
Frequently Asked Questions (FAQs)
The FAQ documents on the CUIMC COVID Vaccine Information page continue to be updated, so please check the site for the latest versions. Below is the Question of the Day: 
I experienced body aches, chill, and congestion after getting the COVID vaccine. How long will these symptoms normally last? 
Reactions after COVID-19 vaccine are well described. The most common reaction is pain, redness, or swelling at the injection site. Some people experience fatigue, muscle or joint pain, headache, chills and less commonly fever. Reactions generally last a short time and will respond to Tylenol or non-steroidal anti-inflammatory drugs (NSAIDs).Thus, the body aches and chills are consistent with the described reactions. However, congestion is not a reaction to the vaccine.
Thank you and hope you continue to stay safe! 
Magda Sobieszczyk MD, MPH 
Chief of Infectious Diseases and Co-Chair of the CUIMC COVID-19 Vaccine Committee 
Melissa Stockwell MD, MPH 
Chief of the Division of Child and Adolescent Health and Co-Chair of the CUIMC COVID-19 Vaccine Committee