Zhijian 'James' Chen and Glen Barber Awarded Horwitz Prize for Discovering the cGAS-STING Pathway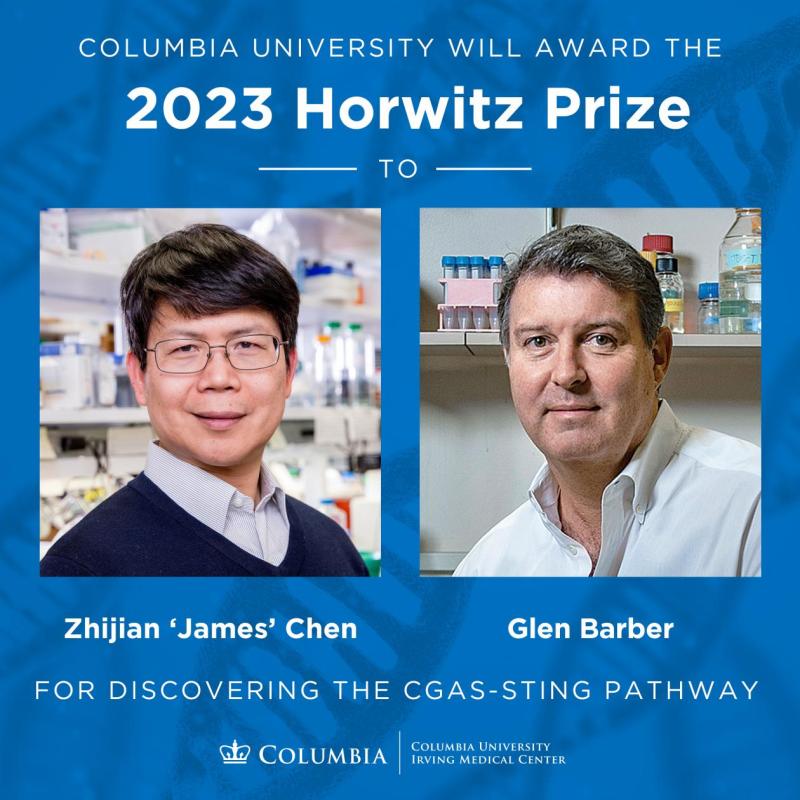 NEW YORK, NY (September 20, 2023)—Columbia University will award the 2023 Louisa Gross Horwitz Prize to Zhijian 'James' Chen and Glen Barber for discovering the cGAS-STING pathway, a key component of one of the body's first line of defenses, the innate immune system.
When pathogens infiltrate our cells, they leave behind traces of their DNA. These molecular fingerprints are detected by our cGAS-STING pathway, which sounds the alarm and mobilizes the immune system to eliminate invading threats. Research on the cGAS-STING pathway has revealed the inner workings of innate immunity and paved the way for the development of new treatments that act by modifying immune responses to infectious diseases, autoimmune diseases, cancer, and more.
Zhijian 'James' Chen's lab discovered the cGAS enzyme in 2012, solving a century-old medical mystery in the process. By the 1900s, surgeons were treating patients with DNA to boost their defenses against microbes and reduce the danger of surgical infections. These treatments were in use long before scientists understood DNA's central role in genetics and cell function, much less its role in the in­nate immune system. Chen's lab finally revealed why these types of treatments could be effective. Their work showed that cGAS can sense the unexpected presence of DNA—originating from pathogens or the body's own cells in the case of autoimmune disease or cancer—and activate the immune system by releasing small molecules called cyclic dinucleotides.
Glen Barber's lab discovered the STING molecule and the cytosolic double-stranded DNA pathway in 2008. STING binds to cyclic dinucleotides and triggers the production of interferons and cytokines (signaling molecules that are essential for generating immune responses to microbes and tumors). Barber's research showed that STING signaling is important for activating effective anti-cancer immune responses and is frequently shut off in cancer cells. Subsequent work also indicated that a variety of autoinflammatory disorders may be caused by overactivation of the STING pathway.
Chen and Barber are the 112th and 113th winners of the Horwitz Prize, which is awarded annually by Columbia University for groundbreaking work in medical science. Of the 111 previous Horwitz Prize winners, 51 have gone on to receive Nobel Prizes.
---
Awardee biographies
Zhijian 'James' Chen, PhD, is a professor in the Department of Molecular Biology at the University of Texas Southwestern Medical Center, USA. He also is an investigator at the Howard Hughes Medical Institute. Chen received his BS degree in biology from Fujian Normal University, China, and completed his PhD degree in biochemistry at the State University of New York at Buffalo, USA. He is a member of the National Academy of Sciences and the National Academy of Medicine, USA.
Glen Barber, PhD, is a professor in the Department of Cell Biology at the University of Miami Miller School of Medicine, USA. Barber completed his BS degree in molecular biology from the University of Portsmouth, UK, and obtained his PhD degree in molecular virology from Porton Down and the London School of Hygiene and Tropical Medicine, UK. He is a Fellow of the Royal Society of London.
References
The Louisa Gross Horwitz Prize
The Louisa Gross Horwitz Prize was established in 1967 by the late S. Gross Horwitz. It is named in honor of the donor's mother, Louisa Gross Horwitz, who was the daughter of Dr. Samuel David Gross (1805-89), a prominent Philadelphia surgeon who served as president of the American Medical Association and wrote "Systems of Surgery." Of the 111 Horwitz Prize winners to date, 51 have gone on to receive Nobel Prizes. Most recently, 2014 Horwitz Prize winner James P. Allison, PhD, of the University of Texas MD Anderson Cancer Center shared the 2018 Nobel Prize in Physiology or Medicine with Tasuku Honjo, MD, PhD, of Kyoto University. For a list of previous Horwitz Prize awardees, please click here.
The 2023 Louisa Gross Horwitz Prize lectures and dinner will take place Feb. 12, 2024. Please check the lecture website for more information.
Columbia University Irving Medical Center
Columbia University Irving Medical Center provides international leadership in basic, preclinical, and clinical research; medical and health sciences education; and patient care. The medical center trains future leaders and includes the dedicated work of many physicians, scientists, public health professionals, dentists, and nurses at the Vagelos College of Physicians and Surgeons, the Mailman School of Public Health, the College of Dental Medicine, the School of Nursing, the biomedical departments of the Graduate School of Arts and Sciences, and allied research centers and institutions. Columbia University Irving Medical Center is home to the largest medical research enterprise in New York City and State and one of the largest faculty medical practices in the Northeast. Columbia University Irving Medical Center shares a campus with its hospital partner, NewYork-Presbyterian. For more information, visit cuimc.columbia.edu.
Media Contact