Year In Review: 2014 Top Campus News Stories
CUMC's 2014 achievements were not limited to the labs and classrooms. Columbia Nursing broke ground on a new building, and the College of Physicians and Surgeons topped off its state-of-the-art new facility. Musicians, visual artists, and athletes showcased their talent; and many were recognized for their professional capacities. Revisit some of the year's best moments in the top campus news stories of 2014.
Towering approximately 223 feet above the ground, the new Medical and Graduate Education Building, on Haven Avenue at West 171st Street, has quickly risen to take its place as the northern anchor of the medical center campus. In October 2014, the building's last beams were lifted into place, signaling completion of the building's superstructure.
Donning white coats and carrying stethoscopes, a group of P&S students visits local classrooms once a month to teach kids about the human body and what it is like to be a doctor. The P&S students, as part of the Black and Latino Student Organization's (BALSO's) "Young Docs" program, work with schools in collaboration with the Office of Government and Community Affairs.
In October, Columbia Nursing broke ground on its new home at 168th Street and Audubon Avenue. Among its many features will be a sunlit atrium lobby, rooftop garden terrace, and two-floor, state-of-the-art simulation center equipped with lifelike mannequins that imitate real-life medical conditions, giving students the opportunity to learn skills in a safe, educational environment.
Stethoscopes and microscopes may be the predominant instruments on campus, but musical ones are well represented here as well. This year, our performers shined.
This fall, a Barnes & Noble campus store and cafe opened in a new space in the Hammer Health Sciences Center. To celebrate the new hub of shopping, snacking, and socializing, more than 100 students, faculty, staff, and local community members joined in a grand-opening celebration with free coffee, snacks, and entertainment. Student-musicians performed, faculty authors read selections from recent works, and Dr. Goldman and other leadership gave remarks reflecting on the store's place in a greater campus revitalization.
In May, CUMC hosted its fifth annual CUMC Fine Art Exhibition in the Hammer Health Sciences Center. The 244 artworks by students, alumni, faculty, staff, and others were on display through June, with select pieces remaining until the end of the year.
Global publisher Thomson Reuters named Linda P. Fried, MD, MPH, dean of the Mailman School of Public Health, "one of 2014's most influential scientific minds." Dean Fried was recognized for her work in the field of social sciences, which "peers recognize as vital to the advancement of their science."
Columbia Nursing's associate dean for research, Elaine Larson, PhD, RN, FAAN, was selected by the New York Academy of Medicine as the 2014 recipient of the John Stearns Medal for Distinguished Contributions in Clinical Practice. Larson is the first nurse to receive the honor.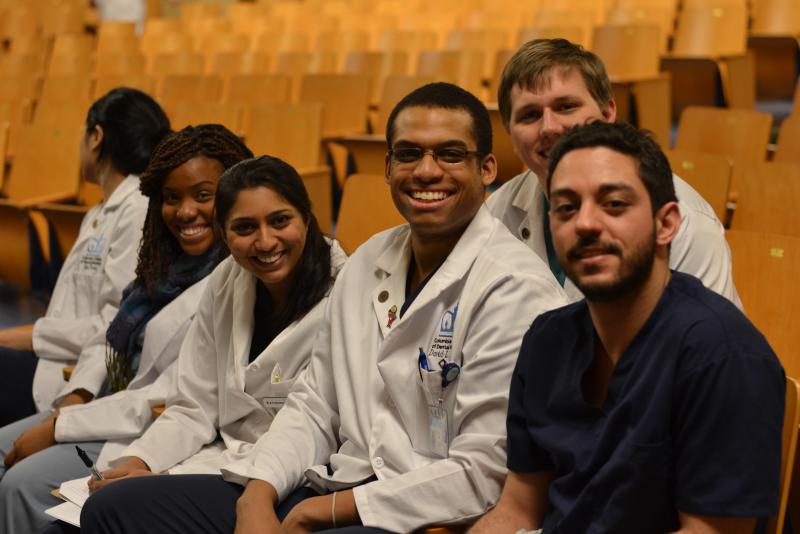 The College of Dental Medicine received a 2014 Higher Education Excellence in Diversity (HEED) award from Insight Into Diversity magazine, the oldest and largest diversity-focused publication in higher education.
On Nov. 2, many faculty, students, and staff joined the 50,000 athletes who ran the TCS NYC Marathon. After months of heavy training for the 26.2-mile race, a few of our dedicated runners discussed what compelled them to race.
In his 47 Gary Johnson may have had a hand in more of CUMC's research breakthroughs than anyone else on campus. As head of the Machine and Instrument Shop in the Department of Radiation Oncology, he takes scientists' ideas for unique research equipment and turns them into reality. In January, he was awarded one of the P&S Awards for Excellence.