Women's History Month: Four Women Who Made a Difference at CUMC
Many women have walked through the halls of Columbia University Medical Center as students and faculty, and their footsteps have left indelible impressions on the research, teaching, and patient care that have contributed to the medical center's international reputation. As part of Women's History Month, we pay tribute to four women—one from each medical center school—for the impact they had on their health care fields and on Columbia.
College of Dental Medicine: A Pioneer and a Legend in Harlem
Elizabeth "Bessie" Delany, a 1923 graduate of Columbia's dental school, was the school's first female African-American graduate. She brought distinction to Columbia through her life's work and, later in life, when she and her sister were subjects of a book, a Broadway show, and a TV movie, "Having Our Say." The interview below was broadcast on NewsHour with Jim Lehrer in 1994. (Films for the Humanities & Sciences, copyright 2009.)
Dr. Delany was only the second female African-American dentist in New York City. The Delany sisters—Bessie and Sarah, known as Sadie—came to New York during World War I from North Carolina, where they were educated at St. Augustine's College in Raleigh. Bessie was one of only 11 women, and the only African-American woman, out of 170 students in the class that entered the Columbia School of Dental and Oral Surgery, as it was known at the time, in 1919. After she graduated in 1923, she became the second black woman dentist licensed in the state of New York.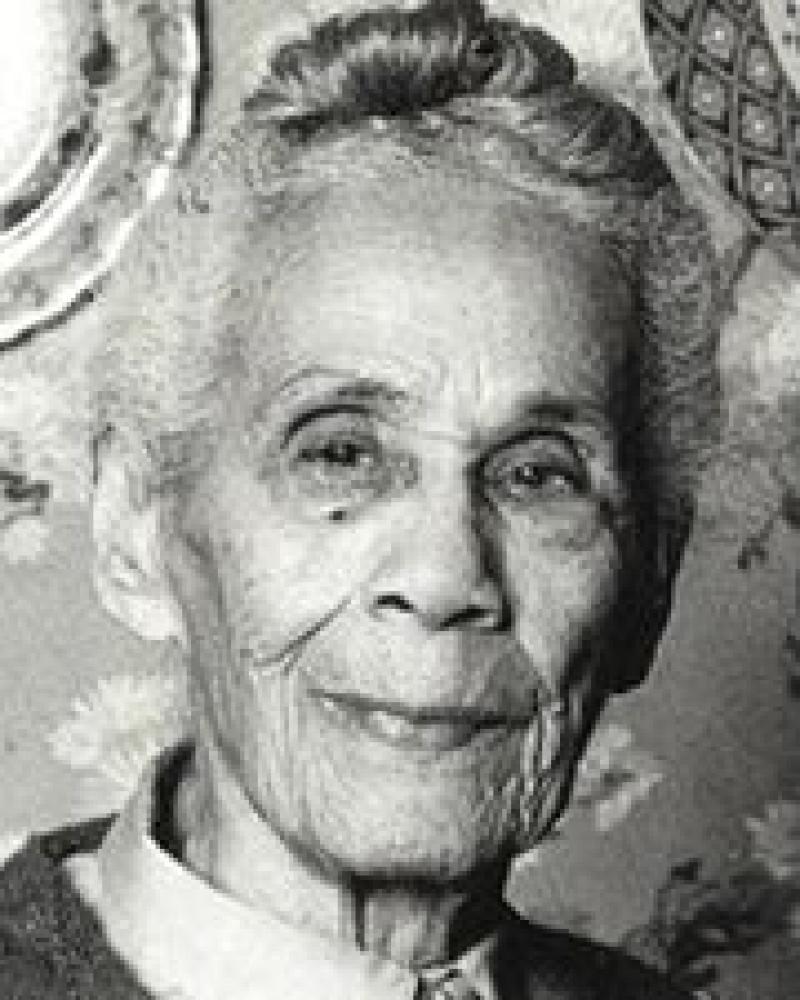 She spent her career, which spanned much of the 20th century, in Harlem, where she looked after the teeth of such luminaries as nightclub owner Ed Small, civil rights leader Louis T. Wright, and author James Weldon Johnson. Widely known throughout the community as "Dr. Bessie," she treated the rich and poor equally and performed thousands of free children's dental exams. In 1994, Columbia's dental school recognized her with its Distinguished Alumna Award for "her pioneering work as a minority woman in dentistry."
Dr. Delany came to broader public attention after the age of 100, when she and Sadie, a retired teacher, were approached by New York Times reporter Amy Hill Hearth. Following the publication of a newspaper story, the sisters and the reporter collaborated on "Having Our Say: The Delany Sisters' First 100 Years," a bestseller acclaimed as a portrait of a century of African-American life and a self-portrait of pioneering black professional women. It was adapted for Broadway in 1995. The sisters were two of 10 children born to a former slave who became the first African-American Episcopal bishop.
College of Physicians & Surgeons: Bacitracin to the Rescue
Parents everywhere have a Columbia research worker to thank for a remedy that has eased their children's skinned knees since the late 1940s.
In 1943, a 7-year old girl, Margaret Tracy, was brought to Presbyterian Hospital's emergency room for treatment of a leg injury she suffered when she was hit by a car. The injury was infected with Bacillus subtilis.
A culture taken from the wound was sent to the surgical bacteriological laboratory where its director, bacteriologist Balbina Johnson, discovered that the Staphylococcus aureus seen in the initial microscopic examination had disappeared overnight. Working with surgeon Frank L. Meleney, Ms. Johnson determined that the Staph aureus had been killed by a microbe. Discovery of the microbe led to the development of a powerful new antibiotic. The antibiotic was named bacitracin by combining parts of the words Bacillus and Tracy, the child's surname. It remains a widely used topical antibacterial ointment on its own or in combination with other antibacterial agents.
The FDA approved bacitracin in 1948.
Columbia Nursing:  "American Florence Nightingale"
Anna Maxwell founded Columbia's School of Nursing and served on the faculty from 1892 to 1921. Known to Columbia primarily as an educator, she was also recognized for contributing in important ways to war efforts. During the Spanish-American War, she trained nurses to serve American troops at a Georgia field hospital. During World War I, she prepared nurses for active military service and visited hospitals at the military front in Europe. Her efforts contributed to the establishment of the Army Corps of Nurses and the awarding of military rank to nurses.
After serving as the guiding spirit of Presbyterian Hospital Training School for Nurses, Ms. Maxwell expanded the program into a school that became affiliated with Teachers College in 1917. The five-year program led to a bachelor of science degree from Columbia University and a nursing diploma from Presbyterian Hospital. After Ms. Maxwell retired from active nursing in 1921, Columbia called her out of retirement to raise half a million dollars to construct Anna C. Maxwell Hall, one of the first buildings that opened with the new Columbia-Presbyterian Medical Center in 1928. Generations of nurses received their educations there until it was demolished in 1984 to make room for the Milstein Hospital Building.
Anna Maxwell, who has been called the "American Florence Nightingale," started the American Journal of Nursing and co-authored a nursing textbook. When she died in 1929, she was buried in Arlington National Cemetery with full military honors.
Mailman School of Public Health: A Leader in Epidemiology
Zena Stein, a public health leader acclaimed for addressing issues of HIV infection in women, joined Columbia's public health school in 1966 after completing medical school in South Africa (where she earned an MB, BCh degree) and psychiatry training in the United Kingdom.
Her original work focused on mental retardation but she became known as one of the founders of the field of perinatal epidemiology and is highly regarded for her pioneering research on the role of women in the HIV epidemic. Her research into mental retardation and developmental disabilities led to studies of the effects of prenatal undernutrition on childhood development following the Dutch Famine of 1944–45 and in central Harlem. She initiated studies of miscarriage, preterm delivery, and malformations. Her work in HIV was prompted by her study of prenatal and perinatal HIV infection and HIV infection in women.
In 1987, Dr. Stein  cofounded and became codirector of the HIV Center for Clinical and Behavioral Studies at Columbia and the New York State Psychiatric Institute.
In 2013, Columbia University awarded Dr. Stein, now professor emeritus of epidemiology at Mailman, an honorary doctor of science degree for her work as an advocate of social justice, including her early opposition to apartheid in her native South Africa, and for her body of research and patient care related to mental retardation and child development, prenatal nutrition and postnatal outcomes, famine and starvation, prenatal and perinatal HIV infection, and HIV infection in women.
View a 2002 video about Dr. Stein, part of Epidemiology's Voices series.
---
Read more about women important to the history of CUMC.