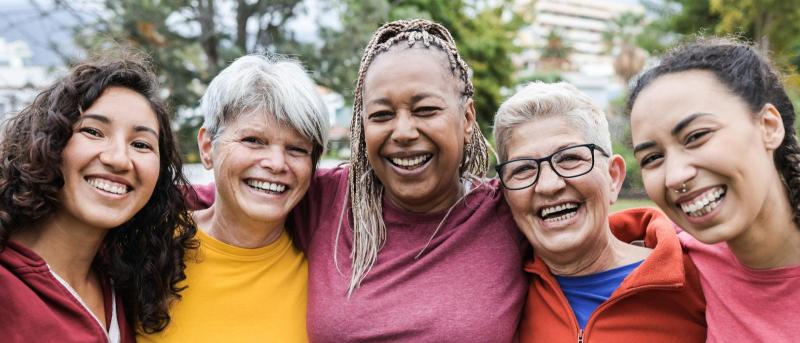 Whole Woman Care is exactly as much health care as it sounds
When people think of gynecology, they think of pregnancy and reproductive care. Columbia is changing that perception–and making health care smarter and more efficient–by offering "Whole Woman Care" to patients of Columbia's Integrated Women's Health Program. The program coordinates care for cardiovascular health, bone health, dermatology, mental health, and more for women and those assigned female at birth. 
"Whole Woman Care expands the traditional reproductive focus of gynecology to address all aspects of health, through all of life's transitions," says Hoosna Haque, MD, an obstetrician-gynecologist on the team. The majority of life does not involve pregnancy or birth." 
Haque names personalized preventive services—screenings for hereditary cancer, mood disorders, and neurocognitive function for women over age 60—and guidance through young adulthood, postpartum, and menopause among the services provided. Because they are gynecologists without OB-GYN duties, such as running off to the operating room or labor and delivery to deliver babies, they can spend more time digging into issues like menstrual pain and menopause management. "No one prepares you for menopause. It's a taboo subject," says Haque. "Our practice seeks to empower patients with knowledge about their bodies. Starting at age 40, we incorporate questions and information about what to expect in the coming years." 
The team also helps make patients aware of important screenings, such as mammography and colonoscopy, and when to get them. Because of relationships with other ColumbiaDoctors, the program helps patients address their non-gynecological issues. "Our program is not a replacement for primary care. It's a strategy to enhance coordination and make health care easier for women," says Haque. "We connect the dots." 
At Columbia's Integrated Women's Health Program, the word "women" is used to refer to sex assigned at birth. "We understand that not all of our patients identify as women," says Haque. "We understand the power of language and provide inclusive care to any patient who requires gynecologic care, regardless of gender identity."  
Why integrated health care for women matters 
In a traditional visit: An ob/gyn and patient review medical history. A physical exam includes examination of breasts and pelvis. Screening tests check for cervical cancer and sexually transmitted diseases. Sex and reproduction are discussed.  
But that's often where the visit ends. Additional doctors are required to assess complete health status. These doctors may not communicate with one another, and as a result, the patient doesn't get the best care. When health care is integrative, different disciplines in medicine work together.  At Columbia, the patient is not only the center of this care, but also a member of the team. 
When Haque and her team discover patients have other conditions, they connect the patients to appropriate Columbia specialists. A patient missing periods, for example, may have thyroid or adrenal gland issues, or bone loss, so is referred to an endocrinologist. Each diagnosis is matched with the appropriate Columbia specialist, and all doctors share information and work together. "It is important for women to have this type of care so they are empowered to take control of all aspects their health," says Haque. 
"Ensuring women have quality, comprehensive care can lead to improved health for the whole family," Haque adds. Women are typically the primary drivers of health care decisions for their families. 
References
Make an appointment
Anyone seeking gynecology care can make an appointment, and the team can help patients schedule visits with other specialists to meet their needs, including nutrition, mindfulness and relaxation, and acupuncture.
To make an appointment, call 855-756-2496
Hoosna Haque, MD, is an assistant professor of Obstetrics & Gynecology at Columbia University Irving Medical Center. She is double board certified in OB/GYN and Integrative Medicine.