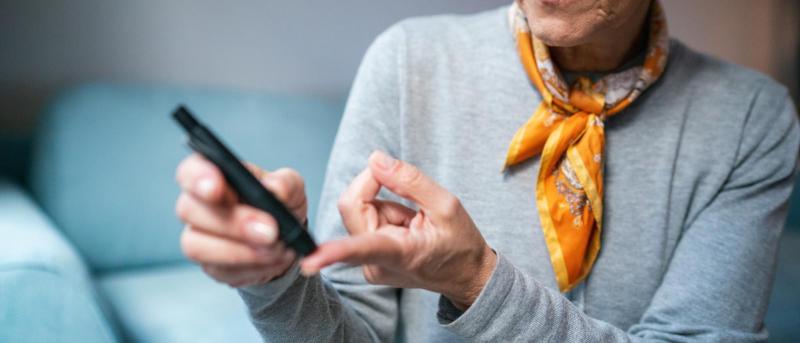 When Type 1 Diabetes Strikes Older Adults
Teresa Fieldsell* had no idea anything was wrong with her health until one day last April, when she found herself unable to catch her breath while out for a walk. Things felt "not right," she says, and suspecting she might have COVID, she went to the emergency department of her local hospital.
Throughout her life, Teresa kept physically fit, ate a healthy diet, and maintained a runner's trim physique. Now in her 60s, she runs several miles a week, rows, and spins.
So when an emergency medicine physician suggested she might have type 2 diabetes, because her glucose levels had spiked, it didn't make sense to her. Although type 2 diabetes is due to a combination of defective insulin secretion and the body's inability to appropriately respond to insulin, it is often associated with obesity and a sedentary lifestyle.
In the ED, the physicians discovered her symptoms were a result of a dangerously high blood glucose (sugar) level—425—far above numbers considered normal (in the 100s). With her sugar levels that high, Teresa was at risk of coma or death.
She was admitted to the hospital to bring her blood sugar to normal levels, diagnosed with type 2 diabetes, and sent home with prescriptions for short- and long-acting insulin and a handout of instructions.
"Nobody talked to me about, 'What does this mean?' 'What do I eat?'  'What happens next?' None of that," she says.
Common misdiagnosis
After her discharge from the hospital, Teresa's daughter spoke with a physician acquaintance who recommended that Teresa contact the Naomi Berrie Diabetes Center and ask for Robin Goland, MD, an adult endocrinologist and co-director of the center.
Teresa's doubts about her diagnosis turned out to be correct. After meeting with Teresa at a virtual medical visit, Goland accurately diagnosed Teresa with type 1 diabetes.
Though type 1 diabetes is often thought of as a disease that appears in childhood—and was even called juvenile diabetes before the 1980s—about half of new cases of type 1 each year are diagnosed in older adults.
Unlike type 2 diabetes, type 1 is an autoimmune disease. Even people in their 70s and 80s can develop type 1, when the autoimmune system mistakenly attacks and destroys the body's own insulin-making cells. Without insulin, the body can't use glucose for fuel, a situation that can rapidly become deadly.
"It's not uncommon for us to diagnose older adults with type 1 diabetes here at the Naomi Berrie Diabetes Center, but I think for general practitioners, it's little bit puzzling because it doesn't fit the classic picture that many providers are used to," says Magdalena Bogun, MD, an adult endocrinologist and diabetes researcher at Columbia's Naomi Berrie Diabetes Center.
Nearly 40% of adults who develop type 1 are initially misdiagnosed with type 2, and they can go for years trying to manage their condition that way.
It's not just that type 1 is often thought of as a disease that begins in childhood; type 1 also develops differently in adults. At diagnosis, children usually experience a rapid drop in insulin-producing cells that causes their blood sugar to spike, and the sudden arrival of symptoms often sends them to the emergency department. From then on, children with type 1 diabetes usually need to receive insulin through multiple daily injections or insulin pumps.
However, adults at diagnosis produce more insulin than children, and they usually lose insulin at a slower rate. "This is clinically important because adults may not need intensive insulin therapy right away like children do, and I think that can puzzle physicians," Bogun says.
Comprehensive care at Berrie Center
At the Berrie Center, Teresa's care team set her on a path in managing her type 1 diabetes.
"I called on a Monday and Dr. Goland immediately started managing my diabetes and connected me with the center's diabetes educator, Rosie McNeil," Teresa says.
Every morning for nearly two weeks, Teresa met with Goland and McNeil, mostly by video, to learn about type 1 diabetes. "I've always lived a healthy lifestyle and wondered what I had done wrong," Teresa says, "but Dr. Goland assured me that type 1 diabetes is an autoimmune disease and there was nothing I could have done to prevent the disease."
Many adults newly diagnosed with type 1 are surprised at how the technology has advanced to make management easier. "Nowadays,  our patients are often using insulin pumps and glucose sensors that send glucose levels and alerts to their smartphones," Bogun says. "You don't have to prick yourself multiple times a day to measure your glucose, or inject insulin, with these systems."
Now about 18 months after her trip to the emergency department, Teresa has control of her diabetes with help of an automatic pump. She keeps her blood sugar levels close to a normal range, which also reduces her odds of developing other diabetes-related conditions.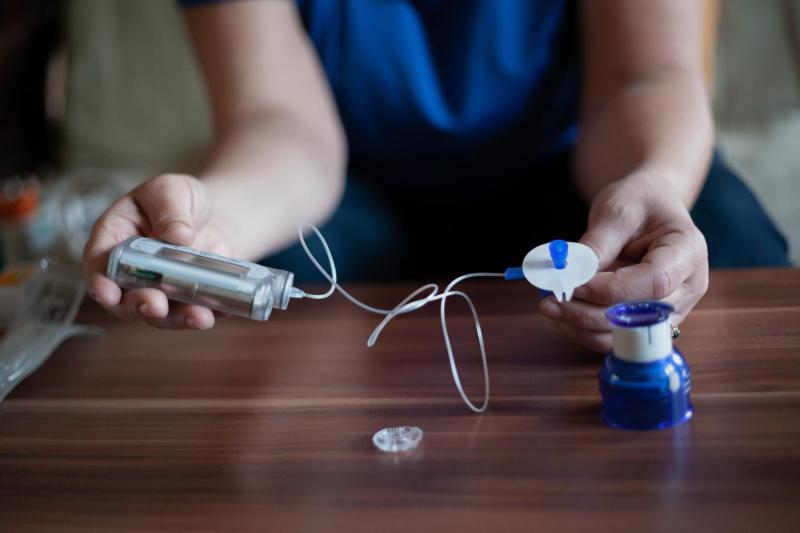 Though Teresa was worried about how her diabetes would impact her life, she quickly adapted and continues to bike, run, and stay active. Her cardiologist, who assessed her heart health (people with type 1 have a higher risk of developing heart disease), assured her that she is healthier than many people who do not have type 1 diabetes.
"I'm living my best life, with very little change to my day-to-day activities, due to the care and support of the Naomi Berrie Diabetes Center," Teresa says.
References
*Teresa Fieldsell is a pseudonym to protect the patient's privacy; all other details about her are factual.