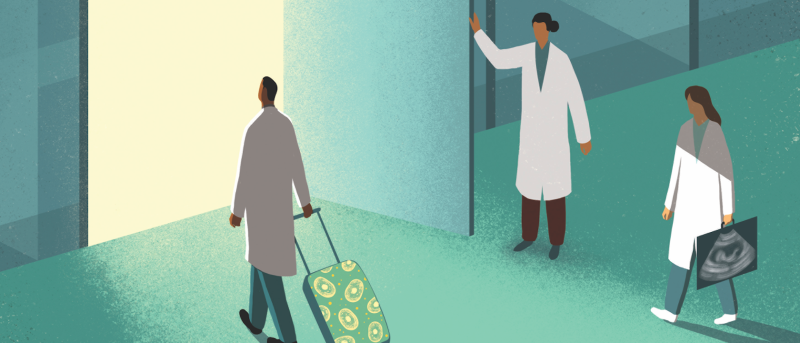 VP&S Welcomes New Faculty Who Bring Wide Range of Expertise
Interests Cover Lifespan, from Preventing Stillbirth to Improving Hospice Care
Women with endometriosis sometimes go seven to 10 years before their condition is diagnosed—a challenge one new member of the faculty of VP&S plans to confront. Other new faculty bring expertise in treating facial pain, using new therapeutic tools that target RNA, and generational care for hereditary colorectal cancer.
Jessica Opoku-Anane, MD, the endometriosis expert, plans to improve the understanding and management of the disorder through a new comprehensive endometriosis center. Opoku-Anane, assistant professor of obstetrics & gynecology, will serve as the center's director. The center will promote early diagnosis, provide holistic multidisciplinary care, and advance minimally invasive treatment.
"Columbia's location in the heart of the most diverse area of the country allows me to focus on improving the health of all—including those on the fringe of society who often do not have access to high quality care," says Opoku-Anane.
Opoku-Anane is one of more than 200 new faculty who joined 22 departments across VP&S this past year. Their expertise, which includes tumor microenvironments, molecular biophysics, neurosurgery, and outbreak response, will contribute in important ways to the intellectual community at Columbia, spurring advances in clinical care, health equity, research, and education.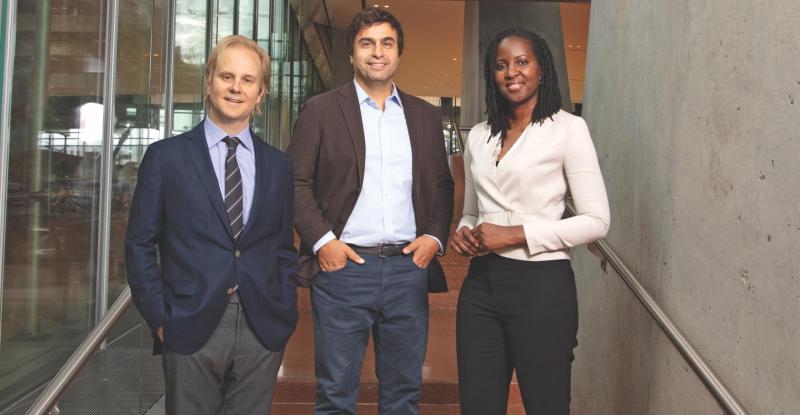 "Every new cohort of faculty brings fresh perspectives and skills that enrich and energize our institution," says Anne Taylor, MD, vice dean for academic affairs at VP&S. "I'm delighted that our faculty increasingly mirrors the richness of life experience and perspective of the people with whom we work, including patients, students, and research collaborators around the world."
Like other newcomers to VP&S, Opoku-Anane brings multiple skills to her new post. She specializes in the treatment of uterine fibroids, menstrual disorders, and intrauterine scarring, including Asherman's syndrome. She is also co-director of the Department of Obstetrics & Gynecology's Office of Diversity, Equity, and Inclusion.
This year's new hires also include the co-founder of a biotech devoted to leveraging RNA in drug discovery, founding chief of the new Division of Surgical Oncology, and a specialist in adolescent medicine.
Learn more about a few of the other new faculty members:
Gordon Baltuch, MD, PhD: Baltuch is a pioneer in the use of deep brain stimulation and focused ultrasound to treat motor symptoms of movement disorders. His research is at the forefront of testing new treatments, such as gene therapy for Parkinson's disease and stem cell therapy for stroke. "At Columbia, I can expand my practice and reach more patients, continue to perform pioneering and innovative research, and help train a new generation of neurosurgeons," he says. Baltuch joins VP&S as professor of neurological surgery and co-chief of the Division of Functional Neurosurgery.
Hashim Al-Hashimi, PhD: If you zoom down to the atomic level, biomolecules like DNA and RNA constantly change shape. At the vanguard of studying these dynamic structures is Al-Hashimi, professor of biochemistry & molecular biophysics. "Ultimately these changes in structure determine how biomolecules interact with one another, and every biological phenomenon and disease is the product of such molecular interactions," says Al-Hashimi. Using nuclear magnetic resonance spectroscopy, he had made discoveries that have led to insights about cancer and other diseases and new therapeutic tools that target RNA. He received the National Academy of Sciences Award in Molecular Biology in 2020 for his work. He co-founded Nymirum in 2009 to leverage RNA dynamics in drug discovery efforts. "For many years, I have watched a growing and thriving community of stellar RNA scholars at Columbia from a distance, and I am thrilled to support their efforts," says Al-Hashimi.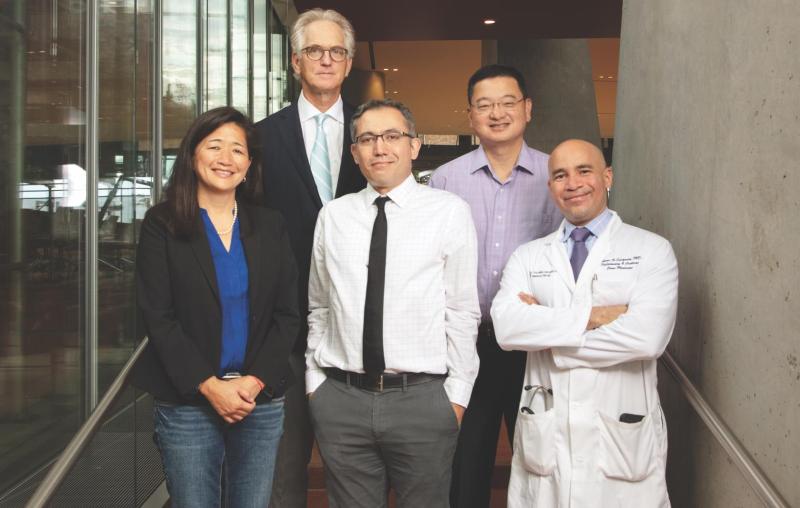 Gustavo Maegawa, MD, PhD: Maegawa joined the Department of Pediatrics as associate professor. He's a physician-scientist and scholar on inherited metabolic and other genetic disorders, specifically lysosomal storage diseases (LSDs), such as Gaucher disease. His research focuses on developing small molecule therapies that can cross the blood-brain barrier and tackle the neurodegenerative processes commonly associated with these disorders. Maegawa discovered that ambroxol, an oral mucolytic and already approved drug, remarkably assists the folding of several mutants of the enzyme deficient in Gaucher disease. Ambroxol is now in clinical trials for the different types of Gaucher disease and a subset of Parkinson's disease, which, as he says, "illustrates the relevance and impact of studies in rare diseases." Currently, under funding from the National Institute of Neurological Disorders and Stroke, Maegawa is "fine tuning" small molecules that he identified for Krabbe disease, a devastating LSD, which is in the newborn screening programs in New York and other states. In addition, he is developing a program at Columbia to offer specialized care and clinical trial opportunities for patients with LSD and related disorders. "It's also equally important to address this problem from a social perspective for the families and the individuals suffering from these orphan diseases," says Maegawa.
Uma Reddy, MD: Reddy is known as an educator and mentor who conducts groundbreaking research on stillbirth, preterm birth, and labor management. She joined VP&S as professor of obstetrics & gynecology and the department's vice chair of research. "Columbia has a rich tradition in research in OB/GYN," she says. "My focus will be on promoting impactful research by our faculty and trainees and collaborative research across subspecialties, as well as tackling pressing public health problems that affect our patient population." Reddy serves as the principal investigator for the maternal-fetal medicine units network at Columbia and will continue to engage in NIH-funded clinical and translational research, such as looking at genomic predictors of recurrent pregnancy loss.
Raymond Sekula Jr., MD: The arrival of Sekula heralds a new era of facial pain treatment at VP&S. One of the world's foremost experts in minimally invasive brain surgery, he has performed more than 2,000 microvascular decompression surgeries. Sekula is professor of neurological surgery and director of the trigeminal neuralgia and facial pain program at the Neurological Institute. He is dedicated to helping patients with cranial nerve disorders—such as trigeminal neuralgia, hemifacial spasm, glossopharyngeal neuralgia—for whom the pain can be excruciating.
Sandra Ryeom, PhD: Ryeom joined VP&S as associate professor of surgical sciences in the Department of Surgery and associate dean for postdoctoral affairs and new master's degree programs at VP&S. She also serves as associate director of diversity, equity, and inclusion at the Herbert Irving Comprehensive Cancer Center. Colleagues describe her as a skilled educator and prolific researcher. Her scholarship examines tumor microenvironments, such as endothelial and stromal cells, a breakthrough in understanding gastroesophageal cancers. "I am thrilled to join the Columbia community to support and enhance mentoring for postdoctoral fellows and excited to develop new master's degree programs that will offer alternative paths for careers in the biomedical sciences and provide opportunities to diversify the biomedical workforce," she says.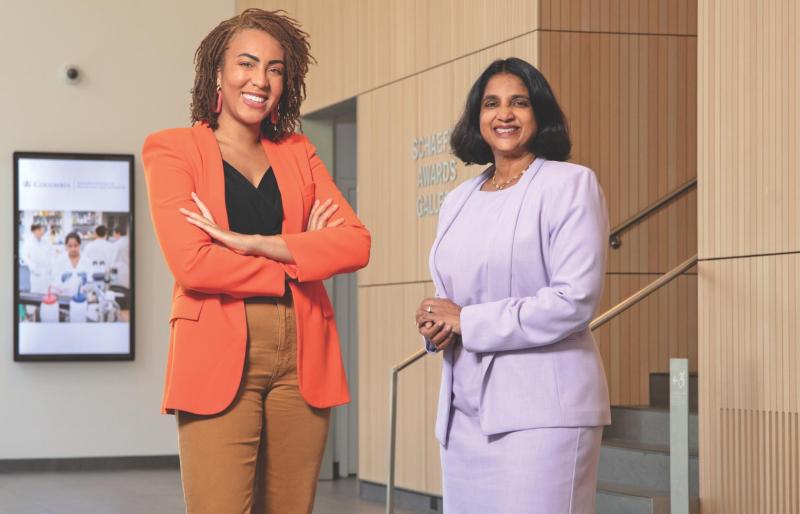 Sam Yoon, MD: As chief of the new division of surgical oncology and vice chair of surgical oncology research and education in the Department of Surgery, Yoon wants to increase clinical volume, ensure comprehensive multidisciplinary care, and build research and education programs. Most recently a professor of surgery at Weill Cornell Medicine and an attending surgeon at Memorial Sloan Kettering Cancer Center, Yoon specializes in gastric cancer, sarcoma/soft tissue tumors, and melanoma. His laboratory has been continuously funded by the NIH for 19 years and currently focuses on the role of cancer stem cells in chemotherapy resistance and metastasis. His goal is to translate these discoveries into the clinic through novel treatment strategies.
James Church, MD: Church was ready to retire in 2021. After over 30 years at the Cleveland Clinic, where he helped build one of the finest colorectal surgery departments in the world, he planned to return to his native New Zealand. That's when Ravi Kiran, MD, chief of colorectal surgery at Columbia, called and persuaded him to come to New York. As professor of surgery and director of the Hereditary Colorectal Cancer Center, Church brings to VP&S his unique approach to generational care for hereditary colorectal cancer and familial adenomatous polypsis. His approach is rooted in empathy, prioritizes mental health, and is backed by surgical expertise. "I always enjoyed the academic side of my practice. I had always felt that thinking about diseases and their causes, and translating that into innovative care, was something not done very well and that I could make a contribution by an approach that was a little 'outside the box,'" says Church.
Asqual Getaneh, MD: Getaneh returned to VP&S as associate professor of medicine and medical director for quality and safety for Columbia Primary Care. She had been on the VP&S faculty from 1999 to 2013. Before returning this year, she served as the medical director of the largest community health system in Washington, D.C., and as chief medical officer at International Community Health Services in Seattle, Washington. Her scholarship has addressed such topics as diabetes risk, management, and prevention among high-risk, diverse populations and health equity.
Sarah Ann Anderson, MD, PhD: As a specialist in adolescent medicine, Anderson brings a depth of expertise in substance use disorders, mental health, reproductive justice, and health equity to the Department of Pediatrics. "In our current climate where reproductive health, rights, and dignity are under attack, adolescents are more vulnerable than ever," Anderson says, assistant professor of pediatrics. "Empowering adolescents to know that they have bodily autonomy, that their dignity matters, and that their voice matters is a core responsibility in my view of the profession." She worked with the department to launch a dedicated clinical session to discuss strategies for prioritizing the values and goals of teen patients when providing their holistic reproductive and sexual health care. She also leads a group of providers in developing equitable clinical practices to address cannabinoid hyperemesis syndrome, a condition linked to excessive cannabis use. Previously an adolescent medicine fellow at VP&S, Anderson now serves as the associate program director for the fellowship.
Claudia Lugo-Candelas, PhD: A licensed clinical psychologist, Lugo-Candelas studies how early life shapes neurodevelopment. Her research explores the perinatal experiences—from maternal obesity, air pollution, sleep, and stress—that increase the risk of developing neurodevelopment disorders and what factors foster resilience. In 2022, she received the American Psychological Association's Robins and Guze Award, given to an early career investigator. Previously, Lugo-Candelas was a postdoctoral research fellow in child and adolescent psychiatry at Columbia. She joins VP&S as assistant professor of medical psychology (in psychiatry) and is the Bender-Fishbein Scholar in Child and Adolescent Psychiatry.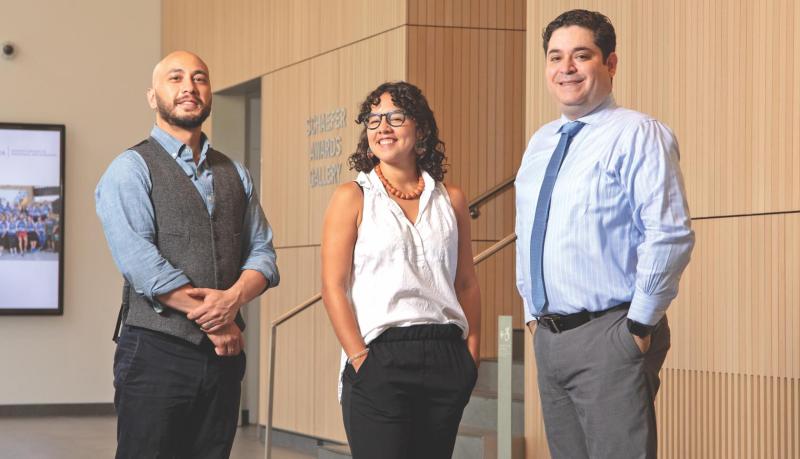 Manuel Moya-Tapia, MD: Moya-Tapia is assistant professor of medicine with expertise in hospice and palliative medicine. He became interested in the needs of terminally ill patients and their families during his five years at Hartford Hospital, where he spent two years in the inpatient oncology unit and saw that certain populations were overlooked. This realization drives his current interest in caring for underserved populations in palliative care and providing culturally sensitive care for all patients and families.
Lawrence Purpura, MD: Purpura joined VP&S as assistant professor of medicine. He works at the intersection of clinical medicine and public health. His research combines applied epidemiology and outbreak response to infectious diseases that range from Ebola to HIV to COVID-19. He honed his expertise while serving as an Epidemic Intelligence Service officer at the Centers for Disease Control and Prevention, where he responded to several outbreaks, including the 2014-2016 West African Ebola outbreak, and worked with Ebola survivors. "I have called upon these experiences to inform the work I am doing with post-COVID complications," says Purpura. At Columbia, Purpura is a co-investigator of the COVID-19 Persistence and Immunology Cohort (C-PIC) and runs a long COVID clinic. He was an infectious disease fellow with the Department of Medicine and a Global HIV Implementation Science Research Training Program fellow at ICAP at the Columbia Mailman School of Public Health before joining the VP&S faculty.
Wilson Quezada, MD: Quezada, a Washington Heights native and VP&S graduate, has re-joined the faculty after spending the past four years at Kaiser Permanente in Southern California. Before leaving for California, he was assistant professor of medicine in the Division of Pulmonary and Critical Care Medicine. Following medical school, he completed both internal medicine residency and pulmonary and critical care fellowship training at Columbia. His clinical and research interests include smoking cessation, COPD diagnosis and treatment, and asthma. "I am happy to be home again, with a focus on improving the health and access for our patients with acute and chronic lung diseases," Quezada says. 
References
This article was originally published in the 2021-2022 Annual Report issue of Columbia Medicine magazine.