VP&S Welcomes Class of 2024 at First Virtual White Coat Ceremony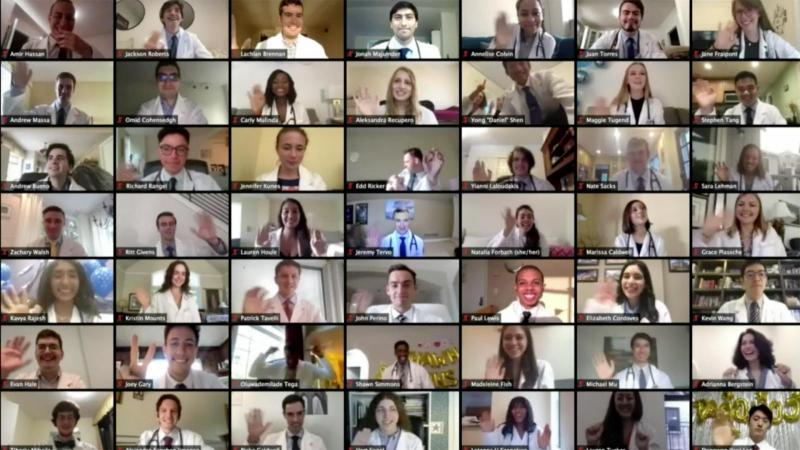 At the first-ever virtual White Coat Ceremony on Aug. 13, 140 members of the Vagelos College of Physicians and Surgeons (VP&S) Class of 2024 were welcomed into the Columbia community. Each year, new medical students are cloaked in white coats and recite the Hippocratic Oath at this event. This year, due to the COVID-19 pandemic, students participated in the ceremony's traditions via Zoom from their homes.
Angela Mills, MD, the J.E. Beaumont Professor of Emergency Medicine at CUMC and chair, Department of Emergency Medicine, spoke at this year's ceremony. She is the seventh Fern Feldman Anolick-Gold Foundation lecturer, which recognizes a person who embodies compassion in medicine. 
"It is critical of us to remember the enormous privilege and responsibility we have as physicians and physicians in training," Mills told the students. "We truly are the safety net of our society at the forefront of social and public health issues, disease, new legislation, and social unrest." 
In addition, students heard remarks from Anil K. Rustgi, MD, interim executive vice president and dean of the faculties of health sciences and medicine, Herbert and Florence Irving Professor of Medicine, and director of the Herbert Irving Comprehensive Cancer Center; Lee Goldman, MD, dean emeritus of the faculties of health sciences and medicine and professor of medicine and epidemiology; Lisa Mellman, MD, interim co-vice dean for education; Olajide A. Williams, MD, professor of neurology; and Laura Forese, MD, MPH, executive vice president and chief operating officer of NewYork-Presbyterian Hospital. Members of the VP&S Class of 2023 also shared words of wisdom from their first-year medical school experiences.
During the ceremony, students put on their white coats as their names were announced. The big reveal of the Class of 2024 came after all names were read and the new students shared their screens together on the live feed to show themselves in their white coats for the first time. 
In case you missed it, watch this full recording of the VP&S White Coat Ceremony.
VP&S Class of 2024
The Class of 2024 was chosen from a field of 7,297 applicants. Almost half of the new students are women, and 22% of the entering class belong to groups underrepresented in medicine.
The class includes 10 students enrolled in the Columbia-Bassett Program, which combines traditional medical education in New York City at VP&S with hospital-based outpatient and inpatient clinical education at Bassett Medical Center in Cooperstown, New York.
Twelve students are entering the MD/PhD dual degree program to train as physician-scientists, and three students are entering the accelerated three-year PhD-to-MD program.
Members of the Class of 2024 come from 35 states and nine countries.
Seven percent of the incoming class is the first generation in their family to attend college.