VP&S Students Honored for Research Achievements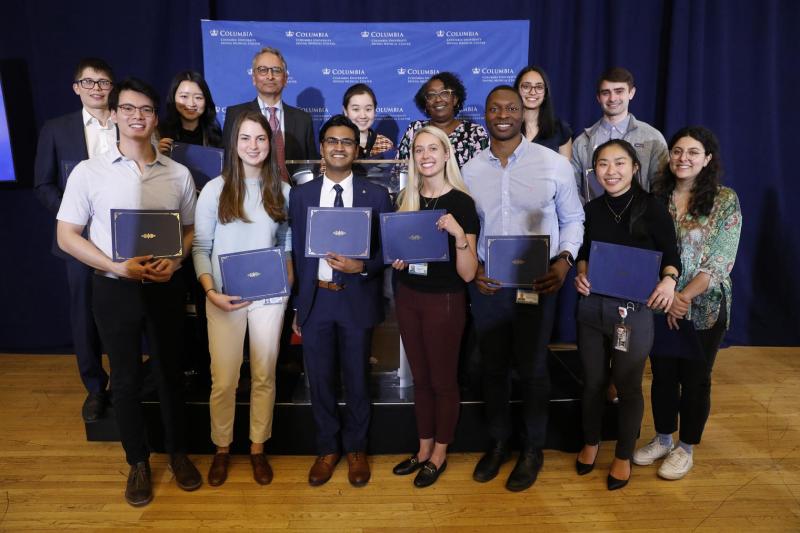 At the 2023 Student Research Day, 79 medical students at the Vagelos College of Physicians and Surgeons presented their research to colleagues, fellow students, faculty, and leadership. The presentations included research posters with explanations of the students' methodologies, results, and inspiration. Twelve projects won awards in four categories: Summer Research, Scholarly Project, Research Year, and MD/PhD.
"The caliber of research presented by the Columbia medical students reflects the excellence of our students, as well as the spectacular science conducted by our faculty and their commitment to mentorship," says Anil Lalwani, MD, associate dean for student research.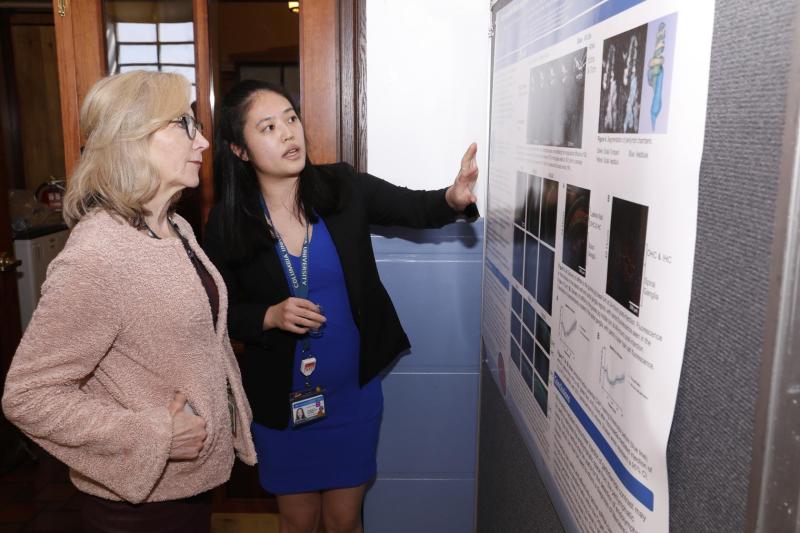 Student Research Day Winners
Summer Research
1st Place (tie): Valia Leifer, "Microanatomy of an intracranial human thrombus by single nuclei transcriptomics" (mentors: E. Sander Connolly, MD; Eleonora F. Spinazzi, MD)
1st Place (tie): Varun Sudunagunta, "Dysplastic Erythropoiesis Due to Loss of Stag2 Results in Defective Nuclear Condensation and Hemophagocytosis" (mentor: Aaron D. Viny, MD)
2nd Place: William Savage, "Susceptibility-weighted imaging (SWI) signal intensity distinguishes treatment-induced tissue damage from recurrent tumor in post-treatment high-grade glioma" (mentors: Jeffrey Bruce, MD; Peter Canoll, MD, PhD; Jack Grinband, PhD)
3rd Place (tie): Emily Ishak, "Ageism in Hearing Loss Diagnosis and Treatment of Hearing Loss" (mentor: Justin Golub, MD)
3rd Place (tie): Cheryl Pan, "Significance of Postoperative Atrial Fibrillation in Open Proximal Thoracic Aortic Aneurysm Repair" (mentor: Hiroo Takayama, MD, PhD)
Scholarly Project
1st Place: Nathan Suek, "Treg engineering to promote tolerance for xenotransplantation" (mentor: Megan Sykes, MD)
2nd Place: Jingwen Zhang, "Longitudinal Analysis of Cardiac Biomarkers and Renal Function in Transthyretin Cardiac Amyloidosis: Association with Mortality and Tafamidis Use" (mentor: Mathew Maurer, MD)
Research Year
1st Place: Ogoegbunam Okolo, "Patient-derived organoids to model partial-EMT in head and neck cancer" (mentors: Anuraag Parikh, MD; Hiroshi Nakagawa, MD, PhD)
2nd Place: Zainab Aziz, "Cost Effectiveness of Liquid Biopsy for Colorectal Cancer Screening in Non-Adherent Patients" (mentor: Chin Hur, MD)
3rd Place: Benjamin Redenti, "Dynamics of classical and inflationary T-cell memory formation to cytomegalovirus" (mentor: Donna Farber, PhD)
MD/PhD
1st Place: Julia Davis-Porada, "Maintenance and residence of immune memory to COVID-19 vaccines in tissues" (mentor: Donna Farber, PhD)
2nd Place: Michelle Jin, "Investigating the neural ensembles underlying sundowning in an Alzheimer's disease mouse model" (mentor: Christine Ann Denny, PhD)
Student Research Day was held this year on March 29. In a separate symposium on March 24, four members of the VP&S Class of 2023 in the MD-MS Program in Biomedical Sciences presented master's thesis research to faculty and students. The MD-MS Program in Biomedical Sciences offers students the opportunity to nurture a research interest and engage in a year of original research in a field relevant to medicine.