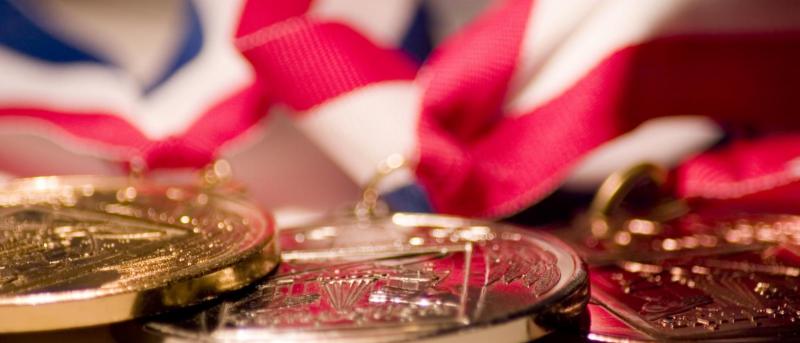 VP&S Doctors as Olympians
Over the past century, Columbia University's Vagelos College of Physicians and Surgeons has graduated a number of Olympic athletes.
Four alumni have competed in Summer Olympics: Benjamin Spock'29, Stephen Rerych'75, Jennifer Thompson'06, and Valeria Silva Merea'12.
Three of them—Spock, Rerych, and Silva Merea—were already Olympians when they enrolled in VP&S. Spock won a gold medal at the 1924 Olympics in Paris as a member of the crew team for Yale, his undergraduate alma mater. Rerych won two gold medals for swimming at the 1968 Olympics in Mexico City. Silva Merea swam for her native Peru in the 2004 Olympics in Greece, and in 2008, just five days before arriving at VP&S, she competed in the Beijing Olympics.
Jennifer "Jenny" Thompson was a member of the USA women's swim team before and during her years at VP&S. One of the most decorated Olympians in history, she won 12 medals—including eight gold medals—in 1992, 1996, 2000, and 2004.
The only VP&S alumnus known to have participated in the Winter Olympics is recent graduate Caroline Park'20, who competed in the 2018 Olympics in South Korea while still a medical student. Park played on the historic unified Korean women's ice hockey team. She entered VP&S in 2015 and took a leave of absence to train for the Olympics but returned in 2017 to resume her major clinical year with four back-to-back rotations at NewYork-Presbyterian. After completing her rotations, she rejoined the team in South Korea for more training.
Another alumnus athlete, John Lattimer'38, who chaired the VP&S Department of Urology from 1955 to 1980, was a track star at Columbia College who won eight metropolitan area Amateur Athletic Union hurdling championships and set a record as a decathlon champion. He won the 50-yard dash at the Millrose Games, an indoor track and field meet held in New York City each year since 1914. During his military service he won the 200-meter hurdles for the 7th U.S. Army at the GI Olympics in Germany. After his death, Lattimer's daughter found a letter inviting him to the 1936 Olympics in Berlin, an invitation he may have turned down to continue his studies at VP&S.