VP&S Department of Medicine Launches Diversity, Equity, and Inclusion Community Series
The Department of Medicine's Office of Faculty Development, Diversity, Equity & Inclusion at the Vagelos College of Physicians and Surgeons has launched a new Diversity, Equity and Inclusion series to showcase, celebrate, and center the local communities. The inaugural event, "Connecting with Our Community Through Cultural Arts and Thoughtful Conversations on Food Insecurity," took place Sept. 22.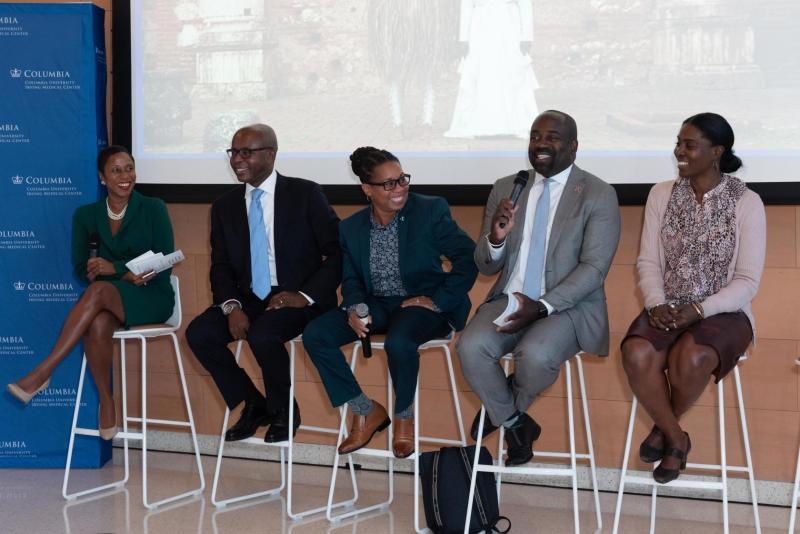 The series is part of the department's larger DEI initiative, established in November 2020. "Our long-term goal is for our biomedical research, patient care, and medical education to be rooted in diversity, equity, and inclusion," says Christopher Irobunda, MD, PhD, the Jim Ovia Associate Professor of Cardiology and vice chair for faculty development, diversity, equity & inclusion, who heads the initiative. "And through these events, we are working toward making the community's concerns an integral part of the systems and structure of Columbia."
The inaugural event began with a panel discussion on food insecurity in the Black and Latino communities and ways to solve it. The discussion, moderated by Zoe Bogan, executive director of the National Black Empowerment Council, featured Irobunda; Delivette Castor, PhD, assistant professor of medical sciences; Larry Scott Blackmon, vice president of public affairs at Fresh Direct; and Jenique Jones, vice president of program operations & policy at City Harvest.
The discussion was followed by the premiere of a new short film, "Babalú Ayé y La Negra del Hospital," by Yelaine Rodriguez. The film provides a voice to a Black woman who founded a healing establishment in the Dominican Republic before the Spanish began construction in 1503 of the Hospital San Nicolás de Bari in Santo Domingo, recognized by UNESCO as the first hospital in the Americas. Although she influenced the construction of the hospital on her site, her name and story are silenced within the colonial archives, where she is known only as "La Negra del Hospital." The screening was accompanied by live traditional Dominican sacred Palo drumming. Jhensen Ortiz, librarian at CUNY's Dominican Students Institute, led a discussion about the film.
The event was also attended by Glory Van Scott, PhD, donor of the Department of Medicine's DEI initiative.
---
Scroll down for more photos: