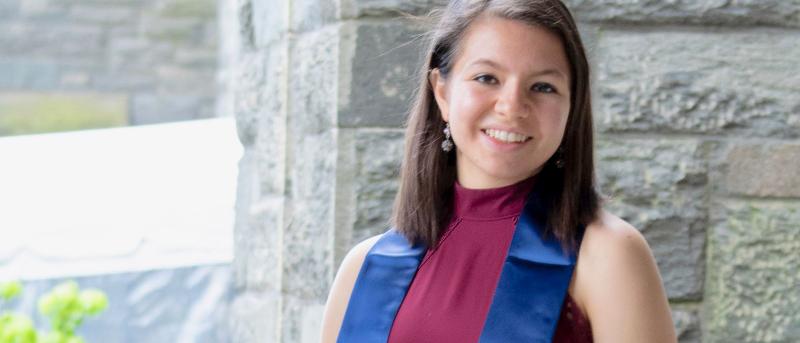 VP&S Class of 2023: Lindsay Caprio
Lindsay Caprio grew up in Pittsburgh, Pennsylvania, and completed her undergraduate education in the School of Nursing and Health Studies at Georgetown University. Her interest in research grew during college and that led her to apply to Columbia's MD-PhD program. She is an avid runner who enjoys healthy cooking and finds strength in focusing on her physical well-being. Learn more about her in her own words:
Choosing Columbia for medical school
When I came for the interview and second-look day, what stood out to me was the involvement of Columbia medical students with their community and their interests outside of medicine. This depth of involvement and the vibrant Hispanic population in the Washington Heights area attracted me because I want community service to be a significant component of my medical education.  
Columbia's MD-PhD program particularly interested me because of the level of independence the program affords its students. The resources to conduct research here are unparalleled. The program's clinical competency course also attracted me: It will provide a way to sharpen my clinical skills, learn from the example of physicians who run their own laboratories, and shadow physicians in specialties that interest me. 
The moment I decided to pursue medicine
I was fortunate in college to shadow both an attending pediatric intensive care physician and a hematologist/oncologist. I witnessed the compassionate way in which these physicians interacted with patients and their families. Shadowing these physicians gave me the opportunity to learn how advances in molecular biology are actually applied in the clinical setting. Seeing how basic science findings are integrated with clinical medicine was especially meaningful to me as I have always envisioned performing clinically relevant research. 
The power of a clinical background
During college, I conducted independent research that culminated in an honors thesis. This research significantly impacted my path to medical school and to Columbia's MD-PhD program. I was fascinated by the basic science questions that I was trying to answer with my research and their importance in the scheme of the greater clinical picture. I studied a mechanism of cellular migration in neuroblastoma. Understanding how these cells move is critical because when this pediatric cancer metastasizes to other sites in the body, patient outcomes are unfavorable. I also came to realize the power of a clinical background while working in the laboratory, thanks to a conversation with a mentor. She told me that training as a doctor would immensely benefit my work, whether it be the design of new experiments or the selection of research projects to undertake.
Why medicine is personal
I was always a curious child and loved delving into the intricacies of science. I'm awestruck by the sheer complexity of the human body and disease. My parents raised me as a Catholic and my faith has reinforced a personal obligation to compassionately serve others. Going into medicine is the perfect way for me to fulfill my passions for learning about human health and serving others. Being able to contribute new knowledge to the field and learn from my peers excites me. Medicine challenges me to dream big and go above and beyond what I ever thought was possible.