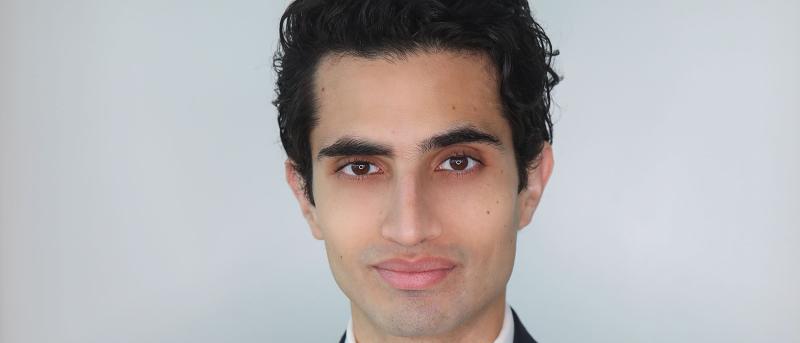 VP&S Class of 2021: David Alvarez Cespedes
For David Alvarez Cespedes, there's nothing like a good diagnostic mystery. When he starts his residency this summer, he will be on the lookout for "zebras," medical slang for the most baffling patient cases. 
"Throughout medical school I have always gravitated towards uncommon conditions like the rare rheumatologic or infectious conditions, the zebras as they are called in the hospital, those that you would normally only see a few times in your career," says Alvarez Cespedes. "Yet, in one day of dermatology consults during my rotation, I saw three of these zebras for the first time, and I was sold!"
Alvarez Cespedes is headed for an internship in preliminary medicine at Beth Israel Deaconess Medical Center in Boston, followed by a dermatology residency at the University of Miami and Jackson Memorial Hospital. He will graduate among the Vagelos College of Physicians and Surgeons Class of 2021 with an MD and an MS in biomedical engineering.
"It was actually a microbiology class that sparked my interest in clinical medicine," he says. "Learning about the intricate ways that these 'bugs' cause disease was fascinating to me and I just wanted to learn more from an intellectual standpoint."
While on clinical rotations during medical school, Alvarez Cespedes marveled at the impact of technology on patient care and was inspired to pursue an MS in biomedical engineering. "I am motivated to not only be an excellent clinician who utilizes the tools already at my disposal but also to be part of the innovation to help create newer and better tools for my patients," he says. 
An interest in engineering runs in the family. Alvarez Cespedes was born in Colombia to parents who are both computer engineers and from different parts of the country. His father is from Barranquilla, a port city on the Caribbean coast with Afro-Caribbean influences, and his mother is from Bogota, the capital city with more European-like customs. Moving to the United States only served to broaden his cultural influences.
"As an immigrant from Colombia, I remember my own struggles with learning English, assimilating into American culture, and feeling like I don't belong," says Alvarez Cespedes. "During my clinical experiences in medical school, I served many immigrants going through similar struggles. I hope throughout my career, I can bridge that disconnect and care for and advocate for patients who normally would feel out of place and unempowered in the hospital and clinic."
Alvarez Cespedes's clinical experiences were shaped in part by his work for the Columbia Student Medical Outreach program, one of five student-run clinics at VP&S. When he first started medical school, he served as the clinic's health education chair and helped to coordinate a health coaching system to support patients, most of whom are uninsured. More recently, he served as the senior clinician providing primary care services to patients under the supervision of an attending physician. 
When COVID struck NYC, Alvarez Cespedes joined NYC Makes PPE, a group of engineers and makers in New York City who tried to help meet the demand for personal protective equipment to protect front-line health care workers early in the pandemic. "I am extremely proud of the fact that I was able to coordinate the supply of around 200 face shields to Columbia residents during that time," he says. 
In addition to clinic outreach and pandemic volunteer work, Alvarez Cespedes has conducted skin tissue engineering research in the labs of Angela Christiano, PhD, the Richard and Mildred Rhodebeck Professor of Dermatology and professor of genetics & development, and Hasan Erbil Abaci, PhD, assistant professor of dermatology. In one published study, he collaborated with Abaci to compare different endothelial cell sources for vascularizing engineered skin. They found the source of endothelial cells mattered in determining the manner and extent of vascularization in engineered skin, and those differences had direct impact on the quality of the epidermis—the top layer of skin–that was formed.
Now, as Alvarez Cespedes prepares for the next stage of his medical career, he plans to incorporate the flexible growth mindset he cultivated during medical school and the lessons he learned as a student in a time of pandemic. 
"My main takeaway from the pandemic is that when unexpected events happen, we should not focus on whether we met our set goals but rather focus on whether we are doing our best under the circumstances," says Alvarez Cespedes. "I think this applies to residency as I know it will indubitably be difficult and being kind to myself will be important."