VP&S Class of 2020 Transitions to Major Clinical Year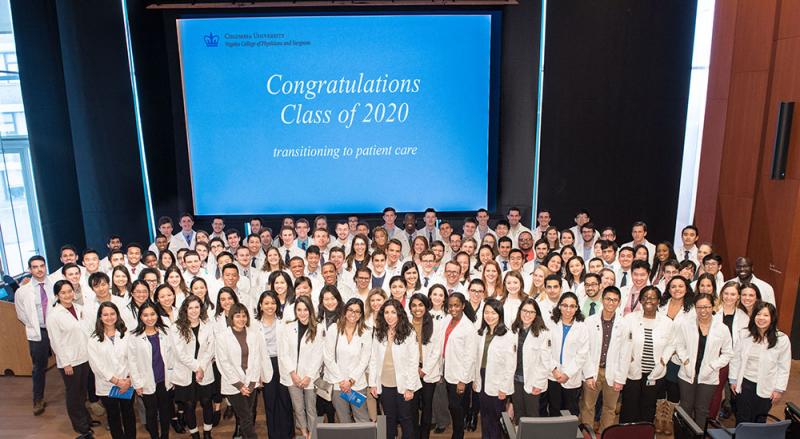 On Jan. 5, 174 members of the Columbia University Vagelos College of Physicians and Surgeons (VP&S) Class of 2020 started their major clinical year with the Steven Z. Miller Student Clinician's Ceremony.
The ceremony marks the transition of second-year students from the classroom to patient-centered training in hospital and ambulatory settings, such as NewYork-Presbyterian Hospital (NYP), and has been a part of VP&S medical education since 1998.
"The anticipation and excitement of the new major clinical year class is palpable at the student clinician's ceremony each year, and the ceremony reminds faculty and residents of their own transition at this milestone developmental juncture," said Lisa A. Mellman, MD, senior associate dean for student affairs at VP&S.
The students wore their white coats, each adorned with a custom-made pin designed by three classmates to represent their class.
Noel Robin, MD, professor of clinical medicine and former chair of medicine at Stamford Hospital, encouraged the students to treasure their profession, to never forget the importance of humility, and to commit themselves to being citizens of the world. "Be a constant student, always accruing knowledge and skills congruent with scientific progress," he said.
Students in the Class of 2020 received awards at the ceremony. Cory Chang received the Greg Grove Award, and several students earned Karl H. Perzin Excellence in Pathology Awards:
Randy Casals
Emma Gerstenzang
Christopher Griffey
Evan Hess
Gaston Jean-Louis
Ella Magun
Katherine Ruddy
Bert Vancura
At the ceremony, members of the Class of 2020 honored teachers with awards.
Stephen Canfield, MD, PhD, assistant professor of medicine at CUMC, received the "Fundamentals Outstanding Teaching Award."
Comana Cioroiu, MD, assistant professor of neurology at CUMC, received the Major Clinical Year Outstanding Teacher Award.
Resident Teaching Awards were presented to Kaylan Christianer, MD (Medicine, NYP); Barbara Coons, MD (Surgery, NYP); Leo Garber, MD (Medicine, NYP); Jessica Li, MD (Obstetrics and Gynecology, Stamford Hospital); Alexandra Livanos, MD (Medicine, NYP); and Claire Tobias, MD (Obstetrics and Gynecology, NYP).
Clinician Awards, for non-physician members of the health care team who are instrumental to the medical student experience, were presented to Christine Couture (physician assistant, Stamford Hospital); Glenna O'Keefe (social worker, NYP and New York State Psychiatric Institute); Beata Piotrowska-Rzamek (nurse, Morgan Stanley Children's Hospital of NYP); and Grisley Valdez (nurse, Stamford Hospital).
20th Anniversary of VP&S Class Pins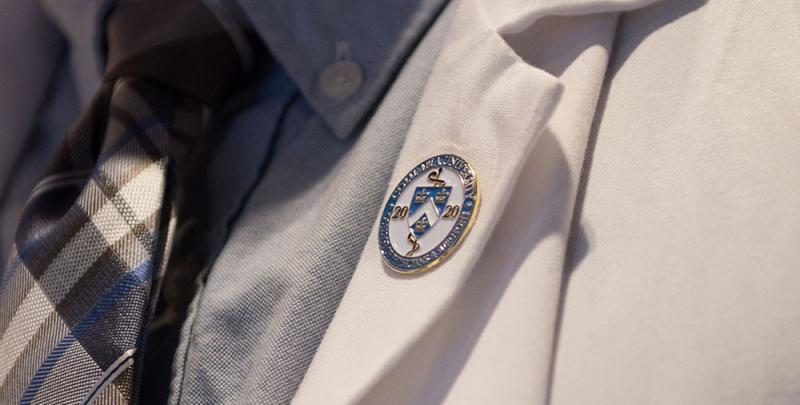 The production of VP&S class pins is an annual tradition that dates to the first transition ceremony held at the medical school in 1998. The Class of 2020 pin features the Rod of Asclepius, an international symbol of medicine, and the Columbia University crest.
A trio of class representatives—Phuong Duong, Rahul Sharma, and Nick Sumzin—led the design of the pins proudly worn by their classmates. They looked at pins of the past, researched medical symbols, sketched designs on paper, and digitized the designs using Adobe Illustrator. After presenting the designs to classmates, they gathered feedback and applied it the Class of 2020's favorite design, which was produced off site by a vendor.
"We appreciate art and know that it makes life beautiful," says Mr. Sharma. "As a physician, there's also a practical nature of art. Art is about visually interpreting your world, and when you're in a hospital and you're interacting with patients, you want to interpret what you see. Being able to interpret a patient's facial expression or posture, or the actions that are happening in the exam room, can improve your ability to make connections."
The ceremony's namesake is the late Steven Z. Miller'84, the Arnold P. Gold Associate Professor of Pediatrics at VP&S, who founded the first transition ceremony. Dr. Miller was a national leader in humanism in medicine; he died in a plane crash in 2004.