VP&S Class of 2018: Emily Weidenbaum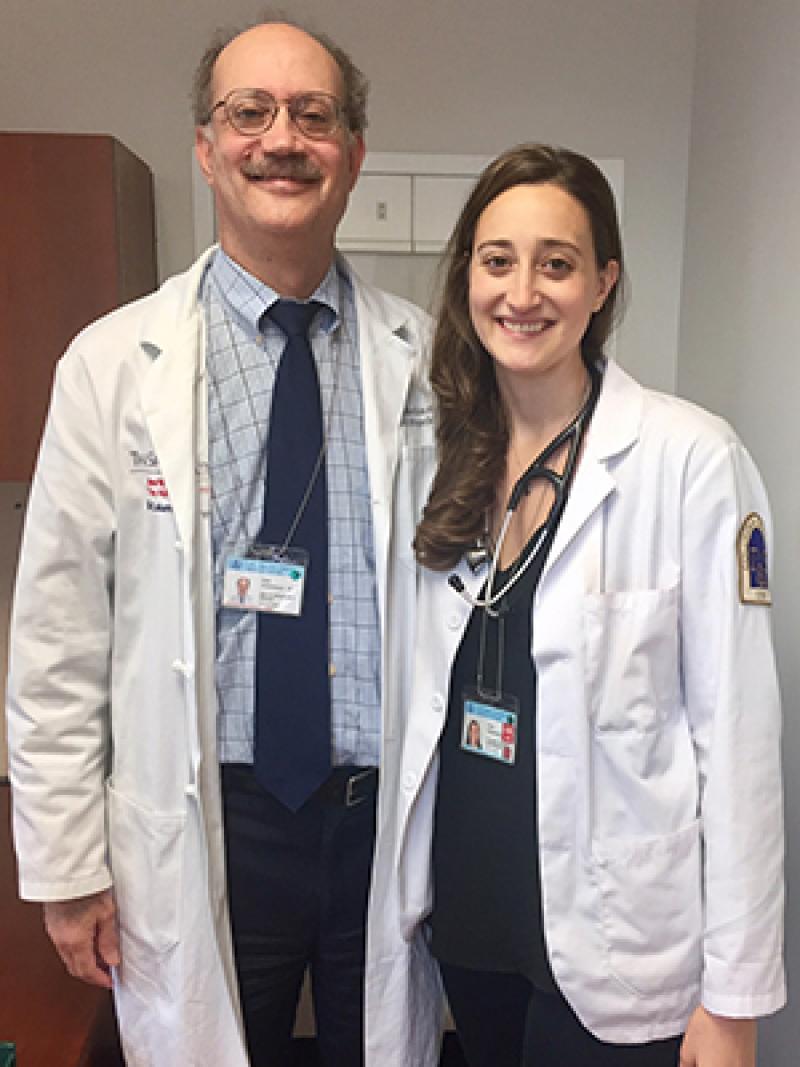 When Emily Weidenbaum, MD'18, graduates in May, she will be the second member of her family to graduate from Vagelos College of Physicians and Surgeons (VP&S). Her father, Mark Weidenbaum, MD, graduated in 1981 and is now a professor of orthopedics at VP&S.
Yet it wasn't her father's career that guided Emily to medical school. In fact, her passion for medicine began with an appreciation of the arts, something she has in common with her father, who was a Bard Hall Player back in his medical school days. As Weidenbaum grew up, her parents fostered her love for the arts by taking her to museums and the theater, and when the time came to attend college, she chose to study educational theater at NYU.
Medicine entered her thoughts after college and a short career in theater, while she was teaching pre-K. "I became interested in childhood development because some of the kids in my class had learning disabilities," says Weidenbaum. "I loved working with health care professionals and students' families using educational theater techniques. I became fascinated with the family unit, specifically the mother and child relationship, and began to develop a passion for women's health."
Around this time, she also heard about Columbia's Postbac Premed Program for college graduates who want to pursue medical education but need to take additional science courses required for admission to medical school. She completed the program and then gained admission to VP&S.
Weidenbaum has kept her artistic side at VP&S by continuing to immerse herself in New York City art and theater. But one of her favorite positions is serving as the Honor Code chair for the entire medical school. During her first year at VP&S, she was selected to be an Honor Code rep for the Class of 2018 and has played an active role on the committee every year.
She became interested in the Honor Code through her interest in education. "Being honor code chair has allowed me to see transitions happening in medical education," says Weidenbaum. "I help to mediate students' transitions between the different stages of medical school and work closely with the faculty to make sure that the curriculum encourages ethical behavior."
Clinically, like her father, Weidenbaum was drawn to pursuing a surgical specialty. Her exposure to women's health, along with her interest in development, led her to obstetrics and gynecology. During her time in the postbac program, she volunteered as a "cuddler" in the Neonatal Intensive Care Unit (NICU) at NewYork-Presbyterian/Morgan Stanley Children's Hospital, Columbia's hospital affiliate, and was exposed to the wide variety of pregnancy outcomes. Through this volunteer work, she became involved in a quality assurance research project on administering antibiotics to neonates with sepsis, an infection in the blood that spreads throughout the body.
As a medical student, Weidenbaum has continued ob/gyn research working with Annette Perez-Delboy, MD, associate professor of obstetrics and gynecology, and Jason Wright, MD, the Sol Goldman Associate Professor of Gynecologic Oncology, to create and analyze a database for placenta accreta, a rare condition that occurs when the placenta of a pregnant woman attaches itself too deeply to the uterus. She plans to pursue research throughout her medical career.
This summer, Weidenbaum will start a residency in obstetrics and gynecology at her undergraduate alma mater NYU. "I've made new friendships and been exposed to new ideas," says Weidenbaum. "All the meaningful relationships I've made at Columbia are part of a beautiful network of future colleagues."