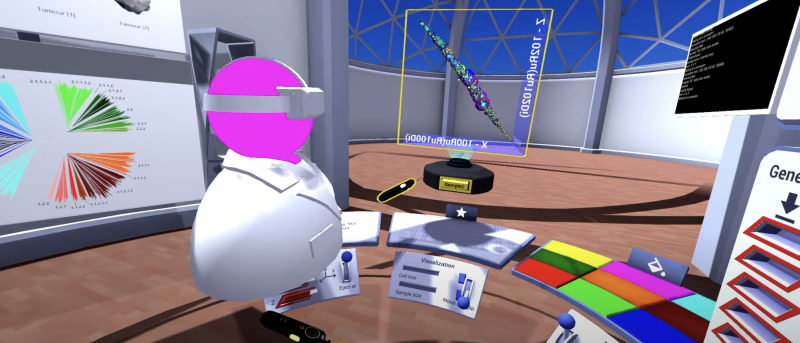 The Virtual World of Cancer Research
Even for cancer researchers, it can be difficult to look at experimental data and images and understand what's going on.
So, at Columbia, some researchers are donning virtual reality (VR)headsets to get a more immersive view.
"VR provides a unique platform for viewing and exploring data," says Simon Tavaré, PhD, director of the Irving Institute for Cancer Dynamics and a member of the Herbert Irving Comprehensive Cancer Center. "Imagine being able to place yourself inside the tumor; it presents a new approach to data analysis."
VR utilizes immersive headsets and other hardware to allow users to actively enter and explore a digital environment, rather than passively observing that world on a screen.
Tavaré is establishing a dedicated VR lab at Columbia where he and his collaborators can analyze cancer data sets within an immersive 3D world. The Irving Institute for Cancer Dynamics is serving as a test site to visualize and explore cancer data utilizing the novel software Theia, developed by Suil Interactive as part of the Cancer Grand Challenges IMAXT consortium. (Theia is expected to be available soon from suil.ie.)
"VR has been around for a while, and we are just scratching the surface of how to apply it to cancer research," says Tavaré, who also is a professor of statistics and of biological sciences at Columbia and a member of the IMAXT consortium.
"We're excited to experiment with how this technology could lead to a deeper understanding of cancer biology, and applications in other areas of data science."