Velocity Rider: Alexander Small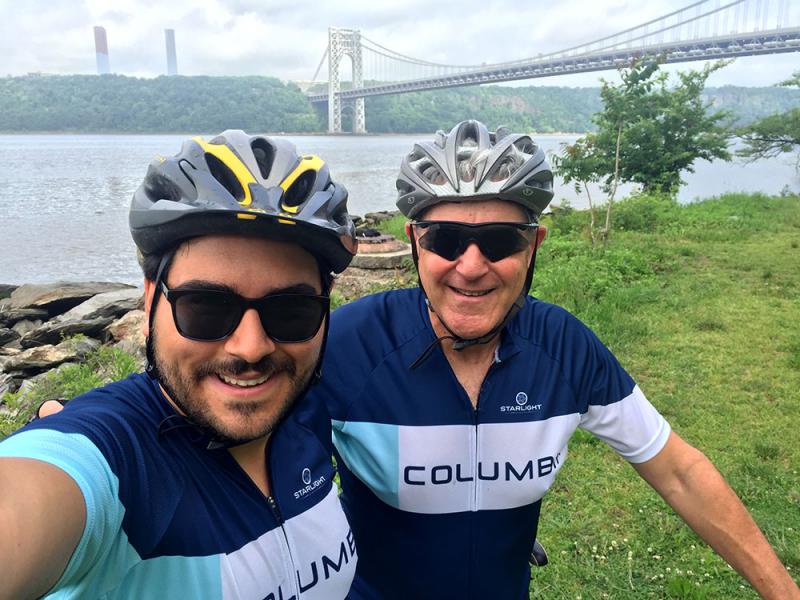 Alexander Small, MD, postdoctoral residency fellow, Department of Urology, joined Velocity: Columbia's Ride to End Cancer as soon as the event was announced in April. "I'm a big cyclist and a urology resident so it made sense to join the team," he says.
The Department of Urology has organized four teams, each targeting a different distance and raising awareness for a specific urological cancer (prostate, bladder, kidney, and testicular).
Dr. Small and his father, P&S alumnus Peter Small, MD'81, joined the prostate cancer team, which is tackling the 62-mile route. "Cancer has really touched members of our family and our friends in the last few years," says the senior Dr. Small. "It's hit close to home lately, and this event is a good way to fight back."
"Our mission is to raise awareness for urological cancers and cancer treatment and research at Columbia," the younger Dr. Small says. "Prostate cancer is the most common cancer in American men, but it's less well-known that the rate is even higher among African-American men.
"I used to do a lot of fundraising rides with my dad when I was growing up in Connecticut. When you have a huge group of riders out there, everyone on the street turns around and looks. It gets people's attention."
The prostate cancer team includes other physicians, medical students, and nurses from the Department of Urology, including Velocity's current top fundraiser. (His tip: use a "Bernie Sanders" style of fundraising and ask a lot of people for small amounts each).
Dr. Alex Small is already training for the ride and has started to increase the mileage of his weekend bike ride. "I commute to work every day, and I've been riding in Palisades Interstate Park on the weekend. The ride's not until October, so there's still plenty of time."
Topics