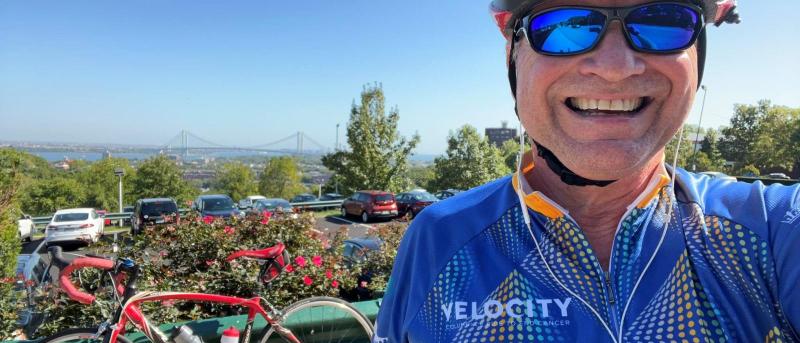 Velocity Raises More Than $1.1 Million to End Cancer
Bad weather on Oct. 2 forced the cancellation of this year's in-person Velocity, Columbia's annual cycling fundraiser, but participants organized their own bike rides, walks, and personal physical challenges to raise more than $1.1 million for cancer research and patient care at Columbia.
Velocity participants celebrated their successes and shared their inspirations on Nov. 16 at a delayed Velocity Finish Line Festival in the Vagelos Education Center.
Since 2017, cancer survivors, family, friends, nurses, doctors, and researchers have participated in Velocity, Columbia's Ride to End Cancer, and raised more than $7 million to fuel innovative research and spread hope and love to those facing cancer.
Anil Rustgi, MD, director of Columbia's Herbert Irving Comprehensive Cancer Center, thanked all who participated in Velocity and their commitment to the cancer center: "You continue to fuel innovative lifesaving research and, most importantly, translate that into patient care. You've proved over and over again that the Velocity community is unstoppable."
Cancer survivor Sam Cundiff and his wife, Terri, traveled from their home in Virginia to attend the festival; the two decided to participate in this year's Velocity for the first time in recognition of Sam's lifesaving surgery performed by Columbia's Tomoaki Kato, MD, the Edwin C. and Anne K. Weiskopf Professor of Surgical Oncology at the Vagelos College of Physicians and Surgeons.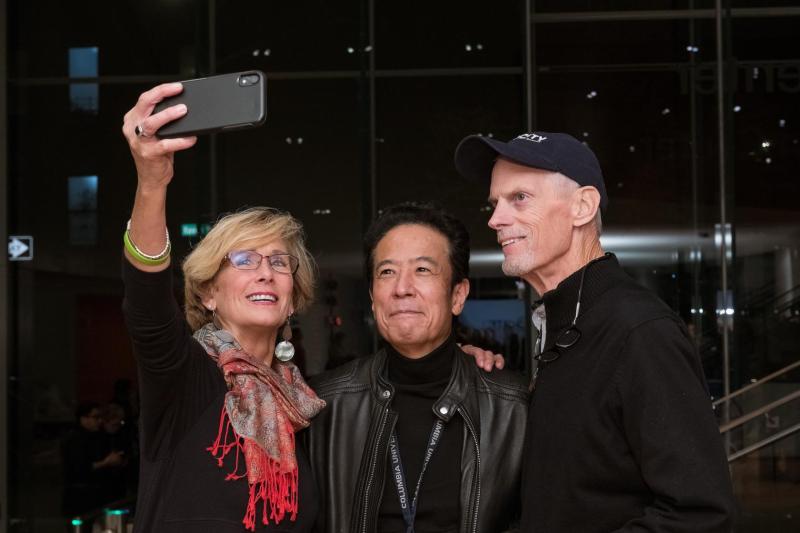 Sam Cundiff was diagnosed with aggressive lymphoma in 2010 and underwent chemo, radiation, stem cell transplants, and several surgeries over the next few years near his home in Virginia. In 2016 he was cancer free, but multiple necrotic masses had formed in his body, obstructing many of his organs and even his ability to eat.
His care team contacted Kato, who is world renowned for his pioneering ex vivo surgeries, in which up to six organs are temporarily removed from the body to facilitate the needed excisions.
Since then, Sam Cundiff has gotten his life back, though the journey has had its ups and downs. It wasn't until this year that he felt ready to tackle Velocity.
After the Oct. 2 ride was canceled, the Cundiffs biked later in the day when the weather improved, and Sam got a little overwhelmed when they rode past the medical center.
"Some people say I'm stubborn; I say I'm determined," he said. "But I didn't think I would ever be able to ride again, especially by the place that saved my life."
Top fundraisers and Velocity Fellows
A Velocity Finish Line Festival wouldn't be complete without Mike Furman, who has participated in every Velocity ride and has been Velocity's top fundraiser multiple times. This year Furman raised nearly $25,000 for cancer research and care at Columbia.
"Mike and I go way back, and he's a perfect example of what I find most amazing about this community," said his surgeon, Jim McKiernan, MD, the John K. Lattimer Professor of Urology and chair of the Department of Urology at VP&S.
"Our patients and their families are put through a lot. And yet they give so much of themselves to fundraise for research and patient services at our cancer center—not for their own benefit, but for others in the same circumstances. I'm awed by our patients and consider it a privilege to ride and fundraise along with them."
References
Donations to Velocity's general fund or a specific participant or team can be made until Dec. 31, 2022. Make a donation here.